Plutocracy
Why Obama and Romney really do see the world differently
For some viewers, it was no surprise Mitt Romney toned down his bellicosity last night and chose to minimize his differences with Barack Obama's on a number of foreign policy issues.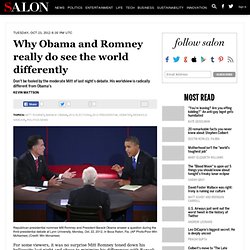 Greetings From the New Economy
"Are you ready for a new economy? Are you ready for a new politics?"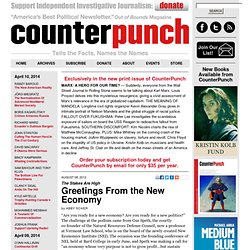 Guide for the Perplexed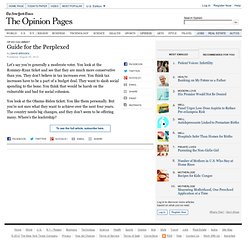 You look at the Obama-Biden ticket. You like them personally.
On Monday, the US Senate will vote on Senator Sheldon Whitehouse's "Buffett Rule" bill. According to Whitehouse, wealthy Americans should not pay a lower tax rate than those who earn less than they do. I happen to agree.
'Buffett Rule' unfair and ineffective | Barry Hinckley for U.S. Senate
Icelanders who pelted parliament with rocks in 2009 demanding their leaders and bankers answer for the country's economic and financial collapse are reaping the benefits of their anger.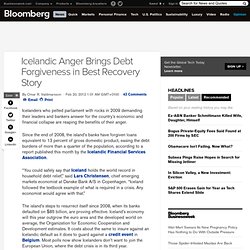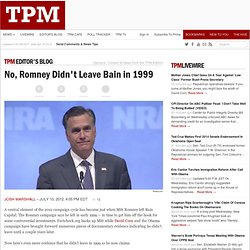 No, Romney Didn't Leave Bain in 1999 | TPM Editors Blog
A central element of the 2012 campaign cycle has become just when Mitt Romney left Bain Capital. The Romney campaign says he left in early 1999 -- in time to get him off the hook for some controversial investments. Factcheck.org backs up Mitt while David Corn and the Obama campaign have brought forward numerous pieces of documentary evidence indicating he didn't leave until a couple years later. Now here's even more evidence that he didn't leave in 1999 as he now claims. The gist of the disagreement comes down to this: There's no question that numerous public filings and some contemporaneous press references say Romney was still running things at Bain after 1999. But his campaign insists that whatever securities filings may have said, in practice, he was so busy running the 2002 Winter Olympics that he actually had no role at Bain after early 1999.
America's Billionaires: Are They Crazy Enough?
America's Billionaires: Are They Crazy Enough? Jon Ronson just wrote a long article for GQ for which he interviewed people at five different levels of income, starting at $10,000 and going up to B.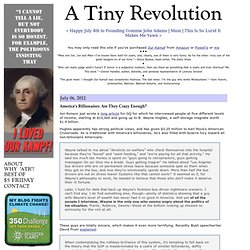 Klamath Free School
A Simple Fix for Farming
Justin Bolle for The New York Times Acxiom's headquarters in Little Rock, Ark. Analysts say the company has amassed the world's largest commercial database on consumers.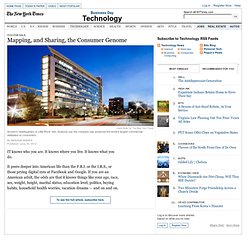 Acxiom, the Quiet Giant of Consumer Database Marketing
"Private property" is inseparable from plutocracy
Here's something to think about: pretty much every human ever in the history of humans has had personal belongings, things that belonged to that person and/or their immediate family – cooking utensils, gardening tools, weapons, clothing, jewelry – the stuff of everyday life.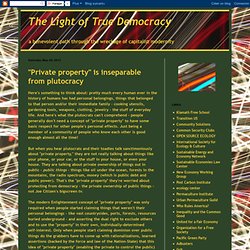 The New Political Correctness
Progressive small farmer organizations in Mexico scored a victory over transnational corporations that seek to monopolize seed and food patents. When the corporations pushed their bill to modify the Federal Law on Plant Varieties through the Committee on Agriculture and Livestock of the Mexican Chamber of Deputies on March 14, organizations of farmers from across the country sounded the alarm.
Mexican Farmers Block Monsanto Law to Privatize Plants and Seeds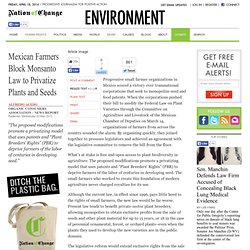 It's time to #OccupyMedia!! Meet the 6 companies that control 90% of the media in the U.S.
Art: To the #Haymarket! Interna
What happened to the Occupy movement?
Occupy Wall Street was at the pinnacle of its power in October 2011, when thousands of people converged at Zuccotti Park and successfully foiled the plans of billionaire Mayor Michael Bloomberg to sweep away the occupation on grounds of public health.
The Road Out of Serfdom
The United States has always been a plutocracy – a society governed by and for the wealthiest few.
Introduction to THE POPULIST MOMENT, A Short History of the Agrarian Revolt in America, by Lawrence Goodwyn, 1978
Gordon Gekko, the infamously cutthroat capitalist and lead character in Oliver Stone's Wall Street, captured the heady years of the 1980s with a single, indelible line: Greed is good. Today, it is Edward Conard, a friend and former colleague of Mitt Romney's at the private equity firm Bain Capital, who has offered a new mantra for the 1%, a cri de coeur for the Gekkos of the twenty-first century: Inequality is good.
Barbara Ehrenreich, Looting the Lives of the Poor
Obama the Pioneer
Earlier this week, The New Yorker's Steve Coll wrote an excellent column on President Obama's kill list and assassination powers.