Life Hack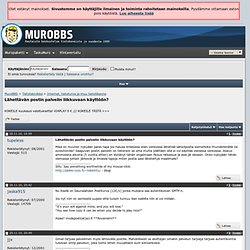 Lähettävän postin palvelin liikkuvaan käyttöön? - MuroBBS - Plaza
Jaskan linkkaama sivu taitaa olla melkoisen vanha. Muunnosta ei pitäisi tapahtua, jos on konfiguroinut tämän jaska.jokunen@koulu.fi osoitteen GMailissa vaihtoehtoiseksi osoitteeksi. Edit: siis Settings -> Accounts and Import -> Send mail as..
How to use Gmail as your SMTP server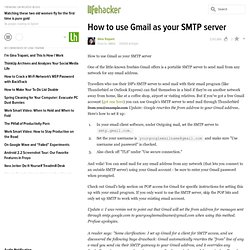 One of the little-known freebies Gmail offers is a portable SMTP server to send mail from any network for any email address. Travellers who use their ISP's SMTP server to send mail with their email program (like Thunderbird or Outlook Express) can find themselves in a bind if they're on another network away from home, like at a coffee shop, airport or visiting relatives. But if you've got a free Gmail account (get one here) you can use Google's SMTP server to send mail through Thunderbird from you@example.com Update: Google rewrites the from address to your Gmail address..
Lifehacker, tips and downloads for getting things done
Life hacking refers to any productivity trick, shortcut, skill, or novelty method to increase productivity and efficiency, in all walks of life; in other words, anything that solves an everyday problem of a person in a clever or non-obvious way. Coined in the 1980s in hacker culture, the term became popularized in the blogosphere and is primarily used by computer experts who suffer from information overload or those with a playful curiosity in the ways they can accelerate their workflow in ways other than programming.
Life hack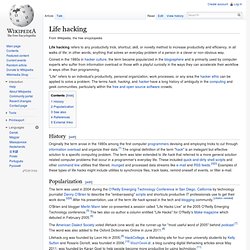 43 Folders | Time, Attention, and Creative Work
makezine.com: MAKE: technology on your time