Audiophile
Get flash to fully experience Pearltrees
You love music, but even if you consider yourself a true audiophile, the cost of high-end sound can be, frankly, a little absurd. We talked with a handful of audio experts to find out how to get audiophile-calibre sound without emptying your savings account. Here's what they had to say.
From Wired How-To Wiki
The electronic components inside a loudspeaker are actually quite simple.
DIY Audio Speaker Box Building FAQ - Tutorial See the Speaker Box Construction Example for more information. What supplies are needed? First, you obviously need your speaker drivers. These will determine the size of the box.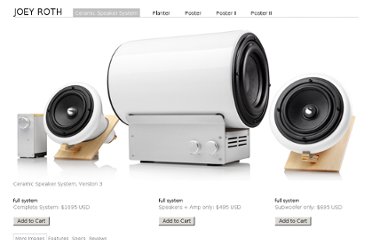 Simple materials The Ceramic Speakers are made from porcelain, cork, and Baltic birch. Each material is minimally finished, left to add its natural beauty to the design.