Audiophile
How to Be an Audiophile on the Cheap. This is a terrific post.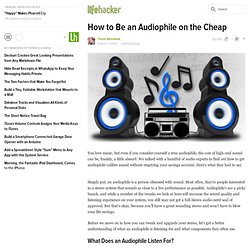 It's such a bummer to see people brush off "audiophiles" because they think quality sound is out of their price range. Even for people uncomfortable with DIY solutions, like myself, relatively cheap, superb audio is extremely possible. Set Up Your Speakers. From Wired How-To Wiki Whether you've got the same cheap system you rocked in college or 10 grand's worth of high-fidelity frivolity, one of the most important factors in how good your audio system sounds is where you put the speakers.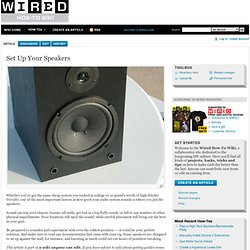 Sound can trip over objects, bounce off walls, get lost in a big fluffy couch, or fall to any number of other physical impediments. Poor locations will spoil the sound, while careful placement will bring out the best in your gear. How to Build Your Own Speakers: Step-by-Step DIY Tech. The electronic components inside a loudspeaker are actually quite simple.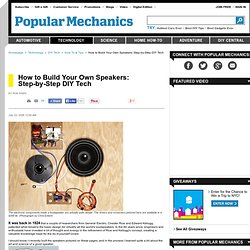 The drivers and crossovers pictured here are available in a $369 kit. (Photograph by Chris Eckert) It was back in 1924 that a couple of researchers from General Electric, Chester Rice and Edward Kellogg, patented what remains the basic design for virtually all the world's loudspeakers. In the 84 years since, engineers and enthusiasts have invested a lot of thought and energy in the refinement of Rice and Kellogg's concept, creating a valuable knowledge base for the do-it-yourself crowd. DIY Audio Speaker Box Building FAQ - Tutorial. DIY Audio Speaker Box Building FAQ - Tutorial See the Speaker Box Construction Example for more information.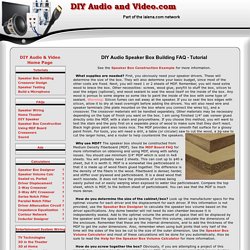 What supplies are needed? First, you obviously need your speaker drivers. These will determine the size of the box. Bowers & Wilkins 800 Diamond - Bowers & Wilkins | B&W Speakers. Ceramic Speakers designed by Joey Roth - simple, modern full range drivers for desktop or entire room | Joey Roth. How do I connect the Subwoofer to earlier versions (versions 1 and 2) of the Ceramic Speakers?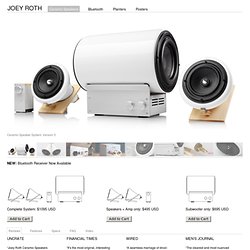 The Subwoofer is fully compatible with all versions of the Ceramic Speakers. The included RCA to 3.5mm cable is used to connect the Subwoofer to the 3.5mm input on the back of your original amplifier. Honey Claws - Digital Animal HQ + DL! Abney Park - Airship Pirate. Crookers - What up Y'all. Dragonette I Get Around (Midnight Juggernaut Mix) Apache.
---