Video
New York: Night and Day on Vimeo
telechargement.rfi.fr.edgesuite.net/WebDocu/paroles_de_conflits/index.html
Volkswagen Unveils Much-Awaited Followup to 'The Force'
Vidéo : Rolling in the deep d'Adele chanté par 71 personnes simultanément
Stage Nureyev dances Romeo at the Royal Ballet, 1966 You may prefer Rudolf's Swan Lake duet with Miss Piggy (also on YouTube).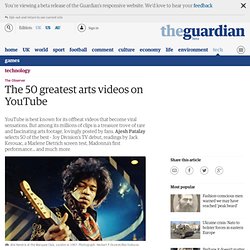 The 50 greatest arts videos on YouTube |
Vaness la Bomba blogueuse mode parisienne influente
SHEIKH HAMDAN BIN MOHAMMED AL MAKTOUM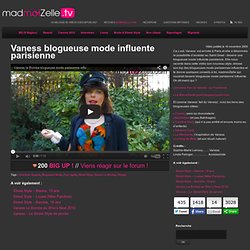 Vidéo publiée le 16 novembre 2009 Ca y est, Vaness' est arrivée à Paris et elle a désormais la possibilité d'accéder au Saint Graal : devenir une blogueuse mode influente parisienne. Elle nous raconte dans cette vidéo son nouveau style, dresse son top des blogueuses mode parisiennes influentes et te donne quelques conseils à toi, madmoiZelle qui voudrait devenir blogueuse mode parisienne influente. On dit merci qui ?
Vaness blogueuse mode influente parisienne | madmoiZelle.tv
25 favorite videos of 2009 on Vimeo
Le Flâneur (music by The XX) on Vimeo
Advertisement A show reel is the motion picture equivalent of an artist's portfolio. It is typically used as a tool to promote an artist's skill, talent and experience in a selected field, such as acting, directing, cinematography, editing, special effects, animation, video games or another graphic-related field.
20 Beautiful Video Motion Pieces | Inspiration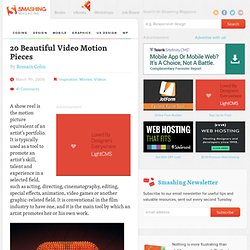 Nick Knight
Roy Stuart Glimpse DVDs and Videos
Documentaries became a box office factor with the rise of such films as "Hoop Dreams" and "Roger & Me." Before then, there were hit music documentaries like "Woodstock" but most other nonfiction films could expect short runs in few theaters before dutiful audiences. What a small but growing minority of Friday night moviegoers is beginning to discover is that there's a good chance the movie they might enjoy most at the multiplex is a doc. In alphabetical order, these were the best documentaries I saw in 2010: "45365" is the zip code of Sidney, Ohio. The brothers Bill and Turner Ross were born there perhaps 30 years ago.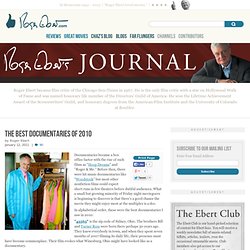 The best documentaries of 2010 - Roger Ebert's Journal
12 Best Screencasting Tools For Video Making
TinySubs - Real-time Subtitles Search Engine
Subtitles - download DivX subtitles from the biggest open subtitles database