Video
New York: Night and Day on Vimeo
telechargement.rfi.fr.edgesuite.net/WebDocu/paroles_de_conflits/index.html
Volkswagen Unveils Much-Awaited Followup to 'The Force'
Vidéo : Rolling in the deep d'Adele chanté par 71 personnes simultanément
Stage Nureyev dances Romeo at the Royal Ballet, 1966 You may prefer Rudolf's Swan Lake duet with Miss Piggy (also on YouTube). But a more traditional pas de deux with Margot Fonteyn from Prokofiev's Romeo and Juliet delivers a glimpse of Nureyev's sublime physicality as a dancer; the balcony scene in particular gives him plenty of room to flex his muscles, with lifts and leaps aplenty. tinyurl.com/6efb2u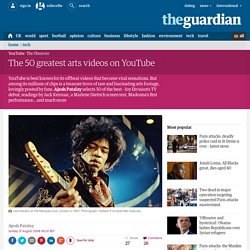 Vaness la Bomba blogueuse mode parisienne influente
SHEIKH HAMDAN BIN MOHAMMED AL MAKTOUM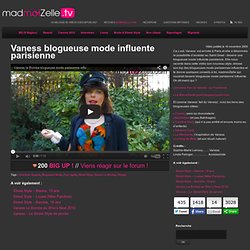 Vidéo publiée le 16 novembre 2009 Ca y est, Vaness' est arrivée à Paris et elle a désormais la possibilité d'accéder au Saint Graal : devenir une blogueuse mode influente parisienne. Elle nous raconte dans cette vidéo son nouveau style, dresse son top des blogueuses mode parisiennes influentes et te donne quelques conseils à toi, madmoiZelle qui voudrait devenir blogueuse mode parisienne influente. On dit merci qui ?
Vaness blogueuse mode influente parisienne | madmoiZelle.tv
25 favorite videos of 2009 on Vimeo
A show reel is the motion picture equivalent of an artist's portfolio. It is typically used as a tool to promote an artist's skill, talent and experience in a selected field, such as acting, directing, cinematography, editing, special effects, animation, video games or another graphic-related field. It is conventional in the film industry to have one, and it is the main tool by which an artist promotes her or his own work.
20 Beautiful Video Motion Pieces | Inspiration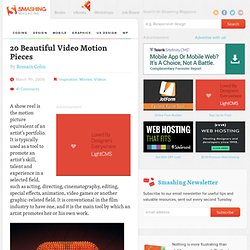 Nick Knight
Roy Stuart Glimpse DVDs and Videos
The best documentaries of 2010 - Roger Ebert's Journal
12 Best Screencasting Tools For Video Making