Tumblr's
Selfies At Serious Places
Plaquette de beurre
Bonjour, À l'heure actuelle, je suis sans doute en train de vérifier cette histoire de fin du monde dans les profondeurs de la jungle mexicaine, une quelconque activité ordinaire, mais impliquant, puisque c'est la période, le fait que je ne suis malheureusement pas présent à mon bureau. Pour les superstitieux du monde entier, voilà de quoi pousser un soupir de soulagement. Des archéologues américains ont en effet découvert les plus anciens calendriers mayas connus, sur les murs d'une habitation dans le Yucatan.
absent du bureau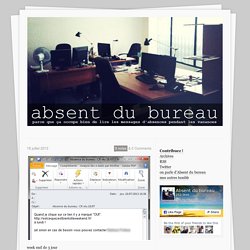 Classé dans selon une étude américaine Ils s'emmerdent déjà… Il faut en parler aux leaders de l'UMP… En le gardant en mode vibreur bien au chaud dans son slip? je dis ça, je dis rien…
Selon une étude américaine...
Celebrity Camera Club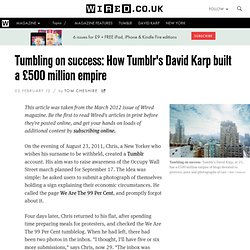 Tumbling on success: How Tumblr's David Karp built a £500 million empire
This article was taken from the March 2012 issue of Wired magazine. Be the first to read Wired's articles in print before they're posted online, and get your hands on loads of additional content by subscribing online . On the evening of August 23, 2011, Chris, a New Yorker who wishes his surname to be withheld, created a Tumblr account.
Lana Del Rémifasol…
Tessa Chong sent me the above image with the explanation that she had seen and drawn the man from memory on a trip to Toronto. We got to talking, and the following interview and her interpretations of some other noted Accidental Chinese Hipsters ensued. You can see more of her work here . ACH: How old are you and where are you living now?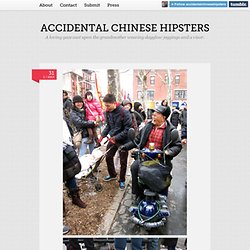 "Au début du mois d'avril, le moteur du bateau qui devait emmener Khaliqdad Jamdad avec sa famille et 82 autres migrants clandestins jusqu'à l'île Christmas, dans les eaux territoriales australiennes, s'est mis à tousser, puis a rendu l'âme." In "Courrier International", n°1134, 16-22 août 2012, reprise de "Tempo" (Jakarta). Article collectif, "L'histoire de Khaliqdad, survivant afghan d'une odyssée vers l'Australie".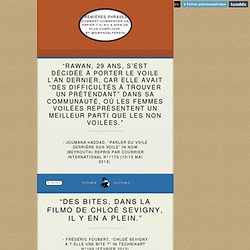 We are the 1%, Bitches
#scarlettjohanssoning
Je suis journaliste musical