Territories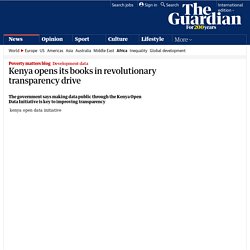 Kenya opens its books in revolutionary transparency drive | Claire Provost | Global development
Users of the Kenya Open Data Initiative can explore more than 160 datasets by consituency, county and at country level. Screenshot: Kenya Open Data Initiative When violence erupted after the 2007 Kenyan elections, a team of activists produced Ushahidi – a digital open-source platform to monitor crises in near real-time. Taking its name from the kiswahili word for testimony, or witness, Ushahidi has since been deployed to monitor unrest in the Democratic Republic of the Congo, track violence in Gaza, and gather global reports about the spread of Swine Flu. Around the same time, a partnership between Vodafone and Safaricom, Kenya 's largest mobile operator, produced M-PESA, the mobile banking system that has revolutionised the way many Kenyans manage their money. Projects from Ushahidi to M-PESA have put Kenya firmly on the map of ICT innovation in international development – a position and a trend the Kenyan government now seems eager to promote.
La récession favorise la digitalisation
Le "double dip", le rebond de la récession qui menace, pourrait fort bien entrainer une accélération de la digitalisation de nos modes de production et de vie. Cela vaut pour les entreprises (et les travailleurs) comme pour les consommateurs. Les entreprises d'abord: nombre d'entre elles en profitent pour accentuer leur recours aux technologies digitales (TD) en quête de gains de productivité.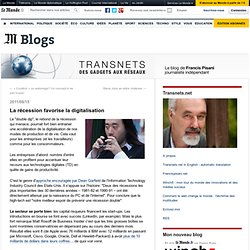 Out in the Open (Scaling)
Head back to the main site for more GOOD. Infographics A graphical exploration of the data that surrounds us ←Back to Post See More Raw Image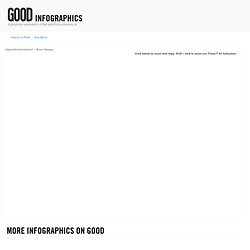 Open Government Status Report
Icelanders hand in draft of world's first 'web' constitution By Agnes Valdimarsdottir (AFP) – Jul 29, 2011 REYKJAVIK — A group of 25 ordinary citizens on Friday presented to Iceland's parliamentary speaker a new constitution draft, which they compiled with the help of hundreds of others who chipped in online. The group had been working on the draft since April and posted its work on the Internet, allowing hundreds of other citizens to give their feedback on the project via the committee's website and on social networks such as Facebook. "The reaction from the public was very important.
Icelanders hand in draft of world's first 'web' constitution
Qatar has made significant progress towards creating an innovative and vibrant ICT sector that will secure a thriving, diversified economy and enrich the quality of life for all members of its society. Read Overview Browse full Report
Publishes Qatar's National ICT Plan 2015 | Supreme Council of Information and Communication Technology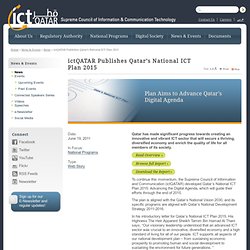 www.francenumerique2012.fr/pdf/081020_FRANCE_NUMERIQUE_2012.pdf
B-M South Korea digital landscape INFOGRAPHIC H1 2011
European commissioner calls for 'digital champions'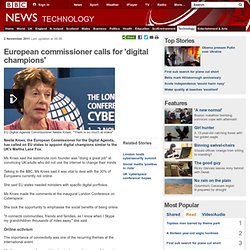 1 November 2011 Last updated at 20:30 ET EU Digital Agenda Commissioner Neelie Kroes: "There is so much at stake" Neelie Kroes, the European Commissioner for the Digital Agenda, has called on EU states to appoint digital champions similar to the UK's Martha Lane Fox. Ms Kroes said the lastminute.com founder was "doing a great job" at convincing UK adults who did not use the internet to change their minds. Talking to the BBC, Ms Kroes said it was vital to deal with the 30% of Europeans currently not online. She said EU states needed ministers with specific digital portfolios.
Remaking Government in a Wiki Age
Dans son édition du 30 juillet dernier, The Economist rapprochait avec beaucoup de perspicacité l'état actuel des Etats-Unis et de l'Europe de celui du Japon dans les années 90. Au moment où éclatait la bulle économique, les dirigeants japonais regardaient ailleurs, incapables de prendre la moindre décision, paralysés par les enjeux et la recherche d'un impossible consensus capable de les faire réélire. Aujourd'hui, face aux tensions sur la zone euro et à la crise de l'endettement, leaders européens et américains se trouvent dans la même incapacité chronique à affronter les problèmes et à prendre les décisions qui s'imposent. Plus qu'un problème d'homme providentiel, génie absolu et doté de bravoure, c'est un système qu'il faut repenser dans sa globalité. Dans une société rentrée dans une phase de complexité, la marge de manoeuvre des politiques est de plus en plus réduite.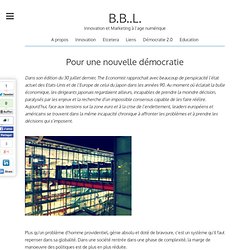 Pour une nouvelle démocratie | Digital-In