Strategy
The Rise of Generation C. Colin is a 20-year-old computer science student living in London with two other students in the year 2020.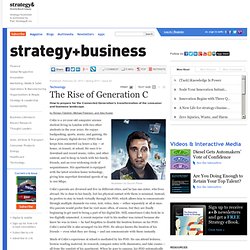 He enjoys backpacking, sports, music, and gaming. He has a primary digital device (PDD) that keeps him connected 24 hours a day — at home, in transit, at school. He uses it to download and record music, video, and other content, and to keep in touch with his family, friends, and an ever-widening circle of acquaintances. His apartment is equipped with the latest wireless home technology, giving him superfast download speeds of up to 100 Mbps. Digital Strategies for Luxury Brands. Brand Planners and Strategists. Beginner's Guide to Content Strategy. You or someone you know wants to create content.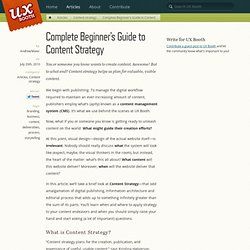 Awesome! But to what end? Content strategy helps us plan for valuable, viable content. We begin with publishing. To manage the digital workflow required to maintain an ever-increasing amount of content, publishers employ what's (aptly) known as a content management system (CMS). History of marketing, part one | denise lee yohn: brand as business bites™ A couple of weeks ago I wrote a blog post, Future of Marketing, which recapped the themes, tools, and tactics that 60 marketing experts expect will shape the future.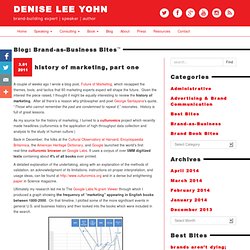 Given the interest the piece raised, I thought it might be equally interesting to review the history of marketing. After all there's a reason why philosopher and poet George Santayana's quote, "Those who cannot remember the past are condemned to repeat it," resonates. History is full of great lessons. As my source for the history of marketing, I turned to a culturomics project which recently made headlines (culturomics is the application of high-throughput data collection and analysis to the study of human culture.) Back in December, the folks at the Cultural Observatory at Harvard, Encyclopaedia Britannica, the American Heritage Dictionary, and Google launched the world's first real-time culturomic browser on Google Labs.
Use a customer SWOT approach to deliver greater brand value | Brands Create Customers. We're all familiar with SWOT techniques for strategy planning, but we can also use a customer-focused SWOT approach to help us deliver greater value in our brand deliverables.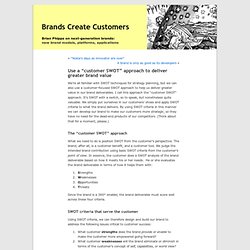 I call this approach the "customer SWOT" approach. It's SWOT with a switch, so to speak, but nonetheless quite valuable. We simply put ourselves in our customers' shoes and apply SWOT criteria to what the brand delivers. By using SWOT criteria in this manner we can develop our brand to make our customers more strategic, so they have no need for the dead-end products of our competitors. (Think about that for a moment, please.) SWOT Analysis - Matrix, Tools Templates and Worksheets | RapidBI - Rapid Business Improvement. SWOT Analysis Made Simple – History, Definition, Tools, Templates & Worksheets How to do a SWOT analysis SWOT analysis made simple – date reviewed February 2013 This page has been developed to help you to carry out a SWOT analysis or TOWS analysis for strategic planning or business review purposes.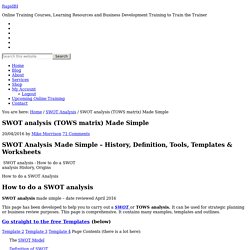 Dieter Rams On Good Design As A Key Business Advantage. Dieter Rams is best-known for his work at Braun--where he revolutionized the design of electronics--and his indelible influence on Apple's Jony Ive.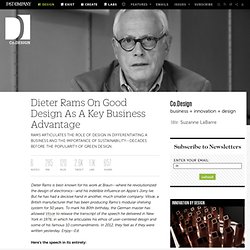 But he has had a decisive hand in another, much smaller company: Vitsœ, a British manufacturer that has been producing Rams's modular shelving system for 50 years. To mark his 80th birthday, the German master has allowed Vitsœ to release the transcript of the speech he delivered in New York in 1976, in which he articulates his ethos of user-centered design and some of his famous 10 commandments.
In 2012, they feel as if they were written yesterday. Enjoy--Ed. Here's the speech in its entirety:
---