Strategy
The Rise of Generation C
Brand Planners and Strategists.
Beginner's Guide to Content Strategy
A common occurrence: you or someone you know wants to create content and have it published online. A slightly less common occurrence? Having that same someone articulate high aspirations for their content . For those select few, instead of creating content destined for some digital landfill, their content is special; it's going places and it's taking them, their brand, and their experience with it. Consistently publishing content requires that we deal with a foe known as content management . Content management is just what it sounds like: a way to manage the creation and dissemination of content.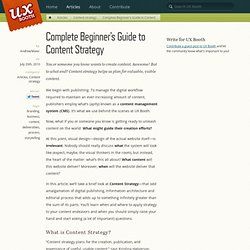 history of marketing, part one | denise lee yohn: brand as business bites™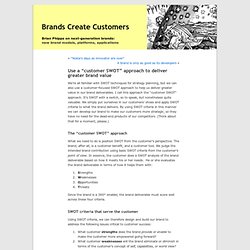 Use a customer SWOT approach to deliver greater brand value | Brands Create Customers
We're all familiar with SWOT techniques for strategy planning, but we can also use a customer-focused SWOT approach to help us deliver greater value in our brand deliverables. I call this approach the "customer SWOT" approach.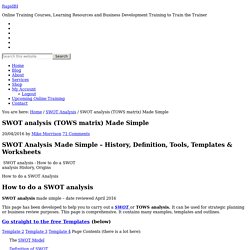 SWOT Analysis - Matrix, Tools Templates and Worksheets | RapidBI - Rapid Business Improvement
SWOT Analysis Made Simple – History, Definition, Tools, Templates & Worksheets
Dieter Rams is best-known for his work at Braun--where he revolutionized the design of electronics--and his indelible influence on Apple's Jony Ive. But he has had a decisive hand in another, much smaller company: Vitsœ, a British manufacturer that has been producing Rams's modular shelving system for 50 years.