Social
La tyrannie de la transparence
XEnvoyer cet article par e-mail La tyrannie de la transparence Sociétal Prétendre pouvoir tout dire et tout montrer relève de l'utopie. Du fantasme.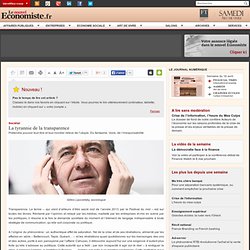 Réseaux sociaux : comment les community managers prennent pied dans l'enseignement supérieur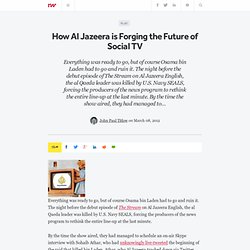 Everything was ready to go, but of course Osama bin Laden had to go and ruin it. The night before the debut episode of The Stream on Al Jazeera English, the al Qaeda leader was killed by U.S. Navy SEALS, forcing the producers of the news program to rethink the entire line-up at the last minute. By the time the show aired, they had managed to schedule an on-air Skype interview with Sohaib Athar, who had unknowingly live-tweeted the beginning of the raid that killed bin Laden. Athar, who Al Jazeera tracked down via Twitter, gave his first on-screen interview on The Stream that Monday. Athar fielded questions not only from the show's host, but from users across the globe via Twitter.
How Al Jazeera is Forging the Future of Social TV
London 2012: Social media restriction for Games Makers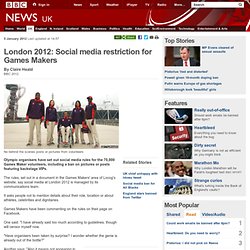 5 January 2012Last updated at 14:57 By Claire Heald BBC 2012 No behind the scenes posts or pictures from volunteers Olympic organisers have set out social media rules for the 70,000 Games Maker volunteers, including a ban on pictures or posts featuring backstage VIPs. The rules, set out in a document in the Games Makers' area of Locog's website, say social media at London 2012 is managed by its communications team. It asks people not to mention details about their role, location or about athletes, celebrities and dignitaries.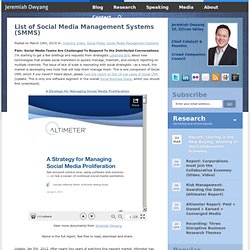 Pain: Social Media Teams Are Challenged To Respond To the Distributed Conversations I'm starting to get a few briefings and requests from strategists LaSandra Brill, about new technologies that enable social marketers to quickly manage, maintain, and conduct reporting on multiple channels. The issue of lack of scale is resonating with social strategists –as a result, the market is developing new tools that will help them manage them. This is one component of Social CRM, which if you haven't heard about, please read the report on the 18 use cases of Social CRM. (Update: This is only one software segment in the overall Social Business Stack, which you should first understand) Above is the full report, feel free to read, download and share. Update: Jan 5th, 2012.
Editor's note: If you're launching a website or app today, you need to build a community around your content. But how? Some sites explode while other nearly identical sites wither. It seems the best you can do sometimes is put out content and start sacrificing goats. What little we do know about how to build social apps and sites is folklore, anyway.
How To Build an Online Community - Kristen Taylor - Technology - The ...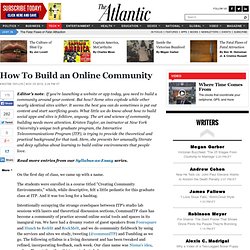 36,713 views Social Media ROI (Return on Investment): 15 choses à savoir sur la mesure du Retour Sur Investissement des media sociaux. Comment choisir les bons kpis (key performance indicators) et metrics pour ...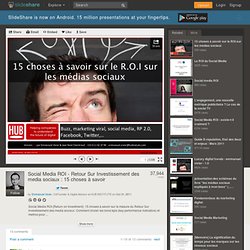 Lundi dernier j'ai eu l'occasion de donner une conférence au Reputation Day sur une thématique inhérente à la gestion de la réputation en ligne : les indicateurs et les formes de mesures. Plutôt que de faire un simple inventaire, j'ai axé ma présentation sur les biais et limites des indicateurs existants. Et sur la nécessité de définir des objectifs et in fine des indicateurs en adéquation avec son organisation… Voici donc ma présentation, suivie de quelques remarques et commentaires sur ces slides (qui, rappelons-le, ne se suffisent pas à eux-mêmes).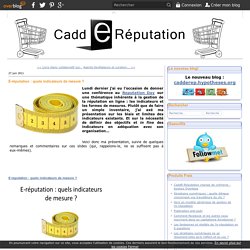 Social media measurement is one of those topics about which everyone has an opinion, but nobody agrees on the solution. The question about how to measure the return on investment (ROI) for social media participation comes up in every workshop I deliver, as definitive, statistic-based metrics seem to be the primary way communicators feel they can secure approval and budget for these programs from their management teams. If you're waiting for someone to provide that magic bean, then put away your watering can.
How to Measure Social Media ROI for Business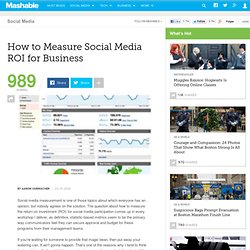 Brian Solis is a principal at new media agency FutureWorks, and author of the upcoming book, Engage. You can connect with him on Twitter or Facebook. The debate over measuring social media investment inspired many brands to cannonball into popular social networks and join the proverbial conversation without a plan or strategic objectives defined. At the same time, the lack of ROI standards unnerved many executives, preventing any form of experimentation until their questions and concerns were addressed. In 2010, we're entering a new era of social media marketing — one based on information, rationalization, and resolve. Business leaders simply need clarity in a time of abundant options and scarcity of experience.
The Maturation of Social Media ROI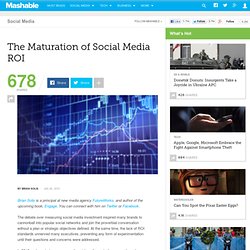 A new way to measure word-of-mouth marketing - McKinsey Quarterly - Marketing - Strategy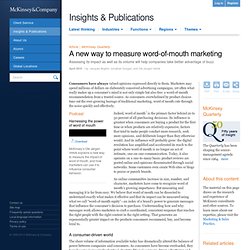 Consumers have always valued opinions expressed directly to them. Marketers may spend millions of dollars on elaborately conceived advertising campaigns, yet often what really makes up a consumer's mind is not only simple but also free: a word-of-mouth recommendation from a trusted source. As consumers overwhelmed by product choices tune out the ever-growing barrage of traditional marketing, word of mouth cuts through the noise quickly and effectively.
128,168 views Featured in: Technology This report is intended primarily for business people who are tasked with understanding, ... This report is intended primarily for business people who are tasked with understanding, interpreting, and acting on social data—executives, strategic planners, social strategists, and marketers. It will outline the key challenges of social data, propose a value-based framework for social analytics, and recommend clear and pragmatic steps that companies engaged in social media must follow to ensure they are gaining insights, measuring effectively, interpreting accurately, and taking appropriate action—both today and in the longer term. Statistics
Social Business Planning
How To Monitor Your Brand Online (Without Losing Your Shirt) | SocialMouths
Let's face it, in some cases monitoring your brand online through systems such as Radian6 might not just be out of your budget, they can also be overkill if you're a personal brand or a small business. But don't think for a moment that I'm about to craft a simple list of the usual free tools, if you have been reading this blog for a while you know that I usually emphasize in the importance of thinking as a serious entrepreneur and invest in your business, whatever that is. So if we can't spend $600/month and can't rely on free shit if we pretend to be ass-kicking entrepreneurs, it's pretty clear that we need to find a balance that we can afford and can give us the necessary data in order to manage our marketing strategies. What's Monitoring Anyways? Monitoring your brand means being aware of who mentions your brand, what they say, where and when.
Social Media Strategy-50 Articles to Expand Your Perspective
At its core, they consider . We then help them prioritize and plan for implementing the strongest alternative. Since many organizations are challenged right now in determining what social networking means for them, . We're partnered with Social Business Strategies and its founder Nate Riggs to How quick?
Companies Must Ascend the Social Business Hierarchy of Needs | Flickr : partage de photos !
9+ Free Trials That Can Instantly Improve Your Online Marketing Efforts
Social Media Statistics
50 of the Best Social Media Guides, Tips and Insights of 2011 (So Far)
How People Share Content On The Web
Don't Call Me, I Won't Call You
How Social Media Can Induce Feelings of 'Missing Out'
The Pyschology of Influence and Sharing
A Herd Makes Money on Wall Street
Everything is contagious
The "Sharing" Mirage
8 Ways to Improve Your Live Event With Social Media
Web 2.0 Suicide Machine - Meet your Real Neighbours again! - Sign out forever!
Connecting with Today's Customer
Yahoo closing down Delicious; but why won't Carol use the F-word? | Technology
Social Media Still Not a Big Deal