Social
La tyrannie de la transparence
XEnvoyer cet article par e-mail La tyrannie de la transparence Sociétal Prétendre pouvoir tout dire et tout montrer relève de l'utopie. Du fantasme.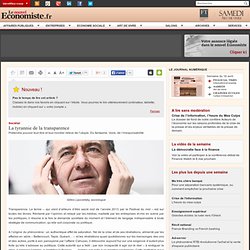 Réseaux sociaux : comment les community managers prennent pied dans l'enseignement supérieur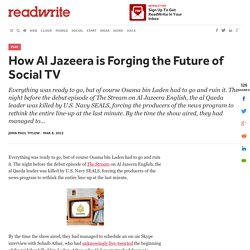 Everything was ready to go, but of course Osama bin Laden had to go and ruin it. The night before the debut episode of The Stream on Al Jazeera English, the al Qaeda leader was killed by U.S. Navy SEALS, forcing the producers of the news program to rethink the entire line-up at the last minute. By the time the show aired, they had managed to schedule an on-air Skype interview with Sohaib Athar, who had unknowingly live-tweeted the beginning of the raid that killed bin Laden. Athar, who Al Jazeera tracked down via Twitter, gave his first on-screen interview on The Stream that Monday.
How Al Jazeera is Forging the Future of Social TV
London 2012: Social media restriction for Games Makers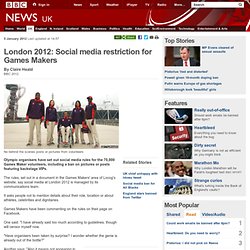 5 January 2012Last updated at 09:57 ET By Claire Heald BBC 2012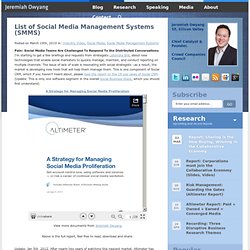 Pain: Social Media Teams Are Challenged To Respond To the Distributed Conversations I'm starting to get a few briefings and requests from strategists LaSandra Brill, about new technologies that enable social marketers to quickly manage, maintain, and conduct reporting on multiple channels. The issue of lack of scale is resonating with social strategists –as a result, the market is developing new tools that will help them manage them.
Editor's note: If you're launching a website or app today, you need to build a community around your content.
How To Build an Online Community - Kristen Taylor - Technology - The ...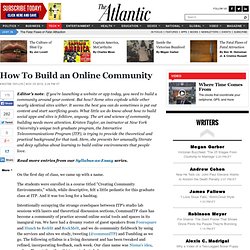 Lundi dernier j'ai eu l'occasion de donner une conférence au Reputation Day sur une thématique inhérente à la gestion de la réputation en ligne : les indicateurs et les formes de mesures.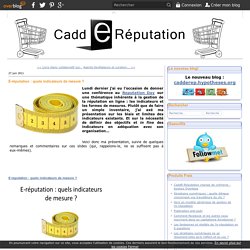 E-réputation : quels indicateurs de mesure
Social media measurement is one of those topics about which everyone has an opinion, but nobody agrees on the solution. The question about how to measure the return on investment (ROI) for social media participation comes up in every workshop I deliver, as definitive, statistic-based metrics seem to be the primary way communicators feel they can secure approval and budget for these programs from their management teams. If you're waiting for someone to provide that magic bean, then put away your watering can.
How to Measure Social Media ROI for Business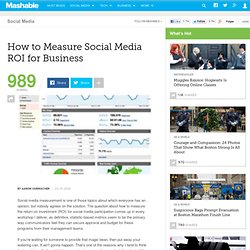 Brian Solis is a principal at new media agency FutureWorks, and author of the upcoming book, Engage. You can connect with him on Twitter or Facebook.
The Maturation of Social Media ROI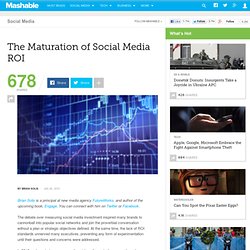 A new way to measure word-of-mouth marketing - McKinsey Quarterly - Marketing - Strategy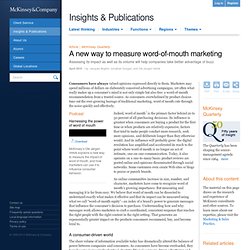 Consumers have always valued opinions expressed directly to them. Marketers may spend millions of dollars on elaborately conceived advertising campaigns, yet often what really makes up a consumer's mind is not only simple but also free: a word-of-mouth recommendation from a trusted source. As consumers overwhelmed by product choices tune out the ever-growing barrage of traditional marketing, word of mouth cuts through the noise quickly and effectively.
Social Business Planning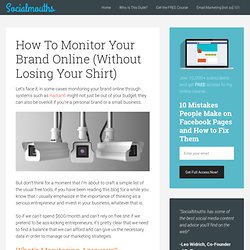 How To Monitor Your Brand Online (Without Losing Your Shirt) | SocialMouths
Let's face it, in some cases monitoring your brand online through systems such as Radian6 might not just be out of your budget, they can also be overkill if you're a personal brand or a small business.
Social Media Strategy-50 Articles to Expand Your Perspective
At its core, they consider .
Companies Must Ascend the Social Business Hierarchy of Needs | Flickr : partage de photos !
I just wanted to share some of the Internet's most incredibly marketing software that can help you instantly improve your rankings, conversion rates, and revenues in a relatively short amount of time.
9+ Free Trials That Can Instantly Improve Your Online Marketing Efforts
Social Media Statistics
35 Great Social Media Infographics [Note: I recently updated this compilation to include some more recent visualizations... you can see it here.]
Social media marketing has gone well beyond the hype stage and is now mainstream business practice. Still, questions remain: how do I use social media most effectively across the enterprise? Which social media monitoring tools should I use?
50 of the Best Social Media Guides, Tips and Insights of 2011 (So Far)
Les marques doivent mieux cibler leurs discours en fonction de leurs cibles.
How People Share Content On The Web
Don't Call Me, I Won't Call You
How Social Media Can Induce Feelings of 'Missing Out'
The Pyschology of Influence and Sharing
A Herd Makes Money on Wall Street
Everything is contagious
The "Sharing" Mirage
8 Ways to Improve Your Live Event With Social Media
Web 2.0 Suicide Machine - Meet your Real Neighbours again! - Sign out forever!
Connecting with Today's Customer
Yahoo closing down Delicious; but why won't Carol use the F-word? | Technology
Social Media Still Not a Big Deal
16 social media guidelines used by real companies