QR Codes
Blog - Tracez les performances de vos QR Codes. Cet article a été publié il y a 2 ans 3 mois 19 jours, il est possible qu'il ne soit plus à jour.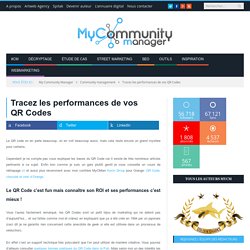 Les informations proposées sont donc peut-être expirées. Le QR code on en parle beaucoup, on en voit beaucoup aussi, mais cela reste encore un grand mystère pour certains. Cependant je ne compte pas vous expliquer les bases du QR Code car il existe de très nombreux articles pertinents à ce sujet. Americans: Y'All Love QR Codes. Forget the bad press, the QR code seems like such a clever idea: Like a smarter barcode for the 21st century, it hooks up through your smartphone or computer's camera to some code that reads it, and translates its spotty pattern into a URL, or a phone number, or a passage of text, or a digital business card--all instantaneously.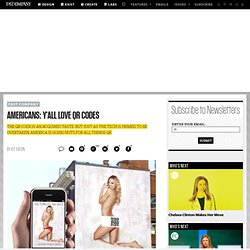 They've been used all over the globe for ages, but the tech is having a moment in the U.S. Check out Victoria's Secret's new "Sexier Than Skin" ad campaign--I bet it already grabbed your eye. It's new, undeniably clever, certain to tempt many a viewer into trying QR codes in a way that perhaps no other ad ever has, and it's so "meta" (with the tech itself acting as part of the visual joke) it's hard to imagine the ad campaign working any other way. QR Codes 2011. Lately I've seen QR (quick response) codes popping up everywhere.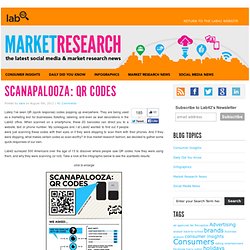 They are being used as a marketing tool for businesses, ticketing, labeling, and even as wall decorations in the Lab42 office. When scanned on a smartphone, these 2D barcodes can direct you to a website, text or phone number. Who's Really Scanning All Those QR Codes? QR codes are everywhere these days — in fine art exhibits, some cities' building permits, wrapping paper and every imaginable kind of marketing campaign.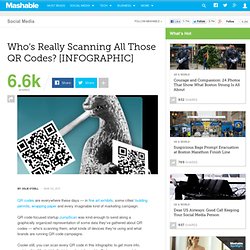 QR code-focused startup JumpScan was kind enough to send along a graphically organized representation of some data they've gathered about QR codes — who's scanning them, what kinds of devices they're using and what brands are running QR code campaigns. Cooler still, you can scan every QR code in this infographic to get more info, making this Mashable's first interactive infographic. Top 14 Things Marketers Need to Know About QR Codes - Search Engine Watch (SEW) I recently spoke at SES New York on best practices for mobile marketing with QR codes.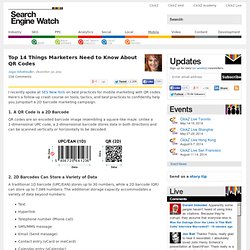 Here's a follow-up crash course on tools, tactics, and best practices to confidently help you jumpstart a 2D barcode marketing campaign. 1. A QR Code is a 2D Barcode QR codes are an encoded barcode image resembling a square-like maze. 15 Creative QR Codes [PICS] In the same way that bar codes don't have to be boring, quick response codes can also be creative.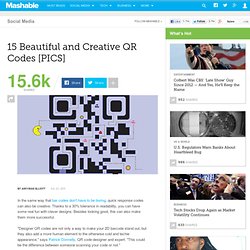 Thanks to a 30% tolerance in readability, you can have some real fun with clever designs. Besides looking good, this can also make them more successful. "Designer QR codes are not only a way to make your 2D barcode stand out, but they also add a more human element to the otherwise cold and techie appearance," says Patrick Donnelly, QR code designer and expert. "This could be the difference between someone scanning your code or not. " Un supermarché virtuel à base de QR Code : le carton de Tesco. En Corée du Sud, un concept de supermarché virtuel imaginé par Tesco se transforme en opération permanente et révolutionne la distribution.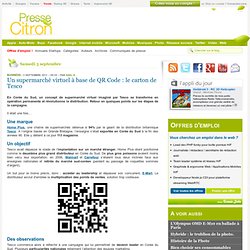 Retour en quelques points sur les étapes de la campagne. Il était une fois… Une marque Home Plus, une chaîne de supermarchés détenue à 94% par le géant de la distribution britannique Tesco. A l'origine basée en Grande Bretagne, l'enseigne s'était exportée en Corée du Sud à la fin des années 90. A Slightly Nerdy, But Awesome Way to Share Event Photos | Apartment Therapy Unplggd. We just found a clever way to use Dropbox to share photos from everyone at event parties.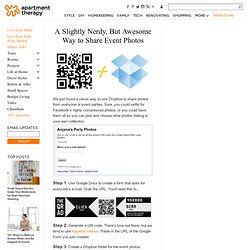 Sure, you could settle for Facebook's highly compressed photos, or you could have them all so you can pick and choose what photos belong in your own collection. Step 1: Use Google Docs to create a form that asks for everyone's e-mail. HOW TO: Use QR Codes for Event Marketing. Matthias Galica is CEO of ShareSquare.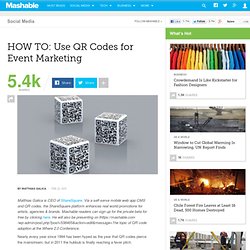 Via a self-serve mobile web app CMS and QR codes, the ShareSquare platform enhances real world promotions for artists, agencies & brands. Mashable readers can sign up for the private beta for free by clicking here.
---