Localisation
Set Up a Foursquare Special. This post originally appeared on the American Express OPEN Forum, where Mashable regularly contributes articles about leveraging social media and technology in small business.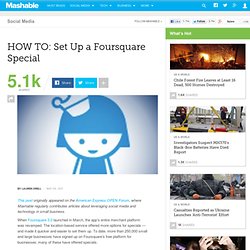 When Foursquare 3.0 launched in March, the app's entire merchant platform was revamped. The location-based service offered more options for specials — and made it quicker and easier to set them up. To date, more than 250,000 small and large businesses have signed up on Foursquare's free platform for businesses; many of these have offered specials. Ushahidi Open-Source Location service. Until now, Ushahidi has been most known as a service for reporting location during times of crisis.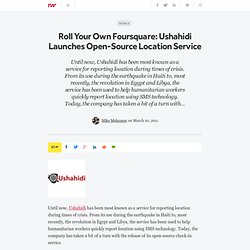 From its use during the earthquake in Haiti to, most recently, the revolution in Egypt and Libya, the service has been used to help humanitarian workers quickly report location using SMS technology. Today, the company has taken a bit of a turn with the release of its open-source check-in service. Now, anyone with a bit of PHP knowledge and a server can create a Foursquare, Gowalla, Facebook Places or check-in service of their own and keep their location data out of the hands of the public and corporate alike.
Earlier this year, the company announced that it would be releasing a mobile check-in app for their open-source Crowdmap service. Today, the app has gone live for the iPhone and makes it simple for anyone to create their own location-based check-in service of any variety. Start Marketing on Foursquare. The Social Media 101 Series is sponsored by Global Strategic Management Institute.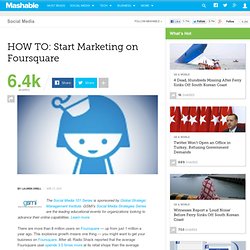 GSMI's Social Media Strategies Series are the leading educational events for organizations looking to advance their online capabilities. Learn more. There are more than 8 million users on Foursquare — up from just 1 million a year ago. This explosive growth means one thing — you might want to get your business on Foursquare. After all, Radio Shack reported that the average Foursquare user spends 3.5 times more at its retail shops than the average customer.
9 Killer Tips for Location-Based Marketing. Social networking has finally become something valuable for brick-and-mortar businesses.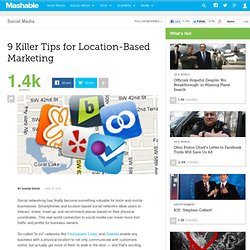 Smartphones and location-based social networks allow users to interact, share, meet up, and recommend places based on their physical coordinates. This real-world connection to social media can mean more foot traffic and profits for business owners.
---