Libya
Libye, France, Otan, nelles technos, surveillance, Scandales, kadhafi, etc.
Special report: The secret plan to take Tripoli. iLibya: Arab Spring Revolution | Reportage by Getty Images. Our photographer representation service, GA artists features a roster of acclaimed international photographers chosen for the unique vision and creativity they bring to their work - and yours.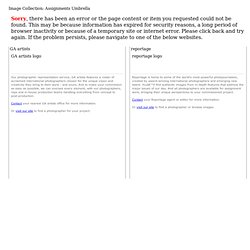 And to make your commission as easy as possible, we can oversee every element, with our photographers, reps and in-house production teams handling everything from concept to post-production. Contact your nearest GA artists office for more information. Or visit our site to find a photographer for your project. L'information trop sérieuse pour être laissée aux journalistes : Des médias en guerre en Libye. Une analyse objective de la situation sur le terrain et du rapport de forces militaires ne permet qu'une seule conclusion: le régime de Kadhafi est fini.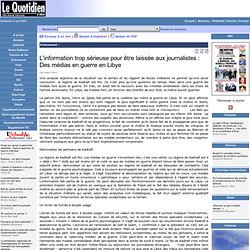 Ce n'est plus qu'une question de temps. Mais dans une guerre… les médias font aussi la guerre. En Irak, on avait fait le raccourci avec les «médias embedded» dans les chars de l'armée américaine. En Libye, les médias font, en fonction des intérêts de leur Etat, le même boulot guerrier. Le patron d'Al Jazira, l'émir du Qatar, fait partie de la coalition qui mène la guerre en Libye. WikiLeaks cables: A guide to Gaddafi's 'famously fractious' family | World news. Muammar Gaddafi presides over a 'dysfunctional' family of eight offspring, WikiLeaks cables reveal.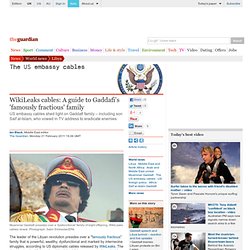 Photograph: Sabri Elmhedwi/EPA The leader of the Libyan revolution presides over a "famously fractious" family that is powerful, wealthy, dysfunctional and marked by internecine struggles, according to US diplomatic cables released by WikiLeaks. The documents shed light on how his eight children – among whom rivalries have sharpened in recent years – his wife and Gaddafi himself lead their lives. Rebels Hijack Gadhafi's Phone Network. Google Earth, an iPhone compass and experience playing 'Call of Duty' have been vital to Libya's rebel war plan. A screenshot from the game Call of Duty.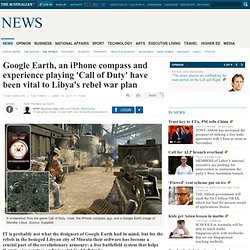 Inset: the iPhone compass app, and a Google Earth image of Misrata, Libya. Source: Supplied. Libyan Leader Muammar Gaddafi's 25 Strangest Moments. Lockerbie, the Great Manmade River, "Isratine," abolishing Switzerland, all-female bodyguards, and camels in Belgrade: David A.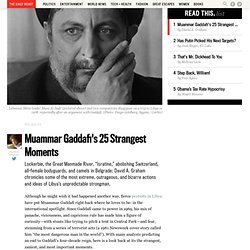 Graham chronicles some of the most extreme, outrageous, and bizarre actions and ideas of Libya's unpredictable strongman. Although he might wish it had happened another way, fierce protests in Libya have put Muammar Gaddafi right back where he loves to be: in the international spotlight. LIVE: Gaddafi defiant as rebels push towards Tripoli - LIBYA. Libya: SAS leads hunt for Gaddafi. Gaddafi said he would fight on "until victory or martyrdom", while his spokesman said loyalist soldiers were well prepared to carry on the battle "for years".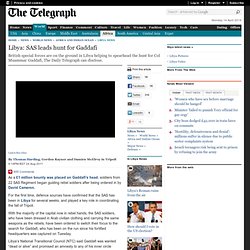 In other developments: * Dozens of journalists who had been held against their will for five days in a Tripoli hotel were freed without bloodshed. Mutassim Gaddafi's girlfriend tells of the final days of Libyan regime. The Accomplice | Politics. II.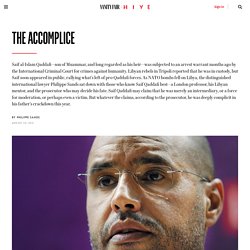 The Professor A s friend, colleague, and academic adviser, David Held, a prominent professor of political science at L.S.E. for many years, watched Saif's speech with particular attention and concern as it was being delivered. Within a few hours, Held would himself become the subject of intense media scrutiny. He had provided informal advice to Saif on his doctoral thesis, had made a number of trips to Libya, and had served for a short period on the board of the Qaddafi foundation. Some see Held as a well-intentioned academic who tried to enable something decent in Saif, while others see him as a naïf who was unwittingly used in the process of reputation-laundering.
Libya: Bloggers Between Dictatorship and War. This post is part of our special coverage Libya Uprising 2011.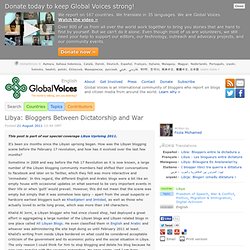 It's been six months since the Libyan uprising began. How was the Libyan blogging scene before the February 17 revolution, and how has it evolved over the last few months? Sometime in 2009 and way before the Feb 17 Revolution as it is now known, a large number of the Libyan blogging community members had shifted their conversations to Facebook and later on to Twitter, which they felt was more interactive and 'immediate'. In this regard, the different English and Arabic blogs were a bit like an empty house with occasional updates on what seemed to be very important events in their life or when 'guilt' would prevail. How far Gadhafi went to monitor Libya's Internet activity - TNW Middle East. It's no surprise that Libya's former leader Gadhafi was using technology to spy on his people.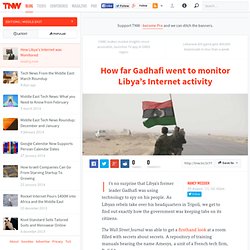 As Libyan rebels take over his headquarters in Tripoli, we get to find out exactly how the government was keeping tabs on its citizens. The Wall Street Journal was able to get a firsthand look at a room filled with secrets about secrets. Foreign Firms Helped Gadhafi Spy on Libyans. ÉCOUTES – « On leur avait montré comment trouver tous les Libyens qui allaient sur LeMonde.fr » Le système de surveillance Eagle,, fabriqué par la société française Amesys.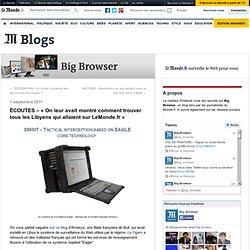 On vous parlait naguère sur ce blog d'Amesys, une filiale française de Bull, qui avait installé en Libye le système de surveillance du Web utilisé par le régime. Le Figaro a retrouvé un des militaires français qui ont formé les services de renseignement libyens à l'utilisation de ce système, baptisé "Eagle". I2E verse des commissions à Takieddine. Document révélé le 24.08.2011 Dans le cadre du contrat de cryptage des communications libyennes, I2e verse des commissions au marchand d'armes entre décembre 2007 et octobre 2008 – 2,4 millions d'euros pour Como holding et 2,07 millions d'euros pour Tristar. Soit un total de près de 4,5 millions d'euros de commissions que la loi française proscrit depuis 2000. Article lié : Les documents Takieddine. Sarkozy/Guéant : le grand soupçon libyen. Pétrole : l'accord secret entre le CNT et la France.
La morale politique n'a rien à faire avec les affaires. C'est, en substance, ce que répète le gouvernement français depuis le 19 mars, jour du lancement de l'opération militaire contre les troupes du colonel Kadhafi. Paris n'a qu'un seul objectif : «Venir en aide à un peuple en danger de mort […] au nom de la conscience universelle qui ne peut tolérer de tels crimes, déclare Nicolas Sarkozy lors d'un discours à l'Elysée, le 19 mars. News Desk: "Dear Moussa": Libya and the C.I.A. In a series of trashed offices around the Libyan capital, many of Libya's previously secret intelligence files now lie in plain sight.
Yesterday afternoon, with a couple of representatives of Human Rights Watch, the New York-based human-rights organization, and several fellow reporters, I spent several hours combing through papers and ring binders and box files in an office that had previously belonged to a senior Qaddafi regime official. The office, located in a villa that was guarded by a handful of rebel fighters, is situated on a residential street behind Tripoli's Intercontinental Hotel, a hulking grey concrete massif that is still under construction on the city's seaside corniche. The office had once been the domain of Moussa Koussa, a veteran Qaddafi deputy who, last March, early in the Libyan crisis, abruptly fled the country. He is rumored to have done so with the assistance of the British foreign intelligence agency MI6.
---