Good sites
It could be said that Dovima, for whom the term 'supermodel' was coined, made a name for herself—literally. Born Dorothy Virginia Margaret Juba, she took the first two letters of her three given names. Not just that, she also perpetuated that the notion of vacuous blondes. In Egypt, while asked her what she thought of Africa, she replied, "Africa?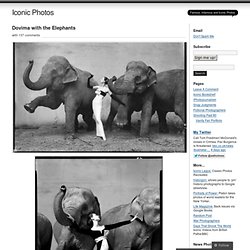 The iconic Dovima
Moscow House of Photography
Dear visitors!
Winterthur
P O T L A T C H
Pupsam
Picture Show: Fake Holidays - Picture Show
Most vacations involve self-deception. We all do it to varying degrees, but to engage in the fantasy of a few days in paradise is to partake in a willful suspension of disbelief. Yet nowhere is our modern propensity for playful delusion more evident than in the work of the photographer Reiner Riedler, whose book Fake Holidays explores the wonderful absurdity a number of artificial paradises, from themed amusement parks to simulated beaches to scaled-down landmark replicas. "I started my project years ago in Germany when I first saw these artificial summer beaches in the big cities like Berlin or Hamburg," says Riedler. "After work, you go to these places, and as soon as you get off your shoes, put your feet in the sand, and hold a cold drink in your hand, you are on holiday.
Photography driven by social change. Social change driven by photography.
FJORD
Vieilles photos célèbres colorisées
Photographers on Tumblr you might consider following:
Smithsonian Magazine Photo Contest: 50 Finalists
Scoopshot | www.scoopshot.com
SEESAW MAGAZINE: Current Issue
mooncruise* photography magazine - Featuring photography and music.