GEOPOLITICS
dimanche, 26 janvier 2014 Introduction * En 1985 naissance de la Lettre d'Analyse de defensa, en 1999 au tour du site de defensa.org.* Philippe Grasset a assuré et assure l'édition, l'administration et la direction rédactionnelle de ces publications. * Nous définissons nos engagements à la manière des "antimodernes": Celui qui peut dire "nous modernes" tout en dénonçant le moderne. * Le réseau joue un rôle critique crucial des forces déstructurantes qui sont la cause de la crise de notre civilisation : nous participons à cette bataille de l'information et de la perception avec notre grille de lecture du postmodernisme (le virtualisme) * La logique de notre engagement nous soutient avec fermeté et constance. Pour en savoir plus, voyez "A propos". Sélection des dernières parutions Snowden va-t-il faire exploser Washington ?
dedefensa.org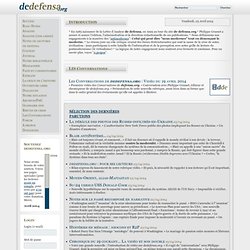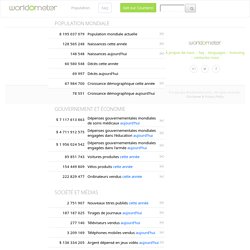 Livres: La population mondiale L'humanité a doublé ses effectifs en 40 ans, passant de 3 à 6 milliards d'habitants mais, alors que la population de nombreux pays pauvres va encore doubler, celle de la plupart des pays d'Europe diminuera dans la prochaine décennie. Cet ouvrage : fait le point sur les situations présentes marquées par de violents contrastes ; analyse les éléments et les mécanismes de la révolution démographique qui bouleverse la planète depuis deux siècles ; examine les principaux défis que pose la démographie aux sociétés d'aujourd'hui. Comment les riches détruisent la planète Nous sommes à un moment de l'histoire qui pose un défi radicalement nouveau à l'espèce humaine : pour la première fois, son prodigieux dynamisme se heurte aux limites de la biosphère et met en danger son avenir. Vivre ce moment signifie que nous devons trouver collectivement les moyens d'orienter différemment cette énergie humaine et cette volonté de progrès.
Worldometers
"Allowing skilled emigration is stealing human capital from poor countries." No. Many of the same countries courted by the United States through aid and trade deals complain bitterly of the "brain drain" of their doctors, scientists, and engineers to the United States and other rich countries. If correct, these complaints would mean that current immigration policy amounts to counterproductive foreign policy. Thankfully, however, the flow of skilled emigrants from poor to rich parties can actually benefit both parties. This common idea that skilled emigration amounts to "stealing" requires a cartoonish set of assumptions about developing countries.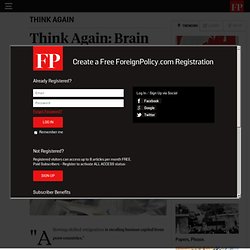 Think Again: Brain Drain
Le soft power à l'âge du tout médiatique - Soft Power
Le soft power : on en entend beaucoup parler ces derniers temps. Mais que signifie vraiment ce concept ? D'où vient-il ? Et, surtout, quel est son intérêt ? Définition et analyse.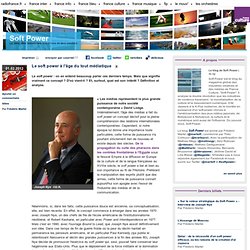 About Time zones