Facebook
Facebook will lose 80% of users by 2017, say Princeton researchers | Technology | The Guardian
Facebook has spread like an infectious disease but we are slowly becoming immune to its attractions, and the platform will be largely abandoned by 2017, say researchers at Princeton University.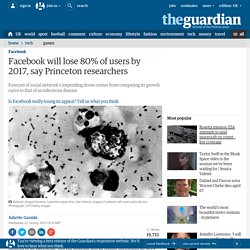 Facebook will lose 80% of users by 2017, say Princeton researchers | Technology | The Guardian
Couac. Pour mieux découvrir les hobbies et le caractère de ses futurs étudiants, un professeur de la très sélective université Paris-Dauphine a pris une initiative aussi iconoclaste qu'éphémère. Il a demandé aux 59 candidats à son master de gestion de se présenter à l'épreuve orale, la semaine prochaine… avec une copie de leur profil Facebook.
Facebook a failli être un critère d'entrée à Dauphine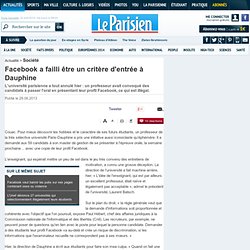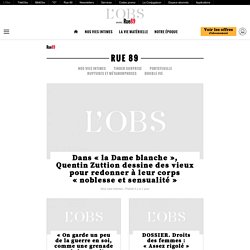 Un samedi matin dans ma salle de bains, France Info à fond pour couvrir le bruit de la douche, et dans la tête, mon programme d'une journée où je ne vais, enfin, pas travailler. La tuerie de Newtown, une analyse intéressante de Fabienne Sintes, correspondante permanente aux Etat-Unis de la station, sur le débat qui reprend de plus belle entre conservateurs et démocrates à propos du port d'arme. Suit un entretien entre la journaliste qui assure la matinale à Paris et un psychiatre expert auprès des cours d'assises, le professeur Roland Coutanceau, par ailleurs criminologue, président de la Ligue française de la santé mentale. Il faut bien tenir le « spécial tuerie » C'est toujours risqué de donner un avis « scientifique » sur une affaire dont on ne sait encore pas grand-chose, un jeune homme que personne ne connaît et qu'il n'a ni vu ni entendu...Passons, il faut du contenu pour tenir le « spécial tuerie ».
Le tueur de Newtown, 20 ans, n'a pas Facebook, suspect ? Bravo France Info
Un groupe de cyber-activistes algériens appelé DZ Mafia sévit sur le réseau social facebook. Il pirate les pages fans les plus populaires du web algérien, et a déjà pris le contrôle des pages de Algérien Zenda et de 1.2.3 Viva l'Algérie. Ils sont une sorte d'Anonymous à l'algérienne, sauf que ces activistes ne travaillent pas contre les autorités.
Les cyber-activistes de DZ Mafia font trembler le Facebook algérien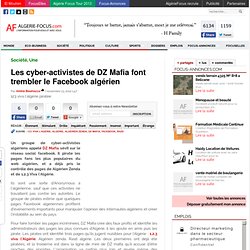 How LinkedIn Makes TWENTY Times More Money Per User Than Facebook
Simple Step-by-Step Instructions for Setting Up a Facebook Ad Campaign
Between the IPO, debate around GM's ad performance, and Zuckerberg's recent marriage, there's been a lot of controversy -- or at least chatter -- around Facebook of late. As we look across the digital landscape, however, we still get a lot of questions regarding Facebook ads and how to set them up, especially with the recent changes within the user interface. This post is not to debate the efficiency of Facebook ads (I did that last week), but rather to show new users how to set up Facebook ads, and current users how to improve their existing ad campaigns by highlighting some of the nuances in the setup process. Let's get started.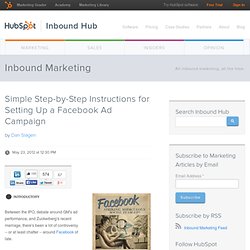 Live Stream - Développeurs Facebook
Wordbooker
Like Box - Développeurs Facebook
facebook-timeline.jpg (Image JPEG, 1280x4391 pixels)
25 Free and Premium HTML5/CSS3 Website Templates and Layouts
Now-a-days, most of the web designers rely on the HTML5 or CSS3 for designing websites. The upgraded version provides clean and simple templates and layouts that are quite helpful for the designers. The HTML5 is the latest and the advanced version of HTML (Hyper Text Markup Language) that is quite compatible with most of the browsers. It has become significantly popular among the latest web designers since it offers quite a few incredible new features. There are some of the best HTML5 and CSS3 website templates and layouts offered online which could be very effective and easy to understand.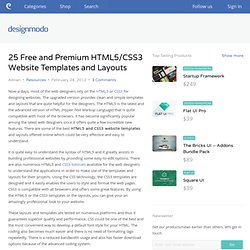 Agence Facebook et Réseaux sociaux à Lille
40+ Apps & Tools To Customize Your Facebook Pages
Facebook now has over 800 million active users around the world. If it were a country, it would be the third largest in the world (right behind China and India), and more than twice the size of the United States. So it's pretty much vital for anyone trying to promote a product, service, event, or cause to create a Facebook page. While other social networks (Google+ among them) are making gains, Facebook is still the largest and most popular out there, and that's unlikely to change in the immediate future (and besides, Google+ doesn't even allow brand pages yet). One of the biggest mistakes brands make when creating Facebook pages is to just use the default tabs and default content.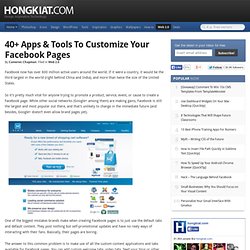 mailFPellerin.jpg (JPEG Image, 660x530 pixels)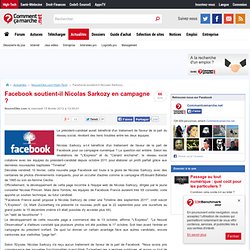 Facebook soutient-il Nicolas Sarkozy en campagne ?
Le président-candidat aurait bénéficié d'un traitement de faveur de la part du réseau social, révélant des liens troubles entre les deux équipes. Nicolas Sarkozy a-t-il bénéficié d'un traitement de faveur de la part de Facebook pour sa campagne numérique ? La question est entière. Selon les révélations de "L'Express" et du "Canard enchaîné", le réseau social collabore avec les équipes du président-candidat depuis octobre 2011 pour élaborer un profil parfait grâce aux dernières nouveautés baptisées "Timeline". Dévoilée vendredi 10 février, cette nouvelle page Facebook est toute à la gloire de Nicolas Sarkozy avec des centaines de photos d'évènements marquants, pour en occulter d'autres comme la campagne d'Edouard Balladur de 1995 ou son ex-femme Cécilia.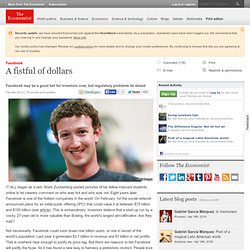 IT ALL began as a lark. Mark Zuckerberg posted pictures of his fellow Harvard students online to let viewers comment on who was hot and who was not. Eight years later, Facebook is one of the hottest companies in the world. On February 1st the social network announced plans for an initial public offering (IPO) that could value it at between $75 billion and $100 billion (see article).
Facebook: A fistful of dollars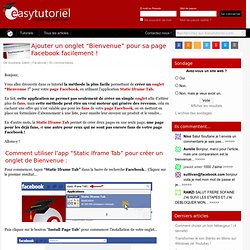 Bonjour, Vous allez découvrir dans ce tutoriel la méthode la plus facile permettant de créer un onglet "Bienvenue !" pour votre page Facebook, en utilisant l'application Static Iframe Tab.
Ajouter un onglet "Bienvenue" pour sa page Facebook facilement
FanGager
News Qui sont ces Français fans de pages sur Facebook ? Paris, le 9 janvier 2012 - Dans le cadre du lancement de sa nouvelle solution fanObserver®, Harris Interactive dévoile les résultats de son enquête de cadrage(1) sur les internautes français fans de pages sur Facebook, dont voici les principaux enseignements : La France compte plus de 16 millions de fans actifs sur Facebook Fin 2011, 80% des utilisateurs de Facebook sont membres d'au moins une page fan, qu'il s'agisse de la page Facebook d'une marque, d'une entreprise, d'une association, d'un personnage public… Et 80% de ces fans sont « actifs » au sens où ils suivent les publications des pages dont ils sont membres. Par ailleurs, ces fans « actifs » sont de très gros utilisateurs de Facebook : plus de 80% d'entre eux s'y connectent au moins une fois par jour.
Harris Interactive France | News
Phonebook
Facebook Map
Facebook use in the Arab countries is growing as such a rate that within a year, Arabic will overtake English to become the most popular Facebook language in the region, the Jerusalem Post reports. The Arabic Facebook interface launched in 2009, growing to 10 million users within two years. As it stands, these users represent around a third of all Facebook users in the Arab world, with studies suggesting that two times as many people frequently use Facebook in the Middle East and North Africa rather than buy a daily newspaper. Middle Eastern PR agency Spot On PR commissioned the study, indicating that Facebook's Arabic interface has grown 175% a year, double the rate of the social network's growth worldwide.
Arabic to overtake English as Facebook's biggest Middle East language
Facebook Statistics, Application Statistics, Page Statistics
Qui ? Mazda, Ford, Levi's, 1 800 Flower, 20th Fox, ADT, Oasis, Cisco, BNP, Biotherm, Voyages-SNCF. Quoi ?
11 marques livrent leurs ROI sur Facebook
Via: Online Schools Facebook surrounds us. Most major media channels, brands, organizations, trade groups, non-profits and institutions have a presence on Facebook.
What Is Facebook Becoming?
Social 101 Facebook
How To Create A Facebook Fan Page
Create Facebook Fanpages easily with Free Wordpress Templates!
Improve Engagement on Your Brand's Facebook Page [STATS]
What is Your Facebook Welcome Tab Strategy?
IFrame Apps
Designing A Facebook Fan Page: Showcases, Tutorials, Resources - Smashing Magazine
Risk Reduction Strategies on Facebook
Unlocking Viral Secrets On Facebook: MIT Study
Comment les entreprises gèrent le multilingue sur Facebook – Actualité #Webdesign #Graphisme – Olybop.info<
Le modèle Facebook | Digital-In
Facebook's IPO will create over 1,000 millionaires
The Social Network's Screenplay Writer Quits Facebook [Headlines]
Facebook et ses millions d'amis valent-ils vraiment 100 milliards ?
6 Things NOT to Do On Facebook As a Brand
The Ultimate Guide to Facebook Marketing
10 Best Facebook Campaigns
Converse: Made By Facebook App - Interactive (image)
Facebook to Ad Agencies: Let's Be in a Relationship
16 Facebook Applications to Boost Popularity of Facebook Fan Page
Socialshaker | Applications Facebook pour vos Pages