Digital Governance
Qui sont les ennemis d'Internet ? | Digital-In
Dans un article paru la semaine dernière dans The Guardian , et extrait de l'excellente série du quotidien Battle for the Internet , Sergey Brin , cofondateur de Google , fait part de ses inquiétudes concernant l'ouverture et le libre accès à Internet. « Depuis plusieurs endroits du monde, des forces très puissantes se sont alignées contre l'Internet ouvert. Je suis plus inquiet que par le passé. C'est effrayant ». Le jadis grand laudateur d'un Internet qui pour être commercial n'en soit pas moins force de progrès, se serait converti en contempteur lucide des dérives politiques et mercantiles d'un média né dans et pour la liberté.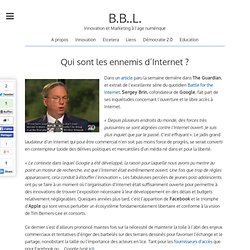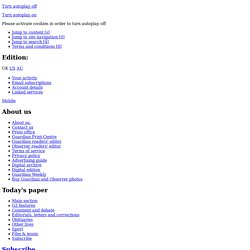 The OpenNet Initiative has analysed government interference with the internet in 74 countries. The level of tampering in four categories is graded out of four in each country. See how each country is ranked below. Buttons below the map explain each category and show how all countries perform in each category. Click each country for scores across all categories and for national summaries of recent state internet activity and progress in accessibility • Do you agree with this ranking?
How open is your internet? An interactive map | Technology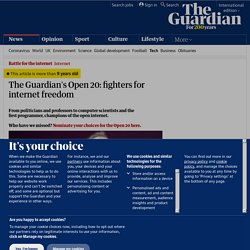 Rickard Falkvinge Founder, the Pirate party Falkvinge founded the Swedish Pirate party in 2006 to focus on reforming copyright, patents and file sharing laws. The party now has an often marginal presence in 22 countries, with significant presence in Sweden, where it has two members of the European parliament, and Germany, where it polls as the third biggest political party. Birgitta Jonsdottir, the MP instrumental in Iceland becoming a sanctuary for free speech. Birgitta Jonsdottir MP, The Movement, Iceland
The Guardian's Open 20: fighters for internet freedom | Technology
Pirates de tous les pays
Objectif : les Partis Pirates au Parlement européen en juin 2014. Ce week-end à Prague, nous avons suivi la conférence du Parti Pirate international, marquée par une ambiance euphorique et des débats très stratégiques. En Allemagne, le Parti Pirate devient la troisième force politique du pays. Ailleurs, comme en Catalogne, il s'impose comme une alternative sérieuse. De quoi justifier de grosses ambitions. Rick Falkvinge, fondateur du Parti Pirate, en Suède en 2009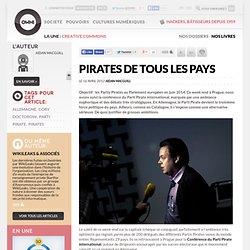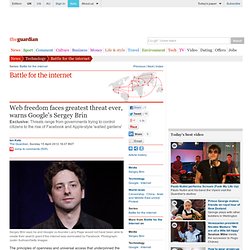 The principles of openness and universal access that underpinned the creation of the internet three decades ago are under greater threat than ever, according to Google co-founder Sergey Brin . In an interview with the Guardian, Brin warned there were "very powerful forces that have lined up against the open internet on all sides and around the world". "I am more worried than I have been in the past," he said. "It's scary."
Présentation des résultats - mai 2011 Une étude pour enrichir les expériences à venir... Décider ensemble a publié une étude sur les pratiques françaises de la concertation sur projet, entreprise en 2009 grâce au soutien de l'ADEME et avec la participation de l'Université de Technologie de Compiègne.
Analyse des pratiques de la concertation en France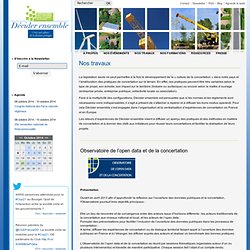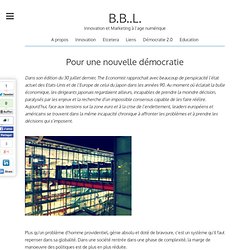 Pour une nouvelle démocratie | Digital-In
Dans son édition du 30 juillet dernier, The Economist rapprochait avec beaucoup de perspicacité l'état actuel des Etats-Unis et de l'Europe de celui du Japon dans les années 90. Au moment où éclatait la bulle économique, les dirigeants japonais regardaient ailleurs, incapables de prendre la moindre décision, paralysés par les enjeux et la recherche d'un impossible consensus capable de les faire réélire. Aujourd'hui, face aux tensions sur la zone euro et à la crise de l'endettement, leaders européens et américains se trouvent dans la même incapacité chronique à affronter les problèmes et à prendre les décisions qui s'imposent. Plus qu'un problème d'homme providentiel, génie absolu et doté de bravoure, c'est un système qu'il faut repenser dans sa globalité.
Accueil > Politique > Egocratie et démocratie. La nécessité de nouvelles technologies politiques. (...) Le moins que l'on puisse dire est que le livre d'Alban Martin, paru en 2010 tombe aujourd'hui à pic.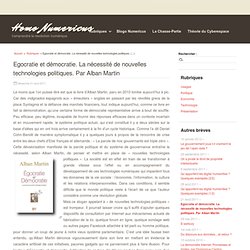 Egocratie et démocratie. La nécessité de nouvelles technologies politiques