City 2.0
Cities on the Prowl | Citiscope. 7scenes | Connect your story to the city! City branding. Marketing urbain en Europe. « Depuis le lancement de la politique de marque, HMG affine la stratégie de marketing en précisant ses objectifs, les groupes cibles et les canaux de communication.
Elle conçoit et développe de nombreux outils globaux de communication - brochures, films de promotion et parcours de découverte, etc. » s'enthousiasme sur son blog le directeur de l'Attractivité Durable des Territoires de la région Île de France [1]. Devinette : Mais de quoi parle donc notre expert, au titre baroque ? Les éco-centres 2.0 : nouvelle approche green du travail ? Par Alexandre Simonnet le 27 avril 2011 © Spaces Après les réseaux intelligents d'électricité (smart grid) et d'eau (smart water), les bâtiments intelligents (smart building) ou encore la mobilité intelligente (covoiturage, autopartage…), voici le travail intelligent !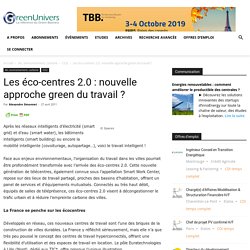 Face aux enjeux environnementaux, l'organisation du travail dans les villes pourrait être profondément transformée avec l'arrivée des éco-centres 2.0. Cette nouvelle génération de télécentres, également connue sous l'appellation Smart Work Center, repose sur des lieux de travail partagé, proches des bassins d'habitation, offrant un panel de services et d'équipements mutualisés.
Index ranks ICT-savvy cities by benefit for citizens. Ericsson and Arthur D.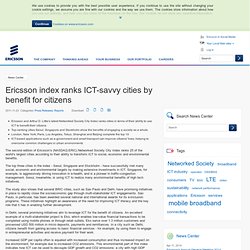 Little's latest Networked Society City Index ranks cities in terms of their ability to use ICT to benefit their citizens Top-ranking cities Seoul, Singapore and Stockholm show the benefits of engaging a society as a whole London, New York, Paris, Los Angeles, Tokyo, Shanghai and Beijing complete the top 10 ICT-based applications such as e-government and smart transport can improve citizens' lives, helping to overcome common challenges in urban environments The second edition of Ericsson's (NASDAQ:ERIC) Networked Society City Index ranks 25 of the world's largest cities according to their ability to transform ICT to social, economic and environmental benefits.
DigiNewYork. New York can't & shouldn't try to rival Silicon Valley. New York's mayor, Michael Bloomberg, envisions his city wresting the title of "technology capital" of the U.S. from Silicon Valley and has embarked on an ambitious plan to build or expand a science and engineering campus in New York.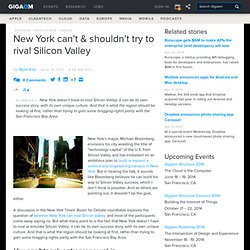 But in hearing the talk, it sounds like Bloomberg believes he can build his way to Silicon Valley success, which I don't think is possible. And as others are pointing out, it shouldn't be the goal, either. A discussion in the New York Times' Room for Debate roundtable explores the question of whether New York can rival Silicon Valley, and most of the participants come away saying no. But what many point to is the fact that New York doesn't have to rival or emulate Silicon Valley; it can be its own success story, with its own unique culture. And that is what the region should be looking at first, rather than trying to gain some bragging-rights parity with the San Francisco Bay Area. New York hires a 'chief digital officer' After a high-profile search that began over six months ago, New York City has hired new media entrepreneur Rachel Sterne as its first "chief digital officer.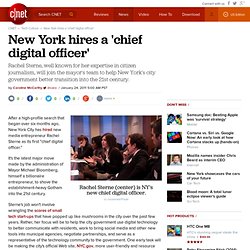 " It's the latest major move made by the administration of Mayor Michael Bloomberg, himself a billionaire entrepreneur, to shove the establishment-heavy Gotham into the 21st century. Sterne's job won't involve wrangling the scores of small tech start-ups that have popped up like mushrooms in the city over the past few years. Rather, her focus will be to help the city government use digital technology to better communicate with residents, work to bring social media and other new tools into municipal agencies, negotiate partnerships, and serve as a representative of the technology community to the government. One early task will be making the city's official Web site, NYC.gov, more user-friendly and resource intensive. New York comme plateforme. Par Hubert Guillaud le 12/10/11 | 5 commentaires | 1,898 lectures | Impression Il n'est pas étonnant que ce soit sous le mandat de Mike Bloomberg que New York ait adopté une approche plus orientée donnée, estime Alex Howard pour O'Reilly Radar, car c'est sur cette déclaration de mission que Bloomberg a fondé son entreprise de données financières.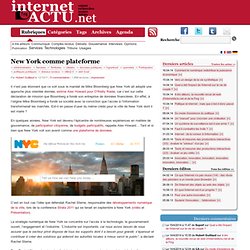 En effet, à l'origine Mike Bloomberg a fondé sa société avec la conviction que l'accès à l'information transformerait les marchés. DigiLondon. Announcing the 2012 TED Prize Winner – The City 2.0. How Data is Making Rio de Janeiro a Smarter City - TNW Latin America. Do you plan to attend 2014 FIFA World Cup or 2016 Olympic Games in Rio de Janeiro?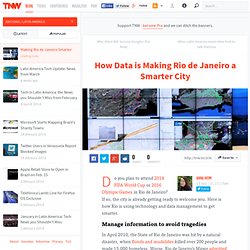 If so, the city is already getting ready to welcome you. Here is how Rio is using technology and data management to get smarter.
---