Articles
Les 10 photos les plus chères au monde | Pixfan. Focus Publié le 10 juillet 2009 | par pixfan La liste présente un classement du prix le plus élevé payé pour une photographie. 1.
Photography Books of 2007. Deutsche Börse prize for photography goes to chronicler of displaced people | Art and design. Jim Goldberg has won this year's £30,000 Deutsche Börse prize for photography, in a ceremony hosted by the Photographers' Gallery in London.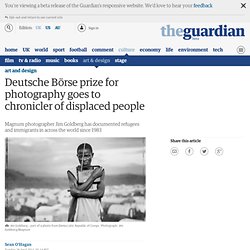 The Magnum photographer, who has documented the experiences of refugees, immigrants and displaced people from Africa, the Middle East and eastern Europe since 1983 in a project titled Open See, triumphed over a shortlist that included fine art photographer Thomas Demand, whom many insiders considered the favourite. Goldberg, who lives in San Francisco, and won the 2007 Cartier- Bresson Prize for an earlier version of the same project, describes himself as a documentary storyteller. Open See was shown to great acclaim at the Photographers' Gallery last year. Wear Good Shoes: Advice to young photographer.
3 procès en droit à l'image. LE MONDE | • Mis à jour le | Par Michel Guerrin Trois procès pour un seul livre, c'est rare.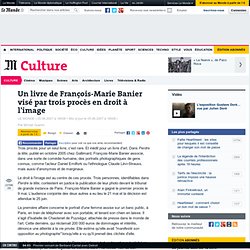 Et inédit pour un livre d'art. The Tennis Girl. If a single picture ever conveyed the sexual liberation, permissive society and hostility towards norms and authorities of the 1970s, it would be the iconic poster of "The Tennis Girl".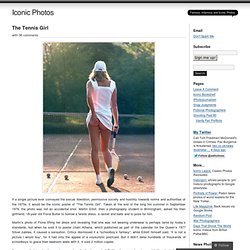 Taken at the end of the long hot summer in September 1976, the photo was not an accidental shot. Martin Elliot, then a photography student in Birmingham, asked his then girlfriend, 18-year old Fiona Butler to borrow a tennis dress, a racket and balls and to pose for him. Martin's photo of Fiona lifting her dress and revealing that she was not wearing underwear is perhaps tame by today's standards, but when he sold it to poster chain Athena, which published as part of the calendar for the Queen's 1977 Silver Jubilee, it caused a sensation. Critics dismissed it a "schoolboy's fantasy", while Elliott himself said, "it is not a picture I would buy", for it had only the appeal of a voyeuristic postcard.
A well-deserved break.
---