Arab Spring
Un Internet furtif américain pour le printemps arabe
Washington développe un Internet furtif, tenant dans une valise, permettant aux dissidents de déjouer la censure des régimes dictatoriaux.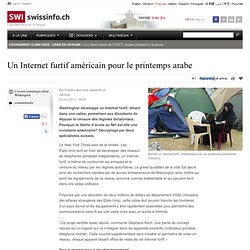 A screenshot from the game Call of Duty.
Google Earth, an iPhone compass and experience playing 'Call of Duty' have been vital to Libya's rebel war plan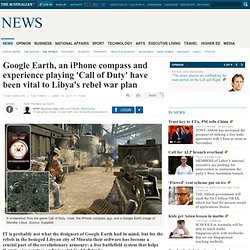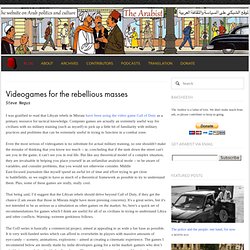 Videogames for the rebellious masses
I was gratified to read that Libyan rebels in Misrata have been using the video game Call of Duty as a primary resource for tactical knowledge. Computer games are actually an extremely useful way for civilians with no military training (such as myself) to pick up a little bit of familiarity with military practices and problems that can be extremely useful in trying to function in a combat zone. Even the most serious of videogames is no substitute for actual military training, so one shouldn't make the mistake of thinking that you know too much -- ie, concluding that if the tank down the street can't see you in the game, it can't see you in real life.
The Arab Spring: A Status Report on Tunisia, Egypt and Bahrain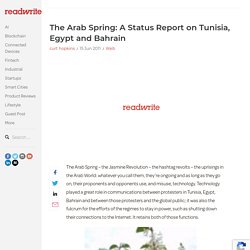 The Arab Spring - the Jasmine Revolution - the hashtag revolts - the uprisings in the Arab World: whatever you call them, they're ongoing and as long as they go on, their proponents and opponents use, and misuse, technology. Technology played a great role in communications between protesters in Tunisia, Egypt, Bahrain and between those protesters and the global public; it was also the fulcrum for the efforts of the regimes to stay in power, such as shutting down their connections to the Internet. It retains both of those functions.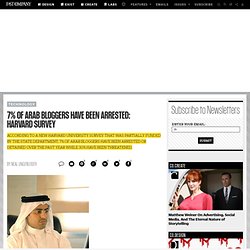 Seven percent of Middle Eastern bloggers were arrested and detained in the past year--and nearly 30% were personally threatened, according to a new Harvard University survey of 98 bloggers throughout the Middle East and North Africa.
7% Of Arab Bloggers Have Been Arrested: Harvard Survey
In the Arab world this winter, social media proved that it can facilitate rebellion and even topple regimes. Now it faces a much harder challenge. Can social media help to build new governments? The wiki revolutions in Tunisia and Egypt happened so fast that the positive forces of change have no vanguard, or organisations enabling them to take power. The organisations with the muscle to form political parties and win an election often seek to drive society backwards.
Social media can help build Arab governments too | Don Tapscott | Comment is free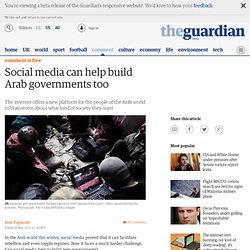 Daily chart: Return of the shoe throwers
Are food prices approaching a violent tipping point? | Damian Carrington | Environment
Seeking simple explanations for the Arab spring uprisings that have swept through Tunisia, Egypt and now Libya, is clearly foolish amidst entangled issues of social injustice, poverty, unemployment and water stress. But asking "why precisely now?" is less daft, and a provocative new study proposes an answer: soaring food prices. Furthermore, it suggests there is a specific food price level above which riots and unrest become far more likely. That figure is 210 on the UN FAO's price index: the index is currently at 234, due to the most recent spike in prices which started in the middle of 2010. Lastly, the researchers argue that current underlying food price trends - excluding the spikes - mean the index will be permanently over the 210 threshold within a year or two.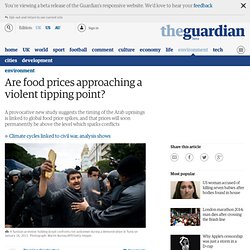 The Revolutions Were Tweeted: Visualizing Prominent Information Flows during the Tunisia and Egypt Revolutions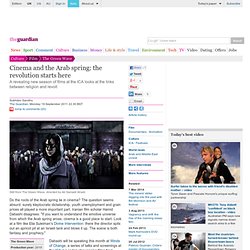 Do the roots of the Arab spring lie in cinema? The question seems absurd: surely kleptocratic dictatorship, youth unemployment and grain prices all played a more important part. Iranian film scholar Hamid Dabashi disagrees: "If you want to understand the emotive universe from which the Arab spring arose, cinema is a good place to start.
Cinema and the Arab spring: the revolution starts here | Film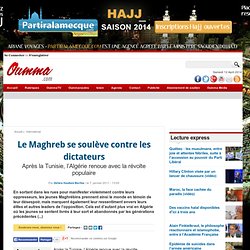 Après la Tunisie, l'Algérie renoue avec la révolte populaire
Le Maghreb se soulève contre les dictaeurs - Oumma.com
The World's Unemployed Youth: Revolution in the Air?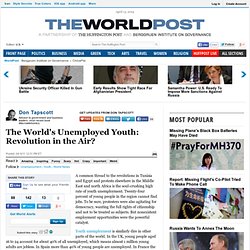 A common thread to the revolutions in Tunisia and Egypt and protests elsewhere in the Middle East and north Africa is the soul-crushing high rate of youth unemployment. Twenty-four percent of young people in the region cannot find jobs.
Slavoj Zizek - #1 Arabian Revolution - OmU
U.S.-Financed Groups Had Supporting Role in Arab Uprisings
Mideast turmoil threatens sovereign-wealth funds
By Alistair Barr, MarketWatch SAN FRANCISCO (MarketWatch) — Turmoil in the Middle East and North Africa may disrupt diversification efforts by some of the world's largest sovereign-wealth funds, according to research released Tuesday by Preqin, which tracks private equity, hedge funds and other alternative investments. Unrest in the region may have ramifications for the future investment policies of the Libyan Investment Authority, Preqin said.
La lourde facture du "printemps arabe"