Arab Spring
Un Internet furtif américain pour le printemps arabe
Légende: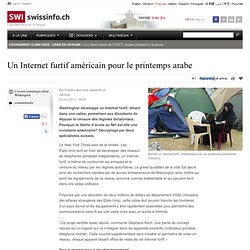 A screenshot from the game Call of Duty.
Google Earth, an iPhone compass and experience playing 'Call of Duty' have been vital to Libya's rebel war plan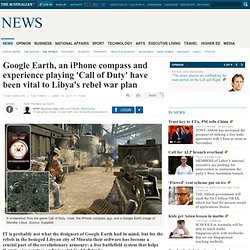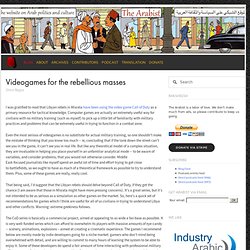 Videogames for the rebellious masses
I was gratified to read that Libyan rebels in Misrata have been using the video game Call of Duty as a primary resource for tactical knowledge.
The Arab Spring: A Status Report on Tunisia, Egypt and Bahrain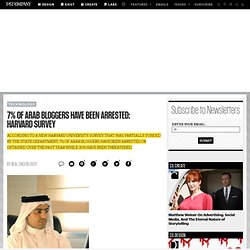 Seven percent of Middle Eastern bloggers were arrested and detained in the past year--and nearly 30% were personally threatened, according to a new Harvard University survey of 98 bloggers throughout the Middle East and North Africa. The survey, which was released this week , was conducted by Harvard's Berkman Center for Internet & Society in collaboration with world news aggregator Global Voices Online (GVO). Some financial support for the survey was offered through the State Department, via a subgrant from the United Kingdom-based Institute for War and Peace Reporting . The State Department has been vocal about their desire to conduct pro-democracy outreach through social media and emerging technologies. While the blogs and bloggers who participated in the survey were not named, they were drawn from the pool of Middle Eastern bloggers whose posts were reprinted by Global Voices .
7% Of Arab Bloggers Have Been Arrested: Harvard Survey
Egyptian anti-government bloggers work on their laptops from Cairo's Tahrir Square during the protests.
Social media can help build Arab governments too | Don Tapscott | Comment is free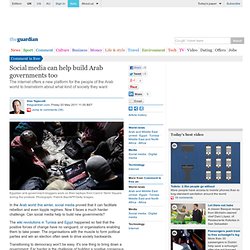 An empirical look at the Arab Spring IN FEBRUARY we put together an index that attempted to predict which Arab regime would be toppled next. At the time Libya seemed rather an unlikely candidate for regime change, even though the index suggested Muammar Qaddafi's time as Brother-Leader might be numbered. Below is the interactive version of the Shoe Thrower's Index, set with the weightings we originally chose. Play around with it to explore the factors that created fertile soil for the Arab Spring.
Daily chart: Return of the shoe throwers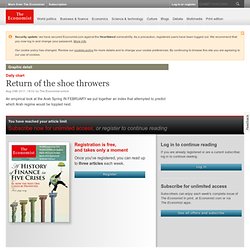 Are food prices approaching a violent tipping point? | Damian Carrington | Environment
A Tunisian protester holding bread confronts riot policemen during a demonstration in Tunis on January 18, 2011. Photograph: Martin Bureau/AFP/Getty Images Seeking simple explanations for the Arab spring uprisings that have swept through Tunisia, Egypt and now Libya, is clearly foolish amidst entangled issues of social injustice, poverty, unemployment and water stress .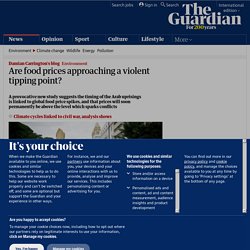 The Revolutions Were Tweeted: Visualizing Prominent Information Flows during the Tunisia and Egypt Revolutions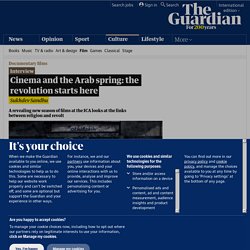 Still from The Green Wave, directed by Ali Samadi Ahadi.
Cinema and the Arab spring: the revolution starts here | Film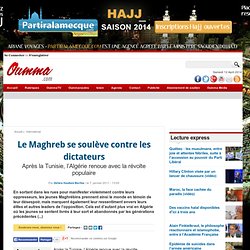 Après la Tunisie, l'Algérie renoue avec la révolte populaire
Le Maghreb se soulève contre les dictaeurs - Oumma.com
The World's Unemployed Youth: Revolution in the Air?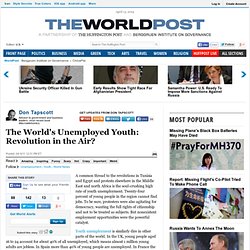 A common thread to the revolutions in Tunisia and Egypt and protests elsewhere in the Middle East and north Africa is the soul-crushing high rate of youth unemployment. Twenty-four percent of young people in the region cannot find jobs.
Slavoj Zizek - #1 Arabian Revolution - OmU
The money spent on these programs was minute compared with efforts led by the Pentagon. But as American officials and others look back at the uprisings of the Arab Spring, they are seeing that the United States' democracy-building campaigns played a bigger role in fomenting protests than was previously known, with key leaders of the movements having been trained by the Americans in campaigning, organizing through new media tools and monitoring elections.
U.S.-Financed Groups Had Supporting Role in Arab Uprisings
Mideast turmoil threatens sovereign-wealth funds
By Alistair Barr , MarketWatch SAN FRANCISCO (MarketWatch) — Turmoil in the Middle East and North Africa may disrupt diversification efforts by some of the world's largest sovereign-wealth funds, according to research released Tuesday by Preqin, which tracks private equity, hedge funds and other alternative investments. Unrest in the region may have ramifications for the future investment policies of the Libyan Investment Authority, Preqin said.
La lourde facture du "printemps arabe"