Africa
News Desk: Ten Biggest Positive Africa Stories of 2011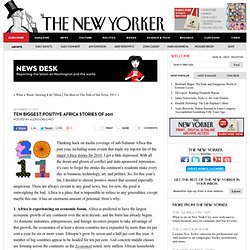 Thinking back on media coverage of sub-Saharan Africa this past year, including some events that made my top-ten list of the major Africa stories for 2010, I got a little depressed. With all the doom and gloom of conflict and state-sponsored repression, it's easy to forget the strides the continent's residents make every day in business, technology, art, and politics. So, for this year's list, I decided to choose positive stories that seemed especially auspicious. There are always caveats to any good news, but, for now, the good is outweighing the bad.
La Chine en Côte d'Ivoire : le double jeu - Afrique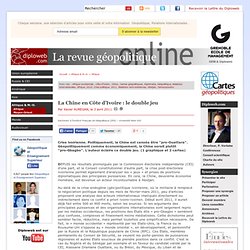 DEPUIS les résultats promulgués par la Commission électorale indépendante (CEI) d'une part, et le Conseil constitutionnel d'autre part, la crise post-électorale ivoirienne permet également d'analyser les « jeux » et prises de positions diplomatiques des principales puissances. En cela, la Chine, deuxième économie mondiale, est devenue un acteur incontournable à Abidjan. Au-delà de la crise endogène (géo)politique ivoirienne, où le militaire à remplacé la négociation politique depuis les mois de février-mars 2011, peu d'articles proposent une analyse des acteurs internationaux impliqués directement ou indirectement dans ce conflit a priori ivoiro-ivoirien. Début avril 2011, il aurait déjà fait entre 500 et 900 morts, selon les sources. Si les arguments des principales puissances et des organisations internationales sont largement repris par les médias occidentaux, les positions des Etats dits « pro-Gbagbo » semblent plus confuses, complexes et finalement moins médiatisées.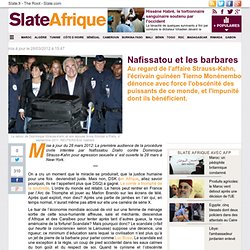 Mise à jour du 28 mars 2012: La première audience de la procédure civile intentée par Nafissatou Diallo contre Dominique Strauss-Kahn pour agression sexuelle s' est ouverte le 28 mars à New-York. On a cru un moment que le miracle se produirait, que la justice humaine pour une fois deviendrait juste. Mais non, DSK (en Afrique, allez savoir pourquoi, ils ne l'appellent plus que DSQ) a gagné. Le comte a triomphé de la soubrette. L'ordre du monde est rétabli.
Nafissatou et les barbares
The Economist cover 2000 "The Hopeless Continent"
The Economist cover 2011: Africa rising