Appcess
Here I collect sources of Android apps that interest me. Jan 2
Titanium Backup for Android – Official Site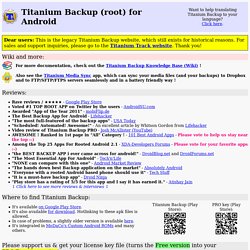 Wiki and more: Reviews: Rave reviews / ★★★★★ - Google Play Store Voted #1 TOP ROOT APP on Twitter by the users - AndroidSU.com Awarded "App of the Year 2011" - mobiFlip.de The Best Backup App for Android - Lifehacker "The most full-featured of the backup apps" - USA Today "Scheduled! Automated!
Test Review of 60 free Home Replacement Launcher Alternative Apps for Droid / Android phones: Best? Smallest? Fastest?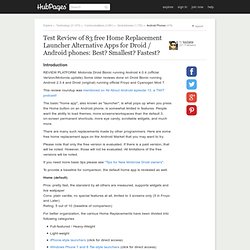 SweeterHome SweeterHome, currently in beta 991, is an odd duck indeed. It represents a totally different way of using or customizing a launcher. The result is both amazing, and frustrating.
GO Launcher EX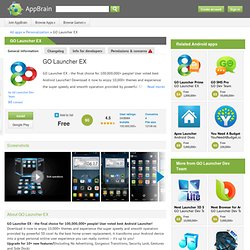 GO Launcher EX is the most popular Android home launcher replacement app in Google Play. It offers you many first-ever features to customize your own homescreen experience. Go launcher EX provides you speedy and smooth operation, fancy and plentiful themes, and utility functions with imagination. Facebook: http://www.facebook.com/pages/GO-Launcher-EX/110639522355878
Android Tapp. Android App Reviews, Android Apps, News, App Recommendations & Interviews
Appstore for Android
As we all know Amazon gives away a free premium app on their App Store every single day, most often we do forget to checkout Free App of the Day and miss out some really good apps. Here is a very useful application made by xda member cody_04l which notify you Free App of the Day from Amazon Appstore. With this application simply you can now set up a notification to alert you to check the Appstore at a predetermined time. Once you installed Free App of the Day Notifier, click on the reminder time option and set what time you'd like to be notified. You can click on Test Reminder option to generate an instant reminder to see how it will look.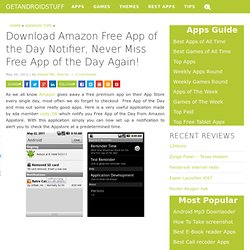 Download Amazon Free App of the Day Notifier, Never Miss Free App of the Day Again!Download Free Android Apps, Games, Themes. Android News, Reviews
No Lock for Android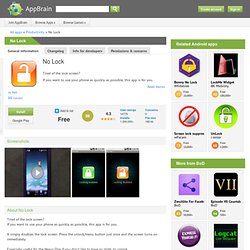 Tired of the lock screen? If you want to use your phone as quickly as possible, this app is for you. It simply disables the lock screen. Press the unlock/menu button just once and the screen turns on immediately. Especially useful for the Nexus One if you don't like to have to 'slide' to unlock. Disclaimer: On certain phones, this app doesn't work - I am very sorry about that but there is nothing I can do!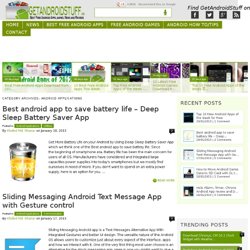 Android Applications Applications
Android Applications | Download Free Android Apps, Games, Themes. Android News, ReviewsDownload Free Android Apps, Games, Themes. Android News, Reviews
Products | JEFIT - Best Android and iPhone Workout App, Bodybuilding App. | Best Workout Tracking System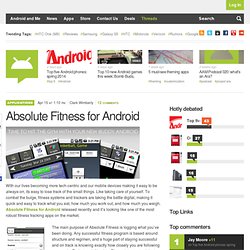 Absolute Fitness for Android
With our lives becoming more tech-centric and our mobile devices making it easy to be always-on , its easy to lose track of the small things. Like taking care of yourself. To combat the bulge, fitness systems and trackers are taking the battle digital, making it quick and easy to track what you eat, how much you work out, and how much you weigh. Absolute Fitness for Android released recently and it's looking like one of the most robust fitness tracking apps on the market. Food Item Database