Android Market
This is a collection of Android Market apps that I may install on my (pending) Motorola Droid Bionic. Jan 2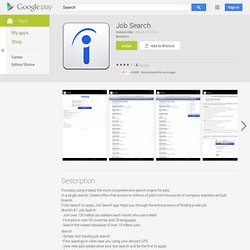 Más de 400.000 personas han encontrado trabajo en 2013 gracias a InfoJobs. Con la App de InfoJobs puedes buscar ofertas de empleo, inscribirte en los trabajos que más te gusten y seguir tus candidaturas desde tu móvil en todo momento. No dejes escapar tus oportunidades laborales, miles de empleos te esperan en la App de InfoJobs.
Job Search - Apps on Android Market
Addons Detector detects addons used by your installed applications. It has all the tools to find push notification ads and icon ads.If you are looking for the app that uses AirPush or other push notifications, you can easily find the app and uninstall. Besides push notifications, using this app is a great way to see what advertising agencies apps use, and what tools they have integrated. Does the normal scan not detect the spam ads? Enable the notification monitor and you can easily see which program puts a notification in your notification area.
Addons Detector - Apps on Android Market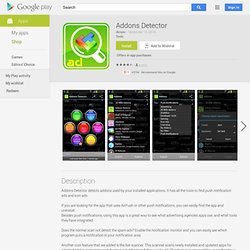 Protect your Android™ phone and tablet with the top-rated (4.4 stars!) free mobile security app with both antivirus and anti-theft. ■ avast! Mobile Security keeps your device safe from viruses, malware, and spyware.■ It helps you locate your lost phone through our web-based phone locate feature.■ Remote device lock and/or memory wipe in its advanced Anti-Theft component keep your data safe.■ Handy tools like network meter, app manager, and even firewall (on rooted phones) give you complete control of your mobile phone. Install it today – totally FREE.
avast! Mobile Security - Apps on Android Market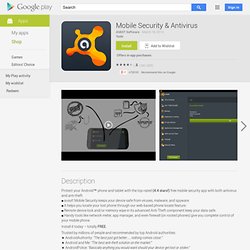 NEW and improved layout with DRAG AND DROP treeview to move files/directories around your device!!! * Featured on Life Hacker, PC World & Android Central and recommended by Motorola! The ORIGINAL, best, steadiest and most popular WiFi file transfer app with now over 1 million users across all app stores worldwide!
AndExplorer - Apps on Android Market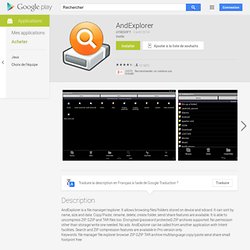 Beautiful Widgets - Apps on Android Market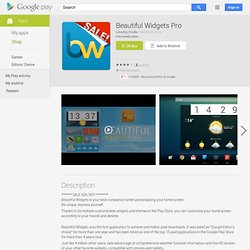 Minimal, classy, extremely customizable, and battery friendly "Do It Yourself" widget with almost limitless possibilities! If you like the software and want to support the development please rate it! If you have issues or requests send me an email or use the forum at http://zooper.uservoice.com/ KNOWN ISSUES- GALAXY S2 http://goo.gl/Yuhzh2- GALAXY S4 http://goo.gl/aTmJ6W- PRO widgets disappear after reboot: http://goo.gl/4bqhJu FREE FEATURES- Sample templates included, no need to download anything else- Some custom fonts already included, additional can be added on sdcard/fonts- Create your templates easily, no functional limit, tons of variables and controls- WYSIWYG editor with layers like Photoshop / Gimp- Build your style and change everything: color, text, shapes, position and more!
Folder Organizer lite - Apps on Android Market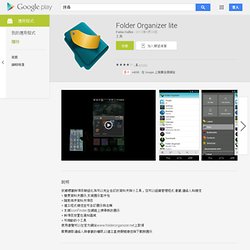 Folder Lock lets you password-protect your personal files, photos, videos, documents, contacts, wallet cards, notes and audio recordings in Android Phones. The app comes with a clean and pleasant interface. You can transfer files from Gallery, PC/Mac, Camera and Internet browser.Below is the list of all the features: • Protect private photos• Hide sensitive videos and pictures• Password-protect secret audio• Lock down important documents• Write secure notes• Record voice recordings and memos secretly• Import Saved Contacts• Create Contact Groups• Secret Contacts Group multiple SMS
Using Folder Organizer to "Theme" Home Screen Icons For Free
GO Launcher EX - Apps on Android Market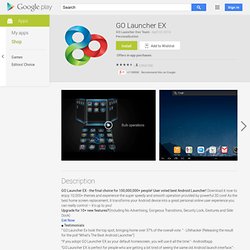 Please don´t forget to RATE and post Comments. Thanks ! Cyanogen Theme for GO Launcher Ex and APEX Launcher. You don´t need to root, update firmware or anything like that to get the look of the best rom firmware in the moment - the CYANOGEN MOD !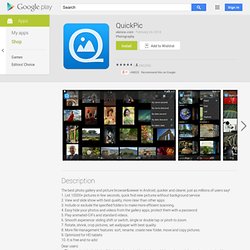 With PhotoGrid you can make your photos collection into amazing collage. #1 Collage app on Android, over *** 51 Million*** users like PhotoGrid.* Top1 in Photography over 11 Countries.* Top5 in Photography over 46 Countries. Photo Grid's simple interface and outstanding menu of pre-designed grids make it the best collage app on the market. - CNET We love Photo Grid.
QuickPic - Apps on Android Market
Speaktoit Assistant is a virtual assistant for Android devices. Your very own customizable Assistant awaits your commands – answering your questions, performing tasks, notifying you about important events, and making your daily routine easier (and, often, more fun along the way). The Speaktoit Assistant has been named: ★★★★★ New York Times: Top 10 Android App of the Year★★★★★ Forbes: Top 10 Mobile App for Productivity★★★★★ Red Herring Top 100 Global Winner★★★★★ PC World: Best free Android apps of 2011 Your Speaktoit Assistant uses natural language technology to answer questions, find information, launch apps, and connect you with various web services (like Google, Wikipedia, Twitter, Facebook, Foursquare, Evernote, Yelp, and others). What else can your Assistant do?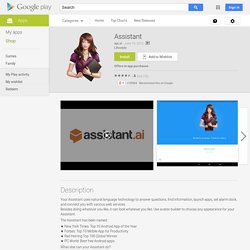 With ooVoo you can make FREE video calls, voice calls, and send text chats to easily connect with friends and family. ooVoo is the highest quality video chat app, beating other leading brands of video chat hands down. Start a free group video chat with up to 12 people on 3G, 4G, LTE and Wifi and experience the best quality video and audio. Over 90 million people are on ooVoo, it's easy to sign up, and easy to find your friends!AwardsBest Social Networking App 2013 Tabby AwardBest App Technology 2013 Appster AwardBest Android App of 2011 PC MagazineFeatures- Group video chat - With ooVoo, you can add up to 12 people to a high quality FREE group video call just by Tap-Tap-GO!™. - FREE voice calls - With free voice calls, you can stay in touch with your friends wherever they are.
Tapatalk Forum App - Apps on Android Market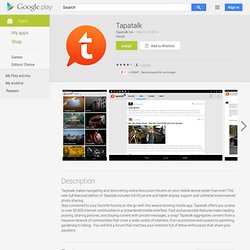 Turn your phone into a color flashlight, police light, disco light, candle and led banner. Have you ever tried to use your phone's screen or LED as a beacon of light, only to find it's just not bright enough? Turn your phone into a versatile flashlight with Color Flashlight app, the app that brightens up your phone's day and leads the way.
Tiny Flashlight + LED - Apps on Android Market
U.S. Army Survival Guide - Apps on Android Market
‪A‬ survival guide for any situation. Great for when the zombie apocalypse ‬hits. Keep it on your phone and you'll have it where ever you go - even ‬without internet access. Includes an appendix with excellent color ‬photos.
Free, top-rated, real-time antivirus and anti-theft protection for Android™ devices. AVG AntiVirus FREE for Android™ protects you from harmful viruses, malware, spyware and text messages and helps keep your personal data safe.Download Free Now! Over 100,000,000 people already installed AVG's antivirus mobile security apps. Join them now and:► Scan apps, settings, files & media in real time► Enable finding/locating your lost / stolen phone via Google Maps™► Lock / wipe your device to protect your privacy► Kill tasks that slow your device► Browse the web safely & securely► Monitor battery, storage and data package usage
Voxer Walkie-Talkie PTT - Apps on Android Market