Blog
Un ensemble de pearl sur différents types de blogs traitant du graphisme.
Les morts de zombies de Walking Dead en statistiques et en images. Le National Post a livré un incroyable travail d'investigation (et de longues heures devant la télé) pour pouvoir résumer la série Walking Dead en statistiques sur l'ensemble des trois saisons.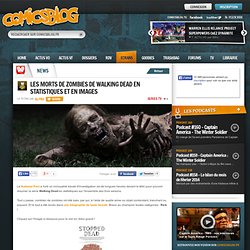 Tout y passe, combien de zombies ont été tués, par qui, à l'aide de quelle arme ou objet contondant, tranchant ou piquant. Et le tout a été rendu dans une infographie de toute beauté. Bravo au champion toutes catégories : Rick ! Cliquez sur l'image ci-dessous pour la voir en (très) grand ! Web Agency FAIL : Anecdotes authentiques de web agency » WebAgencyFAIL (webAgencyFAIL) sur Twitter. Pépite de client (pepitedeclient) sur Twitter. Ça te fera de la pub. La SNCF vous fait votre pub NOM : ***PRENOM : ***MEL : *****@sncf.frCOMMENTAIRES : Bonjour, Je suis ****, je travail pour la SNCF, Intercités de la Région Nord Normandie.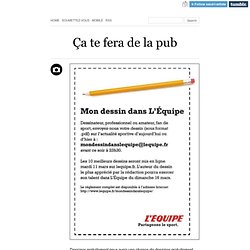 Advanced Creation. Artskills I Online art dealer and inspiration. Clubic : Actualité informatique, Comparatifs, Logiciels et Forum. Online Portfolios on the Behance Network. Marcel Witbooi (marcelwitbooi) on Pinterest. Les Graphisteries - Actualités, découvertes, conseils graphiques. Creattica. Resources | DesignModo. 25 Design and Development Tools, Analytics Solutions and More In the following article – Marcin Treder, CEO and Co-founder of UXPin – the UX Design Platform shares the story of company's early days and the list of tools that...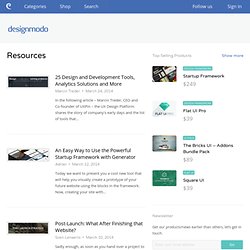 An Easy Way to Use the Powerful Startup Framework with Generator Today we want to present you a cool new tool that will help you visually create a prototype of your future website using the blocks in the framework. Now, creating your site with... Post-Launch: What After Finishing that Website? Lava360° - Web Design, Resources, Freebies, Artwork & Tutorials. CMYK Magazine // Home. Designrfix | Graphic Design Inspiration - Tutorials & Web Design Resources. Design Spartan : Art digital, digital painting, webdesign, illustration et inspiration…
Designers interactifs - Magazine. 92pixels | Graphic Design Inspiration, Photography and Photoshop Tutorials. 1stwebdesigner - Graphic and Web Design Blog. 100 New And Free Cool Fonts A Designer Must Download. With more and more designers in the world, cool free fonts are released even quicker than usual which makes us more than happy.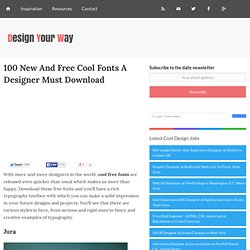 Download these free fonts and you'll have a rich typography toolbox with which you can make a solid impression in your future designs and projects. You'll see that there are various styles in here, from serious and rigid ones to fancy and creative examples of typography. Jura Hero. Graphic Design Inspiration, Tutorials, Resources, Freebies, and More! Magazine webdesign et blog collaboratif - Blog Du Webdesign. IcanbeCreative - Web Design Blog. Blog Design Graphique. All Categories. Envato.
---