Newsletter
For ambitious upstarts and startups » Mixergy How-To Guide: Get Your First 100,000 Email Subscribers. "Right click" and save your PDF version Special Bonuses .epub of the guide This format will work on most devices, including Apples iOS devices (eg. iPad and iPhone with iBooks app), Barnes & Noble's Nook, etc. .mobi of the guide This format is compatible with iOS devices and also with Amazon's Kindle.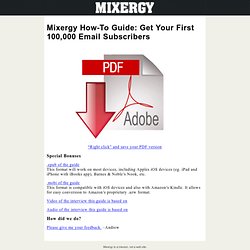 It allows for easy conversion to Amazon's proprietary .azw format. Audio of the interview this guide is based on. Infographie – Savoir quand envoyer vos emailing : les meilleures et pires heures. Retour de vacance pour le blog et c'est reparti pour de nouvelles aventures webmarketing.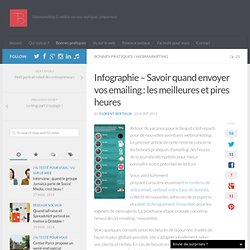 Le premier article de cette rentrée concerne les bonnes pratiques d'emailing : les heures de la journée décryptées pour mieux connaître votre potentiel de lecture. Vous avez sûrement préparé consciencieusement le contenu de votre email, nettoyé votre base de donnée, collecté de nouvelles adresses de prospects et validé techniquement l'ensemble pour les logiciels de messagerie.
Consonaute. Comment augmenter son taux d'ouverture ? « Email à table! Nous avons vu précédemment ce qu'était le taux d'ouverture et comment le mesurer efficacement.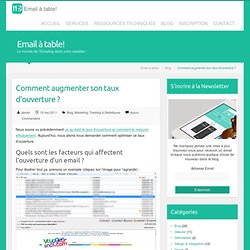 Aujourd'hui, nous allons nous demander comment optimiser ce taux d'ouverture. Quels sont les facteurs qui affectent l'ouverture d'un email ? Email Marketing and Email List Manager.
---