A étudier
Solution Campus Tombapik
YC-Funded AeroFS: It's Like Dropbox, But It Runs Inside Your Firewall
I've been a fan of Dropbox for a long time. It's convenient, it 'just works', and 2GB of free storage can go a long way. But it isn't perfect — if you're dealing with very large amounts of data, like movie footage, then you'll quickly find yourself in the service's most expensive tiers. And some businesses and professionals dealing with sensitive data simply aren't permitted to store it on third-party servers for security reasons. If any of these concerns sound familiar to you, you'll likely be very interested in a Y Combinator-backed company called AeroFS. The pitch is straightforward: it's basically Dropbox, but instead of using servers controlled by a third party to store and sync your data, you transfer the data directly between your own devices.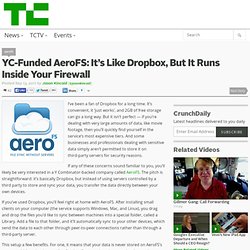 Meetup Everywhere: Best practices and examples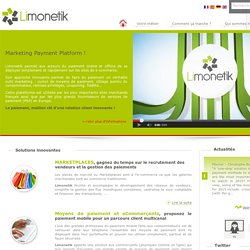 Vous proposez un moyen de paiement ? Nous accélérons le déploiement de vos offres sur le web. Nous vous accompagnons pour créer, connecter et commercialiser votre moyen de paiement auprès des marchands.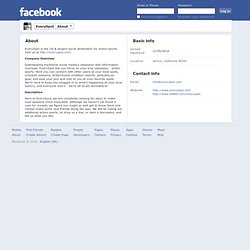 EverySpot
Company Overview Sidestepping traditional social media's obsession with information overload, EverySpot lets you focus on your true obsession - action sports. Here you can connect with other users at your local spots, schedule sessions, write/review condition reports, post/discuss gear, and post your pics and vids of you at your favorite spots. We're here to keep you plugged in to what's happening at your local spot(s), and everyone else's - we're all locals somewhere! Description Here at EverySpot, we are constantly looking for ways to make your sessions more enjoyable.
Spotify's New API Allows Developers To Add Music Streaming Service To iOS Apps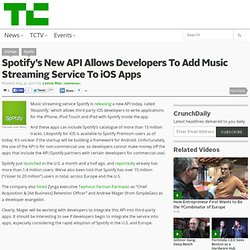 Music streaming service Spotify is releasing a new API today, called 'libspotify,' which allows third party iOS developers to write applications for the iPhone, iPod Touch and iPad with Spotify inside the app. And these apps can include Spotify's catalogue of more than 15 million tracks. Libspotify for iOS is available to Spotify Premium users as of today.
unnamed pearl