Etsy communauté
Wouldn't you love to have people in every corner of the globe talking about your website face to face and on their blogs? That's the enviable position that online crafts marketplace Etsy finds itself in according to survey results the company published today. Word of mouth and personal blogs are the primary way people around the world are finding out about the site and there's an active community of craft sellers on Etsy from every continent but Antarctica. At a time when marketers are obsessed with getting traction on Facebook and are just beginning to take users outside the US seriously, Etsy's survey of its international members is fascinating - as is the company itself. Etsy is Hot Stuff Etsy is an online marketplace where people set up shops to sell physical goods they have made by hand.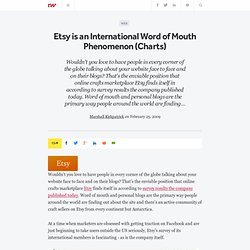 Etsy is an International Word of Mouth Phenomenon (Charts)
J'ai déjà eu l'occasion de vous parler d'Etsy (voir à ce sujet ce billet précédent : Etsy, une expérience de navigation très intéressante). Après plus de 2 ans d'existence il semblerait qu'ils soient rentrés dans une nouvelle phase de développement. L'équipe d'Etsy souhaite ainsi s'appuyer sur sa communauté (300.000 membres dont plus de 40.000 vendeurs) pour développer de nombreux services très innovants :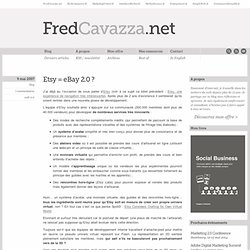 Etsy = eBay 2.0 ?
Médias sociaux > Etsy, une autre vision du commerce CtoC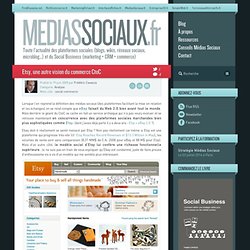 Lorsque l'on reprend la définition des médias sociaux (des plateformes facilitant la mise en relation et les échanges) on se rend compte que eBay faisait du Web 2.0 bien avant tout le monde. Mais derrière le géant du CtoC se cache en fait un service archaïque qui n'a pas voulu évoluer et se retrouve maintenant en concurrence avec des plateformes sociales marchandes bien plus sophistiquées comme Etsy. (dont j'avais déjà parlé il y a deux ans : Etsy = eBay 2.0 ?). Ebay doit-il réellement se sentir menacé par Etsy ?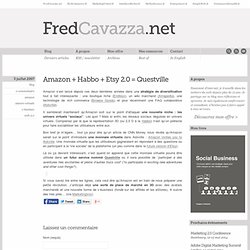 Amazon s'est lancé depuis ces deux dernières années dans une stratégie de diversification tout à fait intéressante : une boutique riche (Endless), un wiki marchand (Amapedia), une technologie de rich commerce (Browse Goods) et plus récemment une FAQ collaborative (Askville). Il semblerait maintenant qu'Amazon soit sur le point d'attaquer une nouvelle niche : les univers virtuels "sociaux". Les quoi ? Mais si enfin, les réseaux sociaux déguisés en univers virtuels. Comprenez par là que la représentation 3D (ou 2,5 D à la Habbo) n'est qu'un prétexte pour faire sociabiliser les utilisateurs entre eux. Bon bref je m'égare… tout ça pour dire qu'un article de CNN Money nous révèle qu'Amazon serait sur le point d'introduire une monnaie virtuelle dans Askville : Amazon invites you to Askville.
Amazon + Habbo + Etsy 2.0 = Questville
Noté 5 sur 5 étoiles par JJL le February 5, 2013 · lien permanent · traduire Works For Me.
Etsy : Modules pour Firefox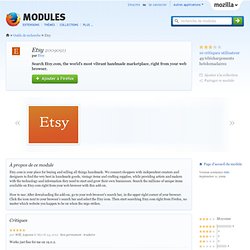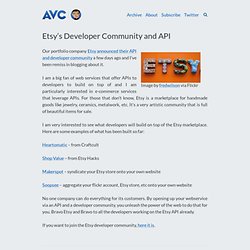 Image by fredwilson via Flickr Our portfolio company Etsy announced their API and developer community a few days ago and I've been remiss in blogging about it. I am a big fan of web services that offer APIs to developers to build on top of and I am particularly interested in e-commerce services that leverage APIs. For those that don't know, Etsy is a marketplace for handmade goods like jewelry, ceramics, metalwork, etc.
Etsy's Developer Community and API
Etsy on Twitter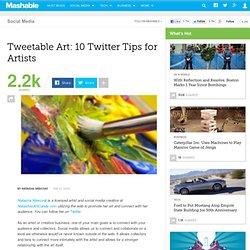 Natasha Wescoat is a licensed artist and social media creative at NatashasArtCandy.com utilizing the web to promote her art and connect with her audience. You can follow her on Twitter. As an artist or creative business, one of your main goals is to connect with your audience and collectors. Social media allows us to connect and collaborate on a level we otherwise would've never known outside of the web. It allows collectors and fans to connect more intimately with the artist and allows for a stronger relationship with the art itself. As an artist, I've found that Twitter is an excellent place for self promotion and connecting with my audience.
How #etsyday Grew on Twitter - Digits
Bonjour !En France on ne connais pas encore beaucoup cette mine aux trésors qu'est ETSY, mais cela vaut vraiment le détour. Ce site est un peu le ebay du fait main. http://www.etsy.com/ Il n'y a pas d'enchère, mais c'est comme un centre commercial géant avec des milliers de petites boutiques de créateurs indépendants !J'ai découvert ce site l'année dernière par le biais de certains blog, et j'en suis rapidement devenue accro.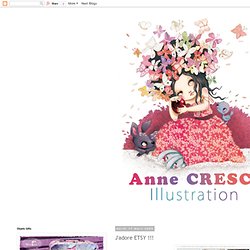 Commentaire 1
Commentaire 2
Mécontentements
En voilà une bonne nouvelle ! Ça sera le mercredi 1er avril (non, ce n'est pas un poisson, enfin j'espère) au Petula Café. Je suis une fan inconditionnelle de ce site, exemple parfait de "social shopping" qui met en relation vendeurs et acheteurs de produits faits main, "handmade" en VO.
Ideas & Inspiration: Etsy vient à Paris !
Ideas & Inspiration: Etsy focus group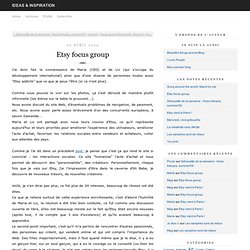 J'ai donc fait la connaissance de Maria (CEO) et de Liz (qui s'occupe du développement international) ainsi que d'une dizaine de personnes toutes aussi "Etsy addicts" que ce que je peux l'être (si ce n'est plus). Comme vous pouvez le voir sur les photos, ça s'est déroulé de manière plutôt informelle (les bières sur la table le prouvent...). Nous avons discuté du site Web, d'éventuels problèmes de navigation, de paiement, etc. Nous avons aussi parlé assez brièvement d'un des concurrents européens, à savoir Dawanda...Maria et Liz ont partagé avec nous leurs visions d'Etsy, ce qu'il représente aujourd'hui et leurs priorités pour améliorer l'expérience des utilisateurs, améliorer l'acte d'achat, favoriser les relations sociales entre vendeurs et acheteurs, coller aux attentes des pays.
LONDON, England (CNN) -- We've become used to a world where what we buy is determined by what products are stocked by a handful of chain stores, but there are signs that may be changing. The future could be one of thriving cottage industries and skilled artisans lovingly producing custom-made wares. An "apple jacket," by jacquelineknits, is just one of the handmade items you can find on Etsy. That's the vision of Etsy, a U.S.-based Web site that describes itself as "an online crafts fair." But unlike your local Sunday-morning market, Etsy's crafts fair has some 200,000 stall holders, who have this year sold just under $50 million-worth of their homemade goods.
A crafty way to beat the chain stores
Etsy may be the coolest, most feel-good way to shop
by Fred Marion - Aug. 8, 2006 12:00 AM Cox News Service WEST PALM BEACH, Fla. -- There's one sacred rule on Etsy.com: No mass-produced goods. Log on and you'll find handbags for sale, but not Vera Bradley; shirts, but not Ralph Lauren.