Photo
L' image à la « une » du Washington Post, le 13 janvier dernier, a fait grand bruit. Pas à cause de son sujet - un pont baigné dans un coucher de soleil théâtral. Mais parce que le quotidien a ouvertement utilisé une photographie HDR (high dynamic range).
De nouveaux yeux pour voir le monde | Instantanés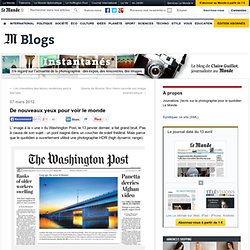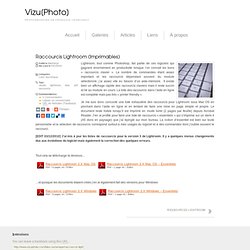 Lightroom, tout comme Photoshop, fait partie de ces logiciels qui gagnent énormément en productivité lorsque l'on connaît les bons « raccourcis clavier ». Le nombre de commandes étant assez important et les raccourcis dépendant souvent du module sélectionné, j'ai assez vite eu besoin d'un aide-mémoire. Il existe bien un affichage rapide des raccourcis claviers mais il reste succin et lié au module en cours.
Raccourcis Lightroom (Imprimables) – VizuPhoto
Sunrise streaming into the soon-to-be-demolished Clocktower, one of only two structures remaining from the 1877 Kirkbride complex at Worcester State Hospital. The Kirkbride building at Worcester State Hospital, a once-sprawling complex conceived in 1869, built between 1873 and 1877, and continuously used for well over a century, has suffered an unfortunate fate over the last 21 years. In 1991, a fire tore through the complex, destroying much of the original construction. Of what remained, the state decided to demolish all but the administrative pavilion - known as the Clocktower, due to its distinctive clock tower - and the Hooper turret to its left. With little fanfare, the three remaining wards and Gage turret were torn down along with several other historic structures in 2008.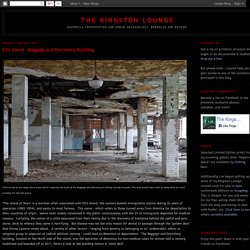 Photos - Google+
Depuis quelques années, différents centres de recherche étudient une méthode de prise de vue nommée "light field". Le but est de remplacer la capture d'une image par la capture du flux de lumière de la scène. Il est alors possible de générer une image en modifiant le point de netteté. Après, une exploitation industrielle par la société RayTrix, une solution pour les smartphone par la société Pelican Imagine, c'est au tour de Lytro de se lancer dans la commercialisation d'un appareil photo pour le grand public.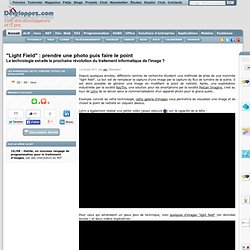 "Light Field" : prendre une photo puis faire le point, la technologie est-elle la prochaine révolution du traitement informatique de l'image ?
Photographies de Sylvain Mary
100 MOYENS