Agilité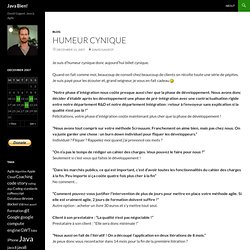 Je suis d'humeur cynique donc aujourd'hui billet cynique. Quand on fait comme moi, beaucoup de conseil chez beaucoup de clients on récolte toute une série de pépites. Je suis payé pour les écouter et, grand seigneur, je vous en fait cadeau "Notre phase d'intégration nous coûte presque aussi cher que la phase de développement. Nous avons donc décider d'établir après les développement une phase de pré-intégration avec une contractualisation rigide entre notre département R&D et notre département Intégration : retour à l'envoyeur sans explication si la qualité n'est pas là !" Félicitations, votre phase d'intégration coûte maintenant plus cher que la phase de développement !
Java Bien! » Humeur cynique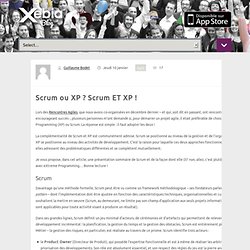 Scrum ou XP ? Scrum ET XP !
Lors des Rencontres Agiles, que nous avons co-organisées en décembre dernier – et qui, soit dit en passant, ont rencontré un fort et encourageant succès -, plusieurs personnes m'ont demandé si, pour démarrer un projet agile, il était préférable de choisir eXtreme Programming (XP) ou Scrum. La réponse est simple : il faut adopter les deux ! La complémentarité de Scrum et XP est communément admise. Scrum se positionne au niveau de la gestion et de l'organisation de projet là où XP se positionne au niveau des activités de développement.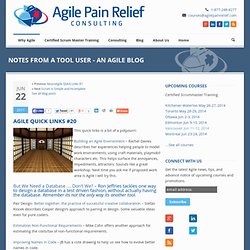 This quick links is a bit of a potpourri: Building an Agile Environment – Rachel Davies describes her experiences helping people to model work environments, using craft materials, playmobil characters etc. This helps surface the annoyances, impediments, attractors. Sounds like a great workshop.
Agile Quick Links #20
Être Agile
Estimating Non-Functional Requirements | Mike Cohn's Blog - Succeeding With Agile®
People are messy: they have personalities and emotions. In this post we explore how we can embrace people's messiness for advantage rather than have it act as a drag. Default Business Model is Mixed Engagement A recent study from Carnegie Mellon Training shows that there are very mixed levels of engagement from workers. See diagram to right. Current estimates are that staff disengagement cost $11 billion from turnover alone.
Michael Sahota – Lean, Scrum & Agile Coach – Toronto » Helping you grow your organization…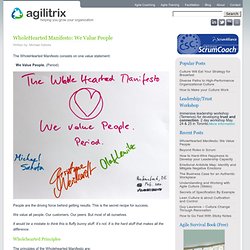 Death by Meeting: A Leadership Fable About Solving the Most Painful Problem in Business: Amazon.fr: Patrick M. Lencioni: Livres anglais et étrangers
Description de l'ouvrage Date de publication: 19 mars 2004 | Série: J-B Lencioni Series (Livre 15) Casey McDaniel had never been so nervous in his life. In just ten minutes, The Meeting, as it would forever be known, would begin. Casey had every reason to believe that his performance over the next two hours would determine the fate of his career, his financial future, and the company he had built from scratch.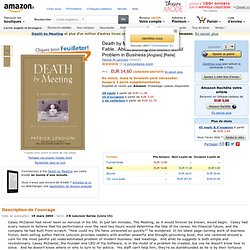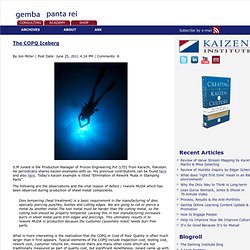 By Jon Miller | Post Date: June 25, 2011 4:24 PM | Comments: 6 S.M Junaid is the Production Manager of Procon Engineering Pvt (LTD) from Karachi, Pakistan. He periodically shares kaizen examples with us. His previous contributions can be found here and also here. Today's kaizen example is titled "Elimination of Rework Muda in Stamping Parts". The following are the observations and the vital reason of defect / rework MUDA which has been observed during production of sheet metal components.
Lean Manufacturing Blog, Kaizen Articles and Advice | Gemba Panta Rei
Valeurs de l'agilité: la simplicité
Voilà ce que cela signifie pour certaines équipes agiles que j'accompagne… Valeur Agile: la simplicité; ça se joue à diffèrents niveaux! Jean Claude GROSJEAN - COACH d'Organisation.