Bazar
Coffee1337.com. "Great Pyramids of Giza in Egypt. Amazing nature - The Eagle Owl. uWall.tv | Listen to a Wall of Music. Paris 26 Gigapixels - Visite virtuelle interactive des plus beaux monuments de Paris. PronunciationManual. Your daily videos. Canvas Cycle: True 8-bit Color Cycling with HTML5. Des bétises au ralenti. Le Joker, Homer Simpson ou Voldemort, qui partage votre anniversaire ? Mesdames et Messieurs, attention préparez-vous pour une infographie pleine de bon sens et de surprises !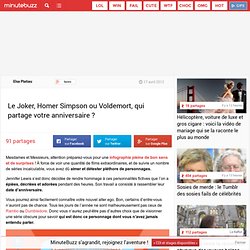 À force de voir une quantité de films extraordinaires, et de suivre un nombre de séries incalculable, vous avez dû aimer et détester pléthore de personnages. Jennifer Lewis s'est donc décidée de rendre hommage à ces personnalités fictives que l'on a épiées, décriées et adorées pendant des heures. Son travail a consisté à rassembler leur date d'anniversaire.
Vous pourrez ainsi facilement connaître votre nouvel alter ego. World's Biggest PAC-MAN. ROME. The Restart Page. Map of the Dead. DLL's DRR. NUKEMAP by Alex Wellerstein.
---