Crossfit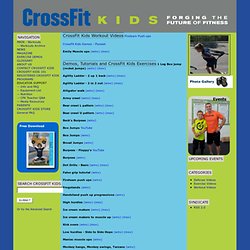 CrossFit Kids Workout Videos Fireteam Push-upsCrossFit Kids Games - FlyswatEmily Muscle ups (wmv) (mov) Demos, Tutorials and CrossFit Kids Exercises
CrossFit Kids | Forging the Future of Fitness - Events - Ramona, California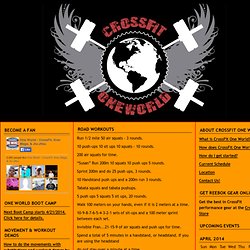 Run 1/2 mile 50 air squats - 3 rounds. 10 push-ups 10 sit ups 10 squats - 10 rounds. 200 air squats for time. "Susan" Run 200m 10 squats 10 push ups 5 rounds. Sprint 200m and do 25 push ups, 3 rounds. 10 Handstand push ups and a 200m run 3 rounds.
CrossFit One World: ROAD WORKOUTS
Cet article s'annonce, au moins dans ma tête, comme le premier d'une longue série. C'est en quelque sorte la première diffusion d'une pensée politique, au sens large, que je mature depuis des années… Je dirais même que cela fait tellement longtemps que je ne pourrais plus dire si j'ai produit cette pensée, ou si c'est, en réalité, elle qui m'a fait, tant elle m'a accompagné et s'est élaborée au fil des activités que j'ai pu faire depuis mon adolescence, jusqu'à aujourd'hui. Tout part d'une hypothèse : l'hypothèse que l'on pourrait décrire la situation actuelle comme une période de « crise de la délégation », et de manière concomitante comme une opportunité, pour la population, le peuple, les gens… vous et moi, Nous, de reprendre en main notre capacité d'action. Je reviendrai sur ces concepts, qui s'inscrivent dans un processus généralement qualifié d' « empowerment ». A ma connaissance, aucun sociologue ou philosophe n'a abordé la situation sociale actuelle d'une telle manière.
LE BLOG DE YVES PATTE| Education, Empowerment, Crossfit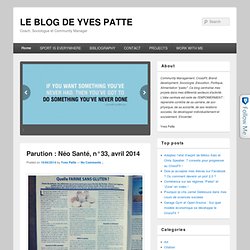 CrossFit CapOp à Montréal \\ Centre affilié CrossFit - Nutrition de performance \\ Elite Nutrition
CrossFit Leman