Com / Without Speak :)
YouTube - swarm and serennia @ esl los angeles NERDRAGE
Hard to do that when u are noob ! by arkos Sep 14
YouTube - Celex Nerd Rage at EM Montreal
YouTube - Interview with Celex - Intel Extreme Masters Montreal
YouTube - The Terrorist
A Call To Arms
This is my entry for the Blizzcon '09 machinima contest This short movie is actually a 'light' version of a scene from In Memory - Retribution, a roleplay 40-minute-long machinima that will be out... by arkos Aug 25
Leeroy Jenkins, sometimes misspelled Leroy Jenkins and often elongated with numerous additional letters, is an internet meme named for a player character created by Ben Schulz in Blizzard Entertainment's MMORPG, World of Warcraft. The character became popular due to a video of the game that circulated on the internet. The phenomenon has since spread beyond the boundaries of the gaming community into other on-line and main-stream media.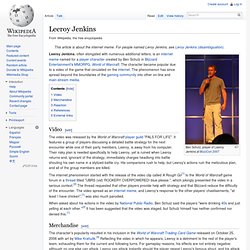 Leeroy Jenkins
Leeroy Jenkins Video and More
World of Warcraft Cataclysm Blizzcon 2009
Award-winning web series about a group of online gamers. Season 3 debuts August 25. Tweets by Felicia, Kim and Brian by arkos Aug 21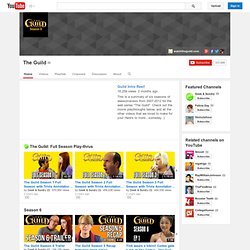 About Subscribe to Geekandsundry to see Season 5! SEASON 5 is coming to YouTube! But it will be on our NEW channel GEEKANDSUNDRY! Please SUBSCRIBE TO GEEKANDSUNDRY for a new Guild Season 5 episode each week. Plus see Seasons 1-4 as full-length movies with trivia annotations and special bonus content! The Guild is an award-winning independent comedy web series about a group of online gamers created by and starring Felicia Day, now with over 150 million views!
YouTube - Chaîne de watchtheguild
World Of Warcraft: Dancing
YouTube - Pandaren Monk