Opensource
You're on the Internet. What does that mean? Most likely, it means one of a handful of telecommunications providers is middlemanning your information from Point A to Point B. Fire off an email or a tweet, broadcast a livestream or upload video to YouTube, and you're relying on vast networks of fiber optic cables deep underground and undersea, working with satellites high above, to move your data around the world, and to bring the world to your fingertips.
Free the Network | Motherboard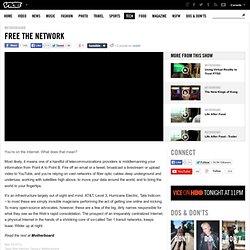 Diaspora
zegenie Studios Linux Distribution Chooser
Par kwizart, dimanche, mars 2 2014. Fedora This has started as a attempt to test the improvements of the freedreno ARM driver, so I've made an updated mesa package (and newer libdrm) specially for testing.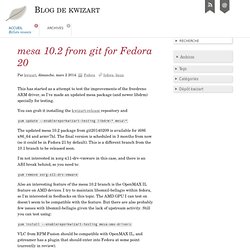 Blog de kwizart
Main Page - FrugalWiki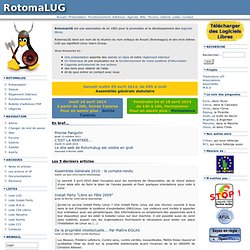 En bref... Assemblée Générale 2010 : le compte-rendumardi 1er juin 2010 David Deschamps Le samedi 3 avril 2010 était l'occasion pour les membres de l'Association, de se réunir autour d'une table afin de faire le bilan de l'année passée et fixer quelques orientations pour celle à venir.
RotomaLUG
Numéro de la fin du monde Nouveau : 42 débarque sur iphone/ipad avec une application gratuite pour lire le magazine dans les transports en commun ou dans vos toilettes. Bousin à choper par ici ! Il parait que les meilleures choses ont une fin et bien, apparemment, les plus stupides aussi puisque 42 c'est fini et dire que c'était la ville de mon premier amour. En même temps, on a pas tellement le choix, le peuple des abeilles (oui oui, les Mayas, je connais pas leur pseudonyme par cœur !) a décidé de tout gâcher avec leurs histoires de fin du monde.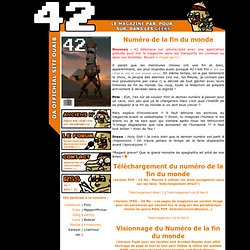 Album & Compilation Releases — blocSonic Netlabel: The best in Creative Commons music, netlabel music & netaudio
» VIEW ALL FEATURED POSTS Featured Items AS220 on 01/08/2014 at 04:45AM Malportado Kids - Mi Concha (EP) On a day that will forever be known in infamy as "Malportaday," the bi-lingual duo of Victoria Ruiz and Joey Defrancesco, otherwise known as Malportado Kids are releasing their first mixtape today. Their stripped down, baille and dancehall infused brand of electronic politico-punk is even more resuscitative than shoving your face in a tub of coffee grinds and starting a riot.
Libre Projects