Travel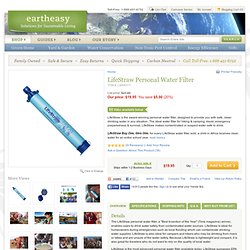 The LifeStraw personal water filter, a "Best Invention of the Year" (Time magazine) winner, enables users to drink water safely from contaminated water sources. LifeStraw is ideal for homeowners during emergencies such as local flooding which can contaminate drinking water supplies. LifeStraw is also ideal for campers and hikers who may be drinking from rivers or lakes and are unsure of the water safety. Because LifeStraw is lightweight and compact, it is also great for travelers who do not want to rely on the quality of local water. LifeStraw is the most advanced personal water filter available today. LifeStraw surpasses EPA guidelines for E. coli, Giardia, and Cryptosporidium oocysts, rigorous standards for water filtration.
Preachers Rock, Preikestolen, Norway Blue Caves - Zakynthos Island, Greece Skaftafeli - Iceland Plitvice Lakes – Croatia Crystalline Turquoise Lake, Jiuzhaigou National Park, China Four Seasons Hotel - Bora Bora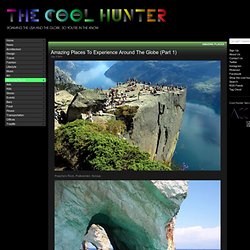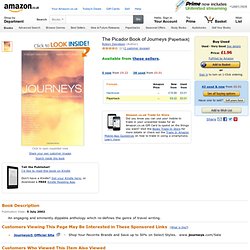 The Picador Book of Journeys: Amazon.co.uk: Robyn Davidson
Amazon Review Robyn Davidson's selection of travel writing for Journeys: An Anthology is absolutely peerless. The travel writing anthology is a genre that has produced some spectacularly entertaining work (and it has to be said, some fairly workaday stuff). If one were looking for an anthology of evocative travel writing from some of the greatest writers ever to put pen to paper (leavened with contributions from some of the most stellar talents of our own time), this one will be hard to beat.
Gnawa musicians performing in a street in Morocco Gnawa music is a rich repertoire of ancient African Islamic spiritual religious songs and rhythms. Its well preserved heritage combines ritual poetry with traditional music and dancing. The music is performed at 'Lila's', entire communal nights of celebration, dedicated to prayer and healing, guided by the Gnawa Maalem and his group of musicians and dancers. Though many of the influences that formed this music can be traced to sub-Saharan West-Africa, its traditional practice is concentrated in Morocco and the Béchar Province in South-western Algeria. The word 'Gnawa', plur. of Gnawi, is taken to be derived from the Hausa-Fulani word "Kanawa" for the residents of Kano, the capital of the Hausa-Fulani Emirate, which was a close ally of Morocco for centuries, religiously, economically, and in matters of defence.
Gnawa music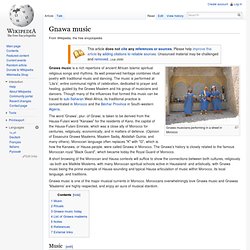 Vagabonding: An Uncommon Guide to the Art of Long-Term World Travel: Amazon.co.uk: Rolf Potts
Fabulous accommodation holidaypad.net If you want to stay in a flying-saucer-shaped cabin in Wisconsin, a windmill on Santorini or a house in the Lake District that featured on Grand Designs, Holiday Pad will sort you out. You can't book directly, so think of it more as inspiration, with links to the websites of unique, unusual places to stay across the globe. i-escape.com We probably mention this lip-smacking site most weeks, but it is our first port of call for gorgeous boutique accommodation around the world.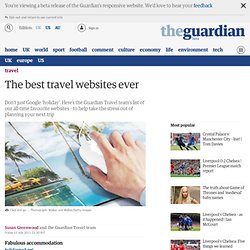 Click and go: the best travel websites ever | Travel
anyroad.net | Adventure Travel and Photography
alternative electronic culture
Campinmygarden.com is the first and only website advertising private gardens as micro-campsites; providing accessible, affordable and fun alternatives to traditional accommodation around the world. Whether you are looking for a break at home or abroad, in the country or in a city, near an event or as far away as you can get from any events… our garden owners are waiting to welcome you. Join us now to book a garden campsite or to advertise your own garden as a campsite. Join us now…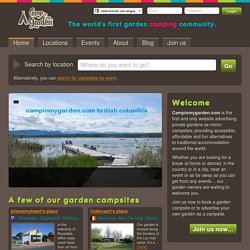 The Top 5 couchsurfing websites -Times Online
www.la-esperanza-granada.org (Nicaragua) www.santamariadefe.org (Paraguay) www.intiwawa.org (Peru) www.bemelsa.org (Peru) www.safepassage.org (Guatemala) www.casa-guatemala.org (Guatemala)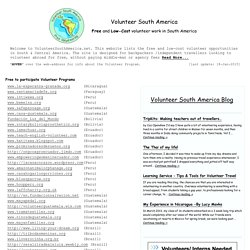 Derelict London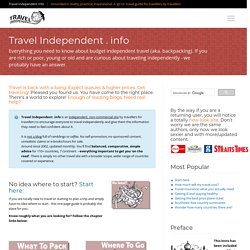 travelindependent
A real if not definitive list of everything you really need to pack and take with you (not just everything). Along with explanations of why you may or may not need certain items, such as the great sleeping bag and foot-wear debate. Take it from those who have learnt the hard way and are not selling or promoting anything other than the concept of travelling light. What you pack can really make a difference to your trip... read on for why, packing tips and general advice on everything you need to carry with you in terra incognita. Where to go?
Road Junky World Travel Guides Online
Man vs. Wild – we're just waiting for the episode where Bear survives penniless for weeks on the mean streets… Read more »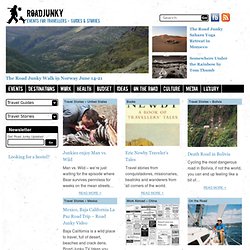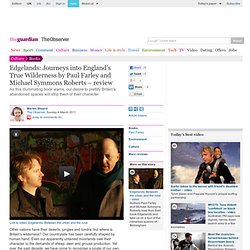 Link to video: Edgelands: Between the urban and the rural Other nations have their deserts, jungles and tundra, but where is Britain's wilderness? Our countryside has been carefully shaped by human hand. Even our apparently untamed moorlands owe their character to the demands of sheep, deer and grouse production. Yet over the past decade, we have come to recognise a jungle of our own, lurking in the unlikeliest of places.
Edgelands: Journeys into England's True Wilderness by Paul Farley and Michael Symmons Roberts – review | Books | The Observer
I've spent almost two weeks talking with the guides and locals and wandering around in the mountians alone. Here's what I've learned. Maps The Japanese guy who runs the internet cafe (Papua.com) sells a half decent map of the area. He prints it out on nice photo paper which looks good, but doesn't hold up in rain so I'd make a few photo copies of it. I wouldn't use this alone for trekking around, but its good to give you a basic idea of where you'll be going and it makes a good gift.
Baliem Valley - Independent Trekking - Lonely Planet travel forum