Information about Music
Vibe Tribe - Albert Balbert (Mystical Complex RMX) by MYSTICAL COMPLEX. Gold Panda - Marriage. Dr. Schluss' Garage Of Psychedelic Obscurities. Steve Roach (musician) Steve Roach (born February 16, 1955)[1] is an American composer and performer of ambient, electronic music and tribal-ambient music, whose recordings are also classified in the genres of space, drone, and New Age.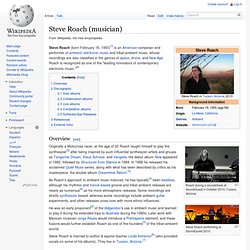 Roach is recognized as one of the "leading innovators of contemporary electronic music. Nah Und Fern: Gas: Amazon.co.uk: Music. Wounded Rhymes. Wounded Rhymes is the second studio album by Swedish recording artist Lykke Li, released on 24 February 2011 by LL Recordings.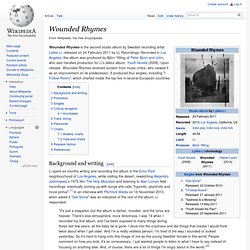 Recorded in Los Angeles, the album was produced by Björn Yttling of Peter Bjorn and John, who also handled production for Li's debut album, Youth Novels (2008). Upon release, Wounded Rhymes received acclaim from music critics, who viewed it as an improvement on its predecessor. It produced four singles, including "I Follow Rivers", which charted inside the top five in several European countries. ‪Emeralds - Does It Look Like I'm Here?‬‏
Classical
---