Information about Music
▶ Vibe Tribe - Albert Balbert (Mystical Complex RMX) by MYSTICAL COMPLEX
Gold Panda - Marriage
Dr. Schluss' Garage Of Psychedelic Obscurities
Steve Roach (musician)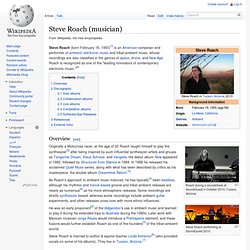 Steve Roach (born February 16, 1955 in La Mesa, California ) [ 1 ] is a U.S. composer and performer of ambient , electronic music and tribal-ambient music, whose recordings are also classified in the genres of space , drone , and New Age . Roach is recognized as one of the "leading innovators of contemporary electronic music." [ 2 ] Roach plans on releasing three new collaboration albums for the remainder of 2012, [ 3 ] along with the solo album Soul Tones , expected to be released mid-December of 2012.
Nah Und Fern: Gas: Amazon.co.uk: Music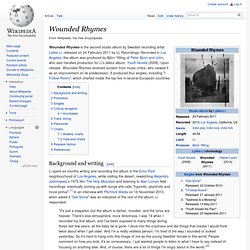 Wounded Rhymes is the second studio album by Swedish recording artist Lykke Li , released on 25 February 2011 by LL Recordings.
Wounded Rhymes
‪Emeralds - Does It Look Like I'm Here?‬‏