Drinks
The Punch That Gets Your Whole Party faced. Alcohol | foodgawker - StumbleUpon.
WHERE THE FUCK SHOULD I GO FOR DRINKS? Drinking Games. Hangovers. Watermelon Limeade. Drinking Games. Official Family Guy Drinking Game - StumbleUpon. The Webtender: Drinking Games. Have fun with The Webtender's collection of drinking games, but be extremely careful if you play any these games, especially the ones with high buzz factors.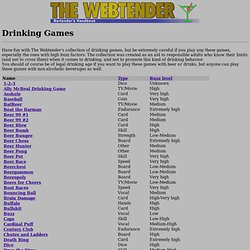 The collection was created as an aid to responsible adults who know their limits (and not to cross them) when it comes to drinking, and not to promote this kind of drinking behavior. You should of course be of legal drinking age if you want to play these games with beer or drinks, but anyone can play these games with non-alcoholic beverages as well. For more fun, visit the Web Site Index and go to one of the sites listed there. You should also take a look at 'The Complete Book of Beer Drinking Games'. Home · Drink Recipes · Forums · Bookstore · Barstore · Web Index · Feedback. - StumbleUpon. The Ultimate Strawberry Lemonade | Heather's Dish - StumbleUpon. One of the first times I ever realized that – HEY!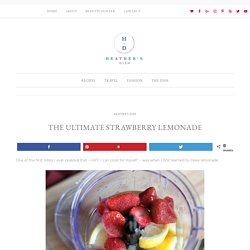 I can cook for myself! – was when I first learned to make lemonade. I magically found the refrigerated lemon juice at our house and followed the directions to make my own lemonade. I stirred and stirred and stirred again until that sugar was finally dissolved.
---