Science et pseudo-science
par Pierre Bégué - SPS n°302, octobre 2012
L'origine du refus des vaccinations
Dossier – le dénialisme scientifique (ou négationnisme de la science)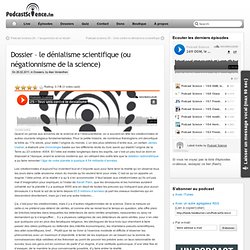 Rating: 3.7/5 (3 votes cast)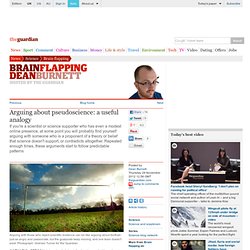 Arguing about pseudoscience: a useful analogy | Science
SCENARIO: PERSON 1 (a scientist) is at the bar in a pub. He orders two drinks and a bag of crisps.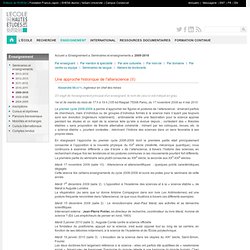 Enseignement 2009-2010 — Une approche historique de l'alterscience (II)
Le premier cycle 2008-2009 a permis d'approcher les figures et postures de l'alterscience : émanant parfois de chercheurs, mais d'individus ou de groupes d'individus formés à la science mais n'ayant pas toujours suivi son évolution (ingénieurs notamment) ; ambivalente entre une fascination pour la science apprise pendant les études et un rejet de la science telle qu'elle a évolué depuis ; contestant des « théories établies » sans proposition de théorie alternative cohérente ; mimant par les colloques, revues, etc. la « science établie », pourtant contestée ; réécrivant l'histoire des sciences dans un sens favorable à ses propres idées.
par Esteve Freixa i Baqué - SPS n° 293, hors-série Psychanalyse, décembre 2010
Le pouvoir (pas le moins du monde occulte) des psychanalystes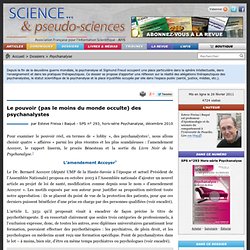 by Massimo Pigliucci I don't know what's the matter with physicists these days. It used to be that they were an intellectually sophisticated bunch, with the likes of Einstein and Bohr doing not only brilliant scientific research, but also interested, respectful of, and conversant in other branches of knowledge, particularly philosophy. These days it is much more likely to encounter physicists like Steven Weinberg or Stephen Hawking, who merrily go about dismissing philosophy for the wrong reasons, and quite obviously out of a combination of profound ignorance and hubris (the two often go together, as I'm sure Plato would happily point out).
Lawrence Krauss: another physicist with an anti-philosophy complex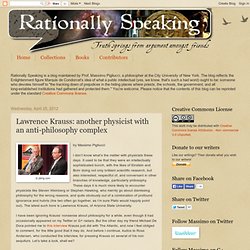 par Jean Günther (X1953) - SPS n° 282, juillet 2008 Malgré leur formation réputée, bien des polytechniciens ont soutenu des points de vue pseudoscientifiques.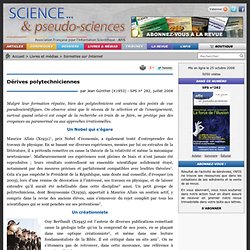 Dérives polytechniciennes
accueil - La Nuit de la science 2012 - Département de la culture - Ville de Genève
le bLoug