EVERNOTE
Free Cornell Note Forms for American Digest Readers Taking better notes requires having better tools. Of all the various note taking systems I've used over the years, the best, by far, is "The Cornell Note Taking System" which was created by Walter Pauk, an emeritus professor at Cornell.
Free Cornell Note Forms for American Digest Readers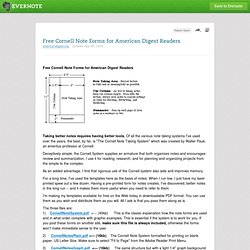 A few weeks ago I wrote a post on note-taking skills . One common experience many people have, and that several people mentioned in response to that post, is that when they take good notes they remember things well enough that they rarely end up having to look at their notes again. In fact, it seems that writing anything down makes us remember it better. On the other hand, not writing things down is just asking to forget.
Writing and Remembering: Why We Remember What We Write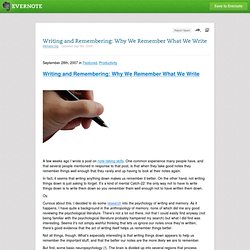 ¡Saludos desde Austin, Texas! Cada año, algunas de las mentes más creativas en tecnología de todo el mundo se reúnen en Austin para el festival South by Southwest Interactive . El festival SXSW Interactive es uno de nuestros eventos tecnológicos favoritos, y no hay lugar más adecuado para iniciar la competencia de desarrolladores de Evernote, Devcup, de este año. La competencia Evernote Devcup desafía a desarrolladores y diseñadores de todo el mundo a construir productos que amplíen las funciones de Evernote para ayudar a los usuarios a capturar, compartir y recordar lo más importante en sus vidas. El año pasado, más de 2.000 desarrolladores y diseñadores participaron en la Devcup y programaron cientos de aplicaciones geniales . Este año, estamos muy contentos ir aún más lejos y seguir creciendo.
Evernote en español | Evernote Corporation