Improv
YESand.com |
Recent Features Twenty Years of Improv, Part 4: Improv Olympia I first set foot in Chicago on February 8th, 1992.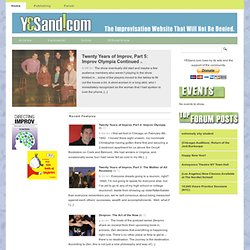 Whose Line is it Anyway?
Improv Everywhere
No Pants Subway Ride 2014 (View on YouTube) | Subscribe to us on YouTube Created and Directed by Charlie Todd / Produced by: Deverge / Music by Tyler Walker On Sunday, January 12th, 2014 tens of thousands of people took off their pants on subways in over 60 cities in over 25 countries around the world. In New York, our 13th Annual No Pants Subway Ride had over 4,000 participants, spread out over seven meeting points and eleven subway lines.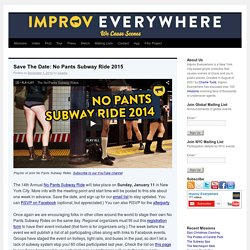 Improv Message Boards - Powered by vBulletin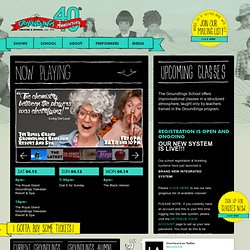 The Groundlings
The Groundlings School offers improvisational classes in a structured atmosphere, taught only by teachers trained in the Groundlings program. Our school registration & ticketing systems have just launched a Please CLICK HERE to see our new, gorgeous list of available classes! PLEASE NOTE: If you currently have an account and this is your first time logging into the new system, please visit the RETRIEVE YOUR ACCOUNT page to set up your new password. You must do this & be logged in to unlock the courses you're eligible for!!!
Magnet Mixer - ThursdaySpecial Guest The Boss7:00pm - (Free) Magnet students past and present join improvisers from all the world over and non-improvisers who just want to play, forming rare and wonderful one-night-only combinations. Sign up starts at 6:30pm. more» RevolverThe Boss & Junior Varsity8:00pm - ($7 for whole night) A weekly round of Russian Roulette featuring two veteran improv teams perform in their own unique and seasoned styles. more»
Magnet Theater - Improv Comedy Shows and Classes in New York City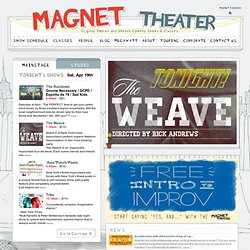 The Second City - 50 Years of Funny
skip to main navigation Welcome to The Second City The world's premier comedy club/theatre and school of improvisation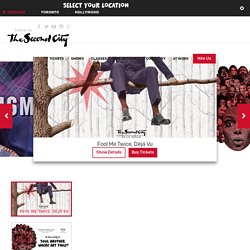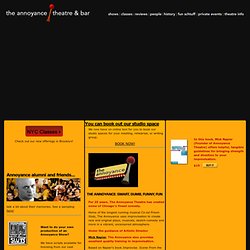 We now have on online tool for you to book our studio spaces for your meeting, rehearsal, or writing group. For 25 years, The Annoyance Theatre has created some of Chicago's finest comedy. Home of the longest running musical Co-ed Prison Sluts, The Annoyance uses improvisation to create new and original plays, musicals, sketch-comedy and more in a vibrant, uncensored atmosphere. Under the guidance of Artistic Director Mick Napier, The Annoyance also provides excellent quality training in improvisation. Based on Napier's book Improvise.
The Annoyance Theatre & Bar; Plays, Musicals, Improv, Sketch Comedy & Improv Classes
UCB Theatre - The Best Comedy in New York and Los Angeles
Toronto Improv Comedy Classes and Shows | Impatient Theatre Co. | 416-238-7337
Guestpost #36: Ken Hall – Ten things I've learned from living as a short man with scoliosis | tenthingsivelearned
Guestpost #40: Kevin Patrick Robbins – Ten things I've learned from teaching improv comedy | tenthingsivelearned
CCF: We're From Here | G.L.O.C.
CCF: We're From Here Toronto-based improv group WE'RE FROM HERE featuring G.L.O.C.s MANDY SELLERS, ADRIANNE GAGNON and ERIN GOLDSMITH will kick some ass, take some names and let people know where they're from. As part of the week of Charleston Comedy Festival interviews, let's hear from WE'RE FROM HERE!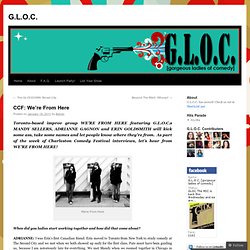 jill bernard
DRUM MACHINE
Jill Bernard has been performing with ComedySportz-Twin Cities since 1993, and is the director of their workshop program. Her one-woman improv piece, Drum Machine, has been featured at the Chicago Improv Festival, the Toronto Improv Jamboree, the Miami Improv Festival, Philadelphia Improv Festival, and the ComedySportz National Tournament, among others. She has taught improv in over twenty states and two provinces, including the cities of Juneau, AK; Spokane and Seattle, WA; Washington DC; Portland, OR; Phoenix, AZ; at the Dirty South Improv Festival, the Funny Woman Fest, and on an episode of MTV "Made." She has studied at the Annoyance Theater, Improv Olympic, the Brave New Workshop and other organizations; and is the recipient of the 2005 Chicago Improv Festival Avery Schreiber Ambassador of Improv Award, and the 2007 Miami Improv Festival award for Best Solo Show. Click here for resume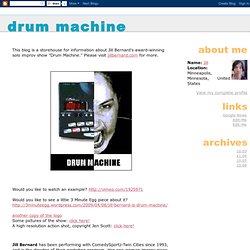 Home | HUGE Improv Theater | 3037 Lyndale Ave S, Minneapolis MN 55408
Guestpost #1: Jill Bernard – Ten things I've learned from opening a non-profit improv theater | tenthingsivelearned
CCF: Jill Bernard | G.L.O.C.
CCF: Jill Bernard G.L.O.C. JILL BERNARD is taking her solo show DRUM MACHINE to Charleston for the Charleston Comedy Festival. Let's hear from this Illinois native about her show, her comedic inspirations and the ups and downs of running her own theatre in Minneapolis.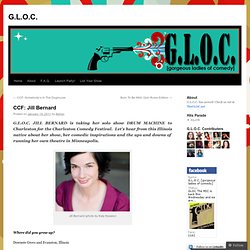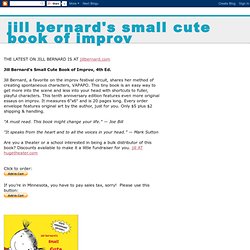 THE LATEST ON JILL BERNARD IS AT jillbernard.com Jill Bernard's Small Cute Book of Improv, 4th Ed. Jill Bernard, a favorite on the improv festival circuit, shares her method of creating spontaneous characters, VAPAPO. This tiny book is an easy way to get more into the scene and less into your head with shortcuts to fuller, playful characters. This tenth anniversary edition features even more original essays on improv.
Jill Bernard's Small Cute Book of Improv
Jill Bernard on Vimeo
Sybil Solo Improvisation
Welcome to Sybilization, an exploration of Solo Improvisation! Learn about Solo Improv, connect with other improvisers, and find out what improviser Andy Eninger is up to! "A performer who inspires absolute allegiance."
DSI Comedy Theater | Improv Comedy Classes and Shows in North Carolina | 919-338-8150
NC Comedy Arts Festival
Our festival features acts from all over North America performing in local Chapel Hill, Carrboro and Durham venues during the month of February. NCCAF has featured the most amazing comedy in the country. In 2007 LOUIS CK saved comedy when he flew down to step in minute for Horatio Sanz. His performance was EPIC!