Improv
YESand.com |
Improv Message Boards - Powered by vBulletin
The Groundlings
Magnet Theater - Improv Comedy Shows and Classes in New York City
The Second City - 50 Years of Funny
The Annoyance Theatre & Bar; Plays, Musicals, Improv, Sketch Comedy & Improv Classes
UCB Theatre - The Best Comedy in New York and Los Angeles
Toronto Improv Comedy Classes and Shows | Impatient Theatre Co. | 416-238-7337
Guestpost #36: Ken Hall – Ten things I've learned from living as a short man with scoliosis | tenthingsivelearned
Guestpost #40: Kevin Patrick Robbins – Ten things I've learned from teaching improv comedy | tenthingsivelearned
CCF: We're From Here | G.L.O.C.
CCF: We're From Here Toronto-based improv group WE'RE FROM HERE featuring G.L.O.C.s MANDY SELLERS, ADRIANNE GAGNON and ERIN GOLDSMITH will kick some ass, take some names and let people know where they're from. As part of the week of Charleston Comedy Festival interviews, let's hear from WE'RE FROM HERE!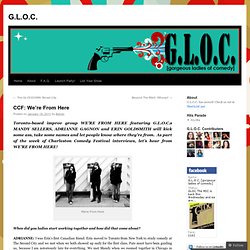 jill bernard
DRUM MACHINE
Home | HUGE Improv Theater | 3037 Lyndale Ave S, Minneapolis MN 55408
Guestpost #1: Jill Bernard – Ten things I've learned from opening a non-profit improv theater | tenthingsivelearned
CCF: Jill Bernard | G.L.O.C.
CCF: Jill Bernard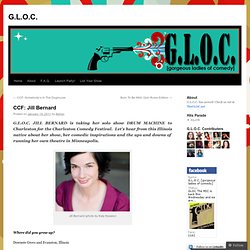 Jill Bernard's Small Cute Book of Improv
Jill Bernard on Vimeo
Sybil Solo Improvisation
DSI Comedy Theater | Improv Comedy Classes and Shows in North Carolina | 919-338-8150
NC Comedy Arts Festival