Categorized
SZP Security. Trango Special Projects. Pro-Intell security solutions. Personnel - REDfour Security GroupREDfour Security Group. North Africa Advisers | Home. Arezki Daoud. Libya Oil Infrastructure Report - AKE Ltd. AKE's Africa analyst Alasdair Reid talks to Bloomberg about the rising risk of militant attacks in Kenya.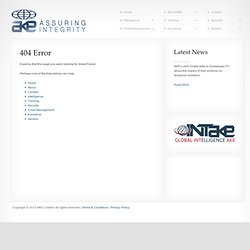 Read More AKE's John Drake talks to Dukascopy TV about the impact of Iraq violence on would-be investors. Read More AKE will be holding a travel safety awareness training course in Aberdeen on 1st April. Read More. Blue Mountain Group - Security. Our team at Blue Mountain draws on years of professional experience, and a thorough understanding of the UK security landscape.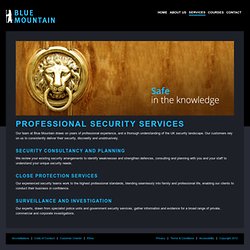 Our customers rely on us to consistently deliver their security, discreetly and unobtrusively. Security consultancy and planning. We are offering security services as an organized group of security professionals with experience in the line of maritime security and PSD tasks. REDfour Security Group High quality security management services. Phil Webster. Risk Management | Libya | Support Services | Close Protection. Potential issues on the 17th February. Back in Libya and keen to meet others here... New Libya Business Network Group News.
Security Networking Events Special Projects Ltd | Executive Protection & Safety | Oil & Gas Security. NTC. Libya - Overview - Global IntAKE. AKE Libya Specialist Alan Fraser talks to Fox News Radio about the events surrounding the death of and three other Americans in Benghazi.
AKE publishes press release covering the , covered in Zawya . MENA open for business? AKE's Alan Fraser writes for ATPI Travellers News on the post Arab Spring. Weekly Security Review. Summary Tripoli will remain stable although there is an on-going risk of clashes between rival militia groups.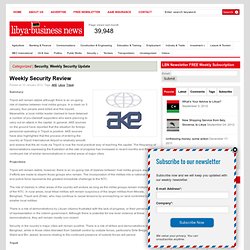 In a clash on 3 January, four people were killed and five injured. Meanwhile, a local militia leader claimed to have detained a number of pro-Gaddafi supporters who were planning to carry out an attack in the capital. Those of you on the ground in Libya will know that the collection, interpretation and analysis of intel is currently flawed, if you have or are planning a local forum please share with the group. Www.PRCAssociates.com INFRASTRUCTURE SUPPORT SPECIALISTS SEEKS STRATEGIC ALLIANCES IN LIBYA, EMAIL kprojects.
PRC ASSOCIATES, INC. Company. Principal Risk Solutions. Sign In. Risk Angels | Home. SOC Libya. PAS Security. Analyse de l'exposition aux risques SZP-Security accompagne les entreprises souhaitant s'implanter et/ou recherchant des partenariats avec des entreprises en Afrique, au Proche et au Moyen-Orient.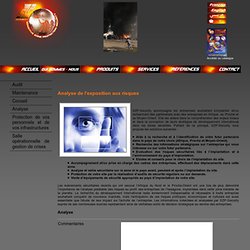 Elle les aidera dans la compréhension des enjeux locaux et dans la conception de leurs stratégies de développement international dans les zones sensibles. Partant de ce principe, SZP-Security vous propose les solutions suivantes : Information and intelligence :: Pilgrims Group. When your business operates globally, you need to make decisions based on the best information and advice.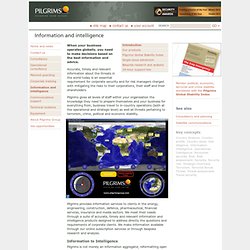 Accurate, timely and relevant information about the threats in the world today is an essential requirement for corporate security and for risk managers charged with mitigating the risks to their corporations, their staff and their shareholders. Pilgrims gives all levels of staff within your organisation the knowledge they need to prepare themselves and your business for everything from, business travel to in-country operations (both at the operational and strategic level) as well all threats pertaining to terrorism, crime, political and economic stability.
---