Project-Based Learning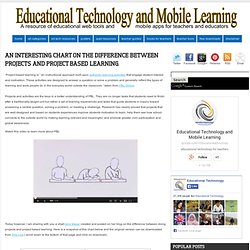 An Interesting Chart on The Difference Between Projects and Project Based Learning
Project based learning is " an instructional approach built upon authentic learning activities that engage student interest and motivation. These activities are designed to answer a question or solve a problem and generally reflect the types of learning and work people do in the everyday world outside the classroom." taken from PBL Online. Projects and activities are the keys to a better understanding of PBL. They are no longer tasks that students need to finish after a traditionally-taught unit but rather a set of learning experiences and tasks that guide students in inquiry toward answering a central question, solving a problem, or meeting a challenge. Research has clearly proved that projects that are well-designed and based on students experiences improve students motivation to learn, help them see how school connects to the outside world by making learning relevant and meaningful, and promote greater civic participation and global awareness.
I am an avid fan of project based learning approach and I have written profusely on it here in Educational Technology and Mobile Learning . The last thing I published on PBL was a chart featuring the differences between projects and project based learning. Today I am sharing with you PBL Essential Elements Checklist that I came across in this article written in Spanish. Before you have a look at the checklist let me just refresh your memory with this little definition : Project based learning is " an instructional approach built upon authentic learning activities that engage student interest and motivation. These activities are designed to answer a question or solve a problem and generally reflect the types of learning and work people do in the everyday world outside the classroom." taken from PBL Online.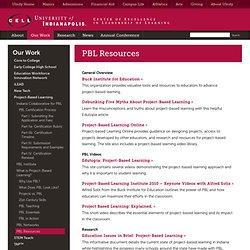 CELL at UIndy » PBL Resources
General OverviewBuck Institute for Education This organization provides valuable tools and resources to educators to advance project-based learning. Debunking Five Myths About Project-Based Learning Learn the misconceptions and truths about project-based learning with this helpful Edutopia article. Project-Based Learning Online Project-based Learning Online provides guidance on designing projects, access to projects developed by other educators, and research and resources for project-based learning.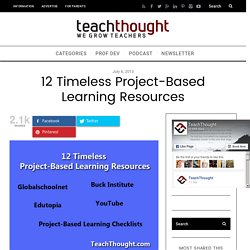 12 Timeless Project-Based Learning Resources
12 Timeless Project-Based Learning Resources by Shannon Dauphin Project-based learning is becoming increasingly popular as teachers look for a way to make lessons stick in the minds of their students. According to Edutopia, studies have shown that students who use project-based learning remember the material much longer and have healthier attitudes toward education. Project-based learning is based on the idea that students learn best by tackling and solving real world problems.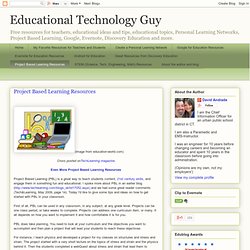 (image from education-world.com) Project Based Learning (PBL) is a great way to teach students content, 21st century skills, and engage them in something fun and educational. I spoke more about PBL in an earlier blog (http://www.techlearning.com/blogs_ektid17052.aspx) and we had some great reader comments (Tech&Learning, May 2009, page 14). Today I'd like to give some tips and ideas on how to get started with PBL in your classroom. First of all, PBL can be used in any classroom, in any subject, at any grade level. Projects can be one class period, or take weeks to complete.
Use these guiding principles to pull together projects with the time and resources you have. Sure, King Middle School has some amazing projects, but the Portland school has been refining its expeditionary learning projects for nearly two decades. David Grant, who guides the school's technology integration and curriculum development, has put together a six-step rubric for designing a project. He says Fading Footprints, which became a model for King and Expeditionary Learning Schools, doesn't take an entire school, or even a team of twelve, to plan and carry out; one or two teachers can tailor this one to fit their time and resources. The Fading Footsteps project is a twelve-week interdisciplinary ecology unit centered around the guiding question: How does diversity strengthen an ecosystem? Using this project as an example, see how King Middle School creates an action plan around each step.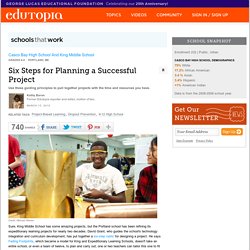 Challenge Based Learning - Welcome to Challenge Based Learning!
Research-Supported PBL Practices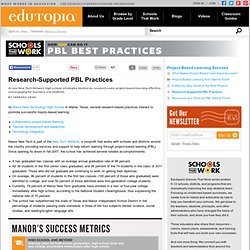 At one New Tech Network high school, strategies backed by research make project-based learning effective and engaging for teachers and students. At Manor New Technology High School in Manor, Texas, several research-based practices interact to promote successful inquiry-based learning: Manor New Tech is part of the New Tech Network, a nonprofit that works with schools and districts around the country providing services and support to help reform learning through project-based learning (PBL). Since opening its doors in fall 2007, the school has achieved several notable accomplishments: It has graduated two classes with an average annual graduation rate of 98 percent. All 39 students in the first senior class graduated, and 95 percent of the 74 students in the class of 2011 graduated.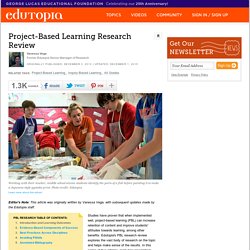 Studies have proven that when implemented well, project-based learning (PBL) can increase retention of content and improve students' attitudes towards learning, among other benefits. Edutopia's PBL research review explores the vast body of research on the topic and helps make sense of the results. In this series of five articles, learn how researchers define project-based learning, review some of the possible learning outcomes, get our recommendations of evidence-based components for successful PBL, learn about best practices across disciplines, find tips for avoiding pitfalls when implementing PBL programs, and dig in to a comprehensive annotated bibliography with links to all the studies and reports cited in these pages. Schools That Work: Middle school science students work on a project with their teacher (left), and a boy identifies the parts of a fish before painting it to make a Japanese-style gyotaku print (right). Learn more about this school.
Project, Problem, and Passion-Based Learning (PBL) Resources
PBL Units
For this installment of Schools That Work, we chose Manor New Technology High School, a public high school that is part of the New Tech Network of schools. Located just outside of Austin in Manor, Texas, it is an entirely project-based learning school that has consistently achieved outstanding results since opening. We followed a project there for three weeks to find out what makes their model so effective. By Mariko Nobori There is a small town, about 12 miles east of Austin, Texas, where a high school devoted to teaching every subject to every student through project-based learning (PBL) opened five years ago.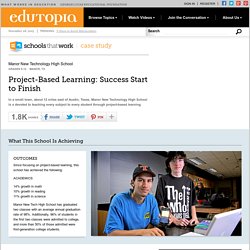 Cre8us | Stimulating Creativity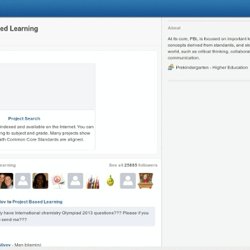 edmodo PBL
Dear Colleagues, We are working on a guide for teachers using Edmodo and would like to include some voices of teachers actively using Edmodo. If you have a tip to share or an anecdote that might inspire others, will you please follow this link and take a minute or two to provide us with 100 words or less about how you are using Edmodo? Selected tips/ideas will be chosen for publication with credit. Please respond no later than Jan 15, 2014. Thank you for your valued time in lending your voice to this exciting project! Best, Raphael Raphael, PhD. & Ginger Carlson, MA, co-authors
An overview of the Edutopia professional development guide for teaching how to use project-based learning in the classroom. Edutopia.org's Project-Based Learning professional development guide can be used for a two- to three-hour session, or expanded for a one- to two-day workshop, and is divided into two parts. Part one is a guided process, designed to give participants a brief introduction to project-based learning (PBL), and answers the questions "Why is PBL important?"