Semiotics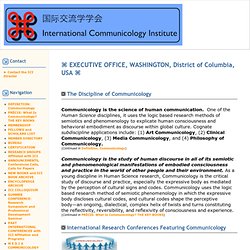 Communicology is the science of human communication. One of the Human Science disciplines, it uses the logic based research methods of semiotics and phenomenology to explicate human consciousness and behavioral embodiment as discourse within global culture. Cognate subdiscipline applications include: (1) Art Communicology, (2) Clinical Communicology, (3) Media Communicology, and (4) Philosophy of Communicology. Communicology is the study of human discourse in all of its semiotic and phenomenological manifestations of embodied consciousness and practice in the world of other people and their environment. As a young discipline in Human Science research, Communicology is the critical study of discourse and practice, especially the expressive body as mediated by the perception of cultural signs and codes.
⌘ INTERNATIONAL COMMUNICOLOGY INSTITUTE ⌘ EXECUTIVE OFFICE, WASHINGTON, DC, USA ⌘ | International Communicology Institute
Daniel Chandler Signs We seem as a species to be driven by a desire to make meanings : above all, we are surely - meaning-makers. Distinctively, we make meanings through our creation and interpretation of 'signs'.
THE SEMIOTICS OF THE WEB
ARISBE: THE PEIRCE GATEWAY: Home Page of the International Peirce Telecommunity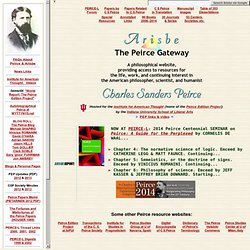 Audio readers: Top-bar, many links. Audio readers: End of top-bar. Next come the mast-head and the site-host information. Pronunciation note: In the case of Charles Peirce and at least his contemporaneous relatives, the name "Peirce" (P-E-I-R-C-E) should be pronounced "Perce."
SEMIOSIS
Webpage:Language Brain and Evolution also now see:Ascent of Intelligence and Pinker:The Stuff of Thought Language and the Mind [Extracted from Nöth, Winfried ed. 1994. Sign Evolution in Nature and Culture, Part III Glottogenesis: Phylogeny, ontogeny, and actogeny, 255-268. Berlin: Mouton de Gruyter] Robin Allott
Présentation du site Signo présente des théories sémiotiques et des théories proches de la sémiotique. Définition de la sémiotique La sémiotique (du grec sêmeiôtikê, de sêmeion « signe ») est la théorie et l'étude des signes et du sens. Pour certaines théories, tout est signe : l'homme même et le monde qui l'englobe.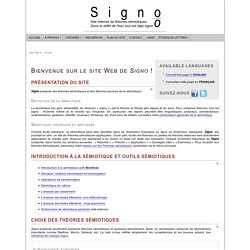 Semiotics
untitled
Semiotics: the basics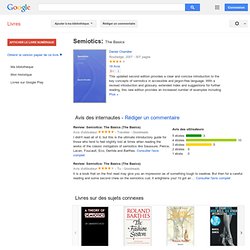 This updated second edition provides a clear and concise introduction to the key concepts of semiotics in accessible and jargon-free language. With a revised introduction and glossary, extended index and suggestions for further reading, this new edition provides an increased number of examples including computer and mobile phone technology, television commercials and the web. Demystifying what is a complex, highly interdisciplinary field, key questions covered include: What is a sign?Which codes do we take for granted?
Semioticon.com