Second Life
Entropia Universe 11.x
second life design rapidshare, megaupload ebook search
second life money
Rez a Life in Second Life!
| Second Life - Earn Linden Dollars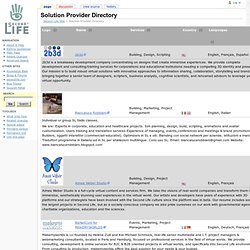 Team composed of specialists by sector, design, building, scripting, animators, texture designers, Audio and video engineers. Managing development inside SL or into any 3D environnement especially 3Dchat online. Specialized in content creation, Sim development, scripting, events, training, e-learning, conceptual architectural design, custom textures, terraforming, landscapping, oriented clothing design, animation, Web development, graphic design, brand and co-branding integration. Rl Clients: Dassault Systems, Belgacom, SNCF, DDB international, IHG, Ville de Paris, de Rennes, Aubay, ....
Solution Provider Directory of Virtual World Developers and Consultants | Second Life Grid