Homesteading
Homesteading with a Shipping Container House, Part I - Truth is Treason. Posted on Apr 26, 2010 in Alternative Energy & Architecture , Blog, Editorials, & Thoughts Kevin Hayden Years ago, I saw a picture of a shipping container house.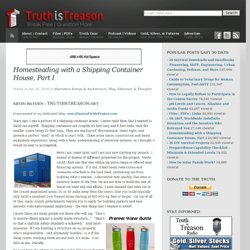 I knew right then that I wanted to build one myself. Homesteading Info  ::Building a Home::
Land
Project Homestead. The Rural Independent – gardening, alternate energy, cooking, homesteading, home schooling. Urban Homestead. Untitled Document. Mother Earth News 1970-2008 rapidshare, torrent download. Mother Earth News 1970-2008 | Copyright Year: 2010 | Format: DVD | 1.67 GB We have digitized more than 8,500 articles and have compiled them in a searchable format so you can have 40 years of Mother Earth News at the tip of your fingers.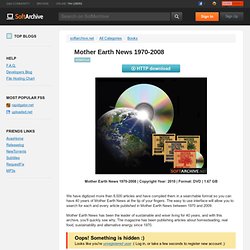 The easy to use interface will allow you to search for each and every article published in Mother Earth News between 1970 and 2009. The Owner Built Home & Homestead. Ken Kern, author of The Owner-Built Home and The Owner-Built Homestead, is an amazing fellow and everyone interested in decentralist, back-to-the-land, rational living should know of his work.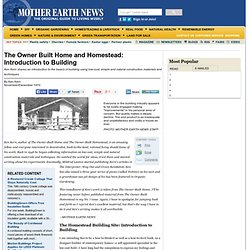 Back in 1948 he began collecting information on low-cost, simple and natural construction materials and techniques. He combed the world for ideas, tried them and started writing about his experiments. Eventually, Mildred Loomis started publishing Kern's articles in The Interpreter, Way Out and Green Revolution. Ken has also issued a three year series of pieces (called Technic) on his own and a greenhouse-sun pit design of his has been featured in Organic Gardening.
Home-based Business Opportunities. Home-based businesses in the town, suburbs or on the farm can be just as lucrative as office or factory jobs.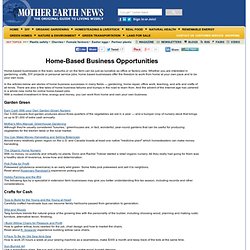 Whether you are interested in gardening, crafts, DIY projects or personal service jobs, home based businesses offer the freedom to work from home at your own pace and to be your own boss. In the articles below are stories of home business successes in many fields — gardening, home repair, office work, teaching, and arts and crafts of all kinds. There are also a few tales of home business failures and bumps in the road to learn from. And the advent of the Internet age has ushered in a whole new niche for online home-based jobs. Homesteading resources. Don't put it off any longer!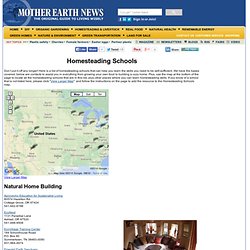 Here is a list of homesteading schools that can help you learn the skills you need to be self-sufficient. We have the bases covered; below are contacts to assist you in everything from growing your own food to building a cozy home. Plus, use the map at the bottom of the page to locate all the homesteading schools that are in this list, plus other places where you can learn homesteading skills. If you know of a school that is not listed here, please click "View Larger Map" and follow the instructions on the page to add the resource to the Homesteading Schools map. Plan the Perfect Homestead. Ever since 1970, when MOTHER EARTH NEWS was founded, readers have been writing in with questions about homesteading and stories about their own experiences with rural living.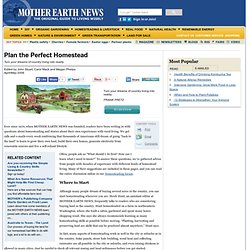 We get calls and e-mails every week confirming that thousands of Americans still dream of going "back to the land" to learn to grow their own food, build their own homes, generate electricity from renewable sources and live a self-reliant lifestyle. Often, people ask us "What should I do first? How can I learn what I need to know?" To answer these questions, we've gathered advice from people with decades of experience with different kinds of homestead living. Many of their suggestions are included in these pages, and you can read the entire discussion online in our Homesteading forum. Homesteading. MODERN HOMESTEADING. A Plan for Food Self-Sufficiency Planning a garden in advance can help you enjoy local, homegrown food year-round!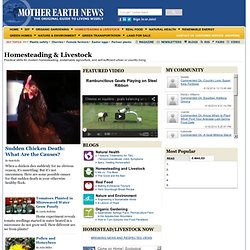 Estimate how much to grow or buy and learn how to achieve food security with these guidelines. Backyard Chicken Facts - 5 Things No One Told Us.
Home Building, Construction, Design. Sustainable Living Skills: Stone Masonry, Log House, Alternative Construction. Build your own home! Building on a Budget "Our house may look expensive, but the reality is that we only have about $10 a square foot into it.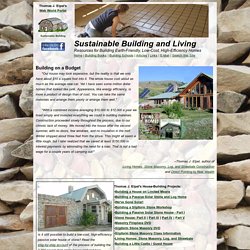 The whole house cost about as much as the average new car. Yet I have seen some million dollar homes that looked like junk. Appearance, like energy efficiency, is more a product of design than of cost. You can take the same materials and arrange them poorly or arrange them well. "
Homestead.org: The Homesteader's Free Library: Learn Homesteading, Self-sufficiency, and Economic Survival.
---