Homesteading
Homesteading with a Shipping Container House, Part I - Truth is Treason
Posted on Apr 26, 2010 in Alternative Energy & Architecture , Blog, Editorials, & Thoughts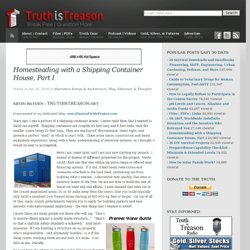 Homesteading Info  ::Building a Home::
Project Homestead
The Rural Independent – gardening, alternate energy, cooking, homesteading, home schooling
Untitled Document
Mother Earth News 1970-2008 rapidshare, torrent download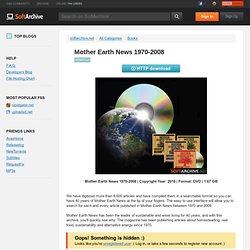 HTTP download FREE direct download Free Direct Download Mother Earth News 1970-2008 Mother Earth News 1970-2008 | Copyright Year: 2010 | Format: DVD | 1.67 GB We have digitized more than 8,500 articles and have compiled them in a searchable format so you can have 40 years of Mother Earth News at the tip of your fingers.
Ken Kern shares an introduction to the basics of building using low-cost, simple and natural construction materials and techniques. By Ken Kern November/December 1970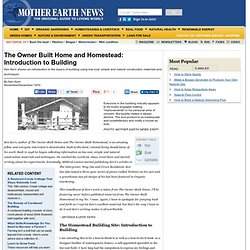 The Owner Built Home & Homestead
Home-based businesses in the town, suburbs or on the farm can be just as lucrative as office or factory jobs. Whether you are interested in gardening, crafts, DIY projects or personal service jobs, home based businesses offer the freedom to work from home at your own pace and to be your own boss. In the articles below are stories of home business successes in many fields – gardening, home repair, office work, teaching, and arts and crafts of all kinds.
Home-based Business Opportunities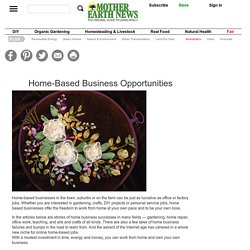 Don't put it off any longer! If you want to learn to homestead, here is a list of resources that can help.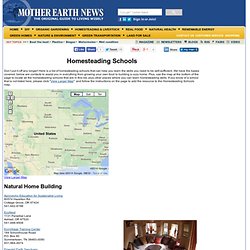 Homesteading resources
Plan the Perfect Homestead
Turn your dreams of country living into reality. Edited by John Stuart, Carol Mack and Megan Phelps April/May 2006 Ever since 1970, when MOTHER EARTH NEWS was founded, readers have been writing in with questions about homesteading and stories about their own experiences with rural living.
Home Building, Construction, Design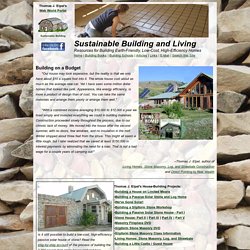 Sustainable Living Skills: Stone Masonry, Log House, Alternative Construction. Build your own home!
Building on a Budget "Our house may look expensive, but the reality is that we only have about $10 a square foot into it.