Homesteading
Homesteading with a Shipping Container House, Part I - Truth is Treason
Posted on Apr 26, 2010 in Alternative Energy & Architecture , Blog, Editorials, & Thoughts Kevin Hayden Years ago, I saw a picture of a shipping container house. I knew right then that I wanted to build one myself.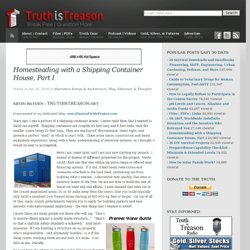 Homesteading Info  ::Building a Home::
The snow is finally subsiding here, and I'm reappearing after a long respite. Such a busy and wonderful Winter has melted into a sweet Spring. Why? Well, because the balance of life seems to be finally tipping in the direction of ease. So much of the past couple of years has seemed, well, . Between little ones, big projects and small budgets, it sometimes felt like I could never get ANYTHING done.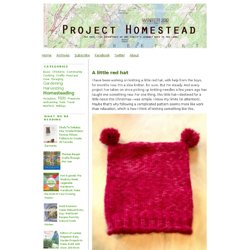 The Rural Independent – gardening, alternate energy, cooking, homesteading, home schooling
Untitled Document
Mother Earth News 1970-2008 rapidshare, torrent download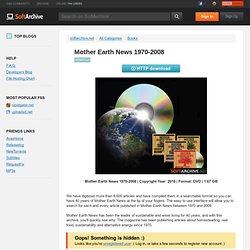 Mother Earth News 1970-2008 | Copyright Year: 2010 | Format: DVD | 1.67 GB We have digitized more than 8,500 articles and have compiled them in a searchable format so you can have 40 years of Mother Earth News at the tip of your fingers. The easy to use interface will allow you to search for each and every article published in Mother Earth News between 1970 and 2009.
Related Content Learn to Grow Food These resources will help you learn how to grow food and start a garden.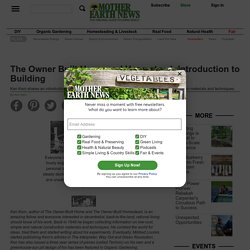 The Owner Built Home & Homestead
Home-based businesses in the town, suburbs or on the farm can be just as lucrative as office or factory jobs. Whether you are interested in gardening, crafts, DIY projects or personal service jobs, home based businesses offer the freedom to work from home at your own pace and to be your own boss. In the articles below are stories of home business successes in many fields — gardening, home repair, office work, teaching, and arts and crafts of all kinds.
Home-based Business Opportunities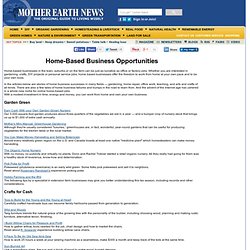 Don't put it off any longer! Here is a list of homesteading schools that can help you learn the skills you need to be self-sufficient. We have the bases covered; below are contacts to assist you in everything from growing your own food to building a cozy home.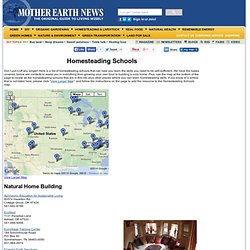 Homesteading resources
Plan the Perfect Homestead
Related Content Make Your Pond Happy Ponds serve many purposes that add an economic or recreational value to the landowner.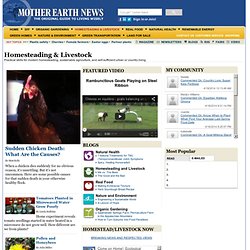 A Better Rainwater-Harvesting System Think beyond the rain barrel: This simpler, cheaper approach to rainwater harvesting will help you harvest much more water for your garden! A Plan for Food Self-Sufficiency Planning a garden in advance can help you enjoy local, homegrown food year-round! Estimate how much to grow or buy and learn how to achieve food security with these guidelines. Backyard Chicken Facts - 5 Things No One Told Us A few facts that might help you decide whether or not to get chickens for your backyard. Best Guard Dog for Your Homestead Read guard dog training tips and advice on guard dog breeds best suited for your needs.
Home Building, Construction, Design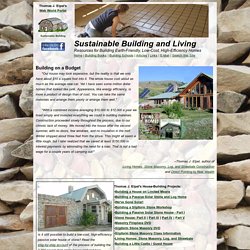 Sustainable Living Skills: Stone Masonry, Log House, Alternative Construction. Build your own home!
Building on a Budget "Our house may look expensive, but the reality is that we only have about $10 a square foot into it. The whole house cost about as much as the average new car. Yet I have seen some million dollar homes that looked like junk. Appearance, like energy efficiency, is more a product of design than of cost. You can take the same materials and arrange them poorly or arrange them well."