Farming
Subject:Agriculture and husbandry - Wikibooks, collection of open-content textbooks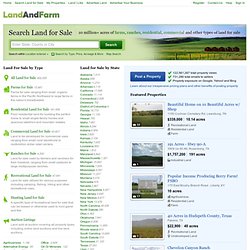 LandAndFarm.com is the number-one-rated rural property website in the world, based on search results and average number of visits. More than 300,000 registered users visit the LandAndFarm site generating more than 650,000+ monthly page views. LandAndFarm.com contains more than $1 billion worth of rural real estate and over 10 million acres of land for sale in the U.S., Canada and more than 200 other countries around the world. Listings available from LandAndFarm span all categories of rural property for sale including farm land, commercial, residential, recreational, ranch, alternative energy, organic and timberland. At LandAndFarm.com, users can easily search and browse more than 40,000 listings of land for sale.
LandAndFarm.com - Land for sale, Farms for sale, Rural Property for sale
A Better Rainwater-Harvesting System Think beyond the rain barrel: This simpler, cheaper approach to rainwater harvesting will help you harvest much more water for your garden! A Plan for Food Self-Sufficiency Planning a garden in advance can help you enjoy local, homegrown food year-round! Estimate how much to grow or buy and learn how to achieve food security with these guidelines.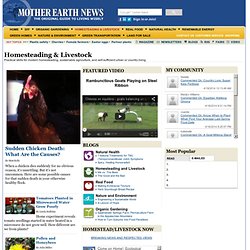 AgWeb.com - Your Spot for Futures Trading, Commodities Info, Ag News, Successful Farming Tips and More