Hair/Make-up/Nails
YOU ASKED FOR IT… Photos + post by Kristin Ess So many emails have come in asking how I did the braid on Lauren's hair for her last Chelsea Lately appearance.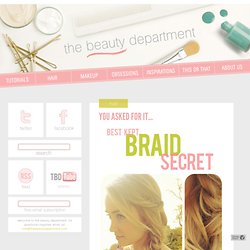 I recently recreated that braid and took a couple photos so you could see it up close. Here's the very simple secret to this braid: In a regular braid there are 3 strands. DIY - MAKE YOUR OWN WAX FOR HAIR REMOVAL | Fashion - Yahoo! Shine. I was chatting with someone on my flight back from my vacation.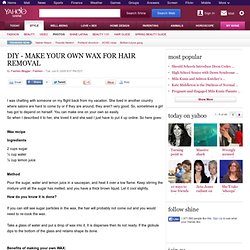 She lived in another country where salons are hard to come by or if they are around, they aren't very good. So, sometimes a girl has got to depend on herself. You can make one on your own so easily. So when I described it to her, she loved it and she said I just have to put it up online. So here goes: The Color Wheel: How to Combine Colors in your Wardrobe & The Fashion Bomb Blog /// All Urban Fashion… All the Time - All Urban Fashion // All the Time - StumbleUpon. Ever wonder how some of your favorite fashionistas put colors together to create eye-catching and fabulously colorful outfits?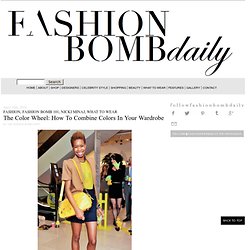 Well so does Fashion Bombshell Kendra who wrote in asking, "As a recessionista engineer, I cannot afford to buy a new wardrobe for the spring/summer. I have great pieces in my wardrobe already so I want to know how to make the most of my wardrobe by playing around with different color combinations. Photo 1- You Totally Got This: 4 Easy Braids For Rookies - StumbleUpon. Feb 18, 2014 If we ruled the world, our first decree would be to make daily braid wearing mandatory.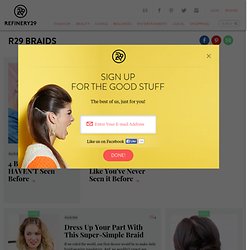 And, we wouldn't expect any complaints — braids are just so darn versatile, we'd bet there's a variation out there…read Nov 19, 2013. Homemade Hair Treatments - At Home DIY Hair Treatments - Womans Day - StumbleUpon. Eggs, yogurt and honey are, at first glance, all components of a tasty breakfast—but they also happen to be hair treatment ingredients, and affordable, all-natural ones at that.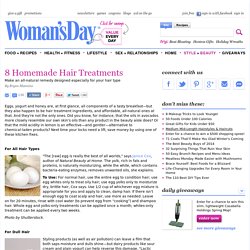 And they're not the only ones. Did you know, for instance, that the oils in avocados more closely resemble our own skin's oils than any product in the beauty aisle does? Or that the mild acidity in lemon is an effective—and gentler—alternative to chemical-laden products? Next time your locks need a lift, save money by using one of these kitchen fixes. For All Hair Types. Natural looking beach curls in under 20 minutes! I don't know about you ladies, but I'm itching for the summer.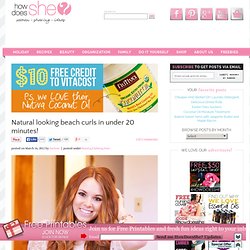 It doesn't help that department stores are already putting out their summer wear and swimsuits. Have you ever wanted to get that beautiful "natural" beach curl look to your hair? I want to share with you a technique that works for ALL types of hair, whether it be short, long, thick, thin, frizzy, or flat… and no curling iron involved!
1. Dampen your hair with a spray bottle or let it semi air dry after washing it. Seriously HAUTE | Hair to Inspire & huda beauty. Get Out of My Hair. My nails!!!! :) - Polyvore - StumbleUpon. Dorm Room Spa: 3 Easy DIY Beauty Recipes to Try - College Fashion - StumbleUpon. Photo Credit It's that taxing in-between time of the semester again – spring break is over, papers and projects are coming due, and finals are looming ahead.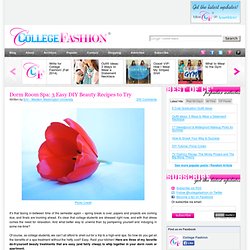 It's clear that college students are stressed right now, and with that stress comes the need for relaxation. And what better way to unwind than by pampering yourself and indulging in some me-time? Of course, as college students, we can't all afford to shell out for a trip to a high-end spa. So how do you get all the benefits of a spa treatment without the hefty cost? GUEST POST - thebeautydepartment.com - StumbleUpon. Photos by: Kathleen Bly post designed by kristin ess Mad love for our first guest post winner, Taylor Nick!!!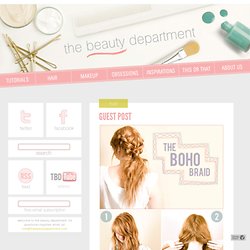 I am fully obsessed with this bohemian-inspired-braided-goodness! Even though Taylor had some SERIOUS competition, there's no doubt that this little lady took the cake in our hair tutorial contest. She created a beautiful, textured, easy hairstyle that will work with almost any hair type. Congratulations Taylor, and thanks to ALL of you who entered this post contest. My No Poo Shampoo Story, I Went Shampoo Free &Took Pictures - StumbleUpon. EmailEmail "No Poo" is a nickname for going shampoo free… Everyone has a different experience when ditching shampoo.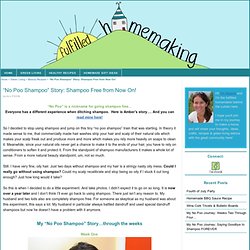 Here is Amber's story…. And you can read mine here! How To Use A Sock To Get Beautiful Curly Hair Without Heat | A Spotted Pony - StumbleUpon. If you are a mom on the go with long hair you HAVE TO try this.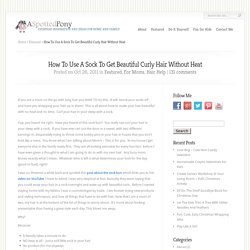 It will knock your socks off and have you wrapping your hair up in them! This is all about how to make your hair beautiful with no heat and no time. Get Yo' Nails Did - StumbleUpon. Okay, so we're only three weeks in to this whole thing and I'm already showing you a tame look after I totally promised some of you that I'd do a newsprint nail tutorial this week. Newsprint we can do next week, but for right now I wanted/needed a manicure by a professional. As I told you in the first "Get Yo' Nails Did", it's important to include real manicures in your nail routine if you're not comfortable cutting your cuticles and getting into the real work at home. I am not. Newest Nail Polish Designs for Your Nails - BeautyRiot.com - Cloudy with a... - StumbleUpon. These clouds may look a little threatening, but we prefer to focus on the gold lining ahead. Here's how to get the look: Polish Suggestions: Zoya Raven (black), Essie Sugar Daddy (sheer pink), Zoya Goldie (gold)
---