Costura
DIY: Tank Dress with Pockets! : academichic. At long last, I present a tutorial for the tank dress I made a few weeks ago before the end of the semester blindsided me.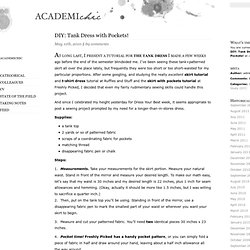 I've been seeing these tank+patterned skirt all over the place lately, but frequently they were too short or too short-waisted for my particular proportions. After some googling, and studying the really excellent skirt tutorial and t-shirt dress tutorial at Ruffles and Stuff and the skirt with pockets tutorial at Freshly Picked, I decided that even my fairly rudimentary sewing skills could handle this project. And since I celebrated my height yesterday for Dress Your Best week, it seems appropriate to post a sewing project prompted by my need for a longer-than-in-stores dress.
Knitting pattern: monster chunks » whip up. Tank Top Dress. Then the skirt part.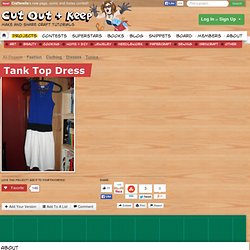 Use stretchy fabric like jersey or like I did, the bottom part of an extra large T shirt. It's important for the top part of the skirt to be a generously measured because the gathering takes up fabric as seen in the gathering step. If you use fabric then just measure how long you want the skirt and sew it together at the sides and then follow the Gathering step. If you use a T shirt like I did, then all you do is cut the shirt where the arms/sleeves start and cut it in half, from sleeve to sleeve and then you have the skirt ready for you!
Very simple. Slouchy Hobo Bag. Every wanted to know how to make a hobo bag?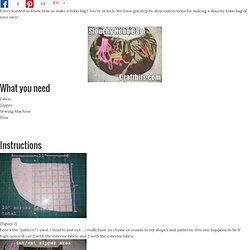 You're in luck! We have got step by step instructions for making a slouchy hobo bag of your own! What you need. Behind The Seams. Embroidery Designs at Urban Threads - Projects. Now it's time to grab that other sock, provided it hasn't disappeared.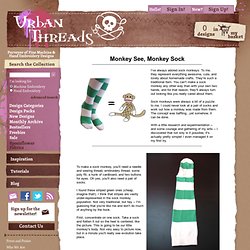 Don't laugh -- I have about a half dozen socks whose partners have mysteriously vanished. It can happen. Turn the sock inside out and flatten it the other way, so the heel is folded in half. This sock is much more picky as to what it turns into. The diagram to the left shows you what I mean. Diy Couture Tshirt Dress. Mark the middle point of this elastic by folding it in half and putting in a pin at the fold.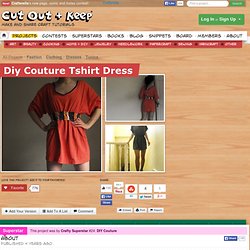 Position your elastic over the line you marked on your T-shirt. Put the sewing machine foot - and needle - down on top of them. Satin Rosette. Neck tie School Bag. Got lots of neck ties lying around?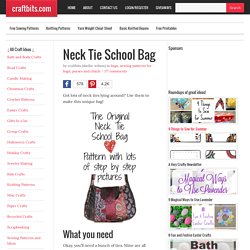 Use them to make this unique bag! What you need Okay, you'll need a bunch of ties. Mine are all paisleys.
---