Maker Perls
PirateBox DIY - David Darts Wiki. Hack a Day. Make: Online.
Stores
10 HP Hovercraft. I was looking for a project that my Grandson and I could build. together.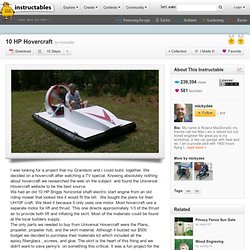 We decided on a hovercraft after watching a TV special. Knowing absolutely nothing about hovercraft we researched the web on the subject and found the Universal Hovercraft website to be the best source. We had an old 10 HP Briggs horizontal shaft electric start engine from an old riding mower that looked like it would fit the bill. We bought the plans for their UH10F craft.
---