Slider
10 Impressive Techniques to Spice up your WordPress Theme | DevS. WordPress awesomeness lies in its fact that it can be customized to power any type of site you like!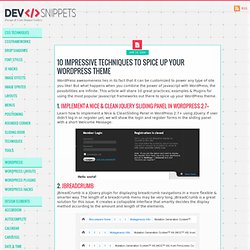 But what happens when you combine the power of javascript with WordPress, the possibilities are infinite. This article will share 10 great practices, examples & Plugins for using the most popular Javascript frameworks out there to spice up your WordPress theme. 1. Frontpage Slideshow. Run away, run far far away This module is tied to a commercial product, is unsupported, is poorly implemented, lacks modern features, and is poorly documented.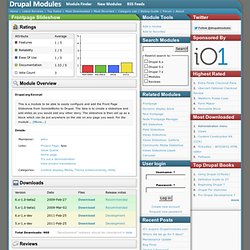 First, it requires a third party, commercial Javascript library ($28). Second, it's not maintained at all. jQuery.ScrollTo. jQuery.ScrollTo by Ariel Flesler Links Table of contents (try these) Ways to specify the target Click an option, to see it in action.
Dynamic Drive- Dynamic Content. Dynamic Content Sub Categories Featured Content Slider FF1+ IE5+ Opr7+ Featured Content Slider makes a slideshow out of arbitrary content on your page, so users can manually select a content to see or have them rotated automatically.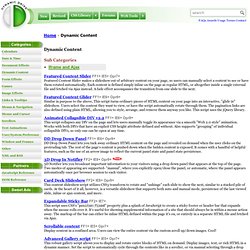 Each content is defined simply inline on the page as regular HTML, or altogether inside a single external file and fetched via Ajax instead. A fade effect accompanies the transition from one slide to the next. Coda Slider Effect | jQuery for Designers - Tutorials and screen.
How to Solve the Problem Recreating this effect is simple to do if you know what plugins to use.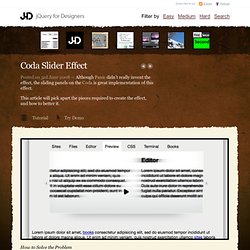 There are plugins out in the wild already, but we want our jQuery to satisfy the following requirements: jQuery plugin - Easy Image or Content Slider. Click here for the new version of this plugin This is my first jQuery plugin.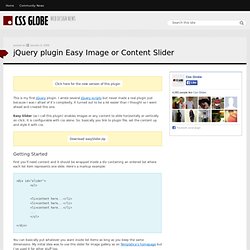 I wrote several jQuery scripts but never made a real plugin just because I was I afraid of it's complexity. It turned out to be a lot easier than I thought so I went ahead and created this one. Easy Slider 1.5 - The Easiest jQuery Plugin For Sliding Images a. Click here for the new version of this plugin Version 1.5 of my Easy Slider plugin for jQuery is here.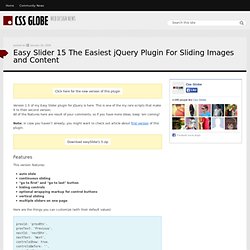 This is one of the my rare scripts that make it to their second version. Creating a Slick Auto-Playing Featured Content Slider. I love the Coda Slider plugin for jQuery.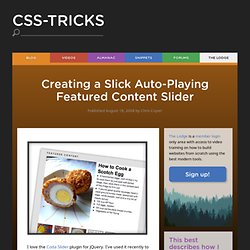 I've used it recently to build a couple of tabbed "widgets". One here on CSS-Tricks in the sidebar to show Script & Style links, Featured Posts, and Popular Posts. Just kind of a fun way to show lots of content in a small area. I also used it on an article for NETTUTS for a similar purpose.
---