SEO
Get flash to fully experience Pearltrees
The Permalink Finder Plugin detects when WordPress cannot find a permalink. Before it generates the 404 error the plugin tries to locate any posts with similar words. It does this by searching through the database trying to find any of the word values from the bad link. It takes the best match and then, rather than issuing a 404 error, it sends back a redirect to the correct page. Users will see the page that they are looking for, and search engine spiders will see the 301 redirect and update their databases so that the page appears correctly in searches. This is especially useful where WordPress removes words like "the" and "a" from the permalink during conversions from Blogger.com accounts.
Future upgrades to WordPress.com Stats will only be available in Jetpack . Jetpack connects your blog to the WordPress.com cloud, enabling awesome features . Get Jetpack now!
A good search engine ranking will generates more organic traffic to your site.If you are using WordPress, don't worry. WordPress already did the hard part for you. But, there are some SEO features that aren't implemented in WordPress core.
Using a few Google Analytics advance filters, it's very easy to create a handy Twitter-specific profile which groups together twitter sources such as web clients and short URL services. If you've read my earlier post 2 easy ways to track social networks in Google Analytics , you should be quite familiar with using advance filters in Google Analytics. A large percentage of Twitter's traffic is coming from phone or desktop based clients, in which case they'll appear as direct traffic so be sure to place extra attention to filter three. 1.
Windows Live Writer and All in One SEO Pack are two really good pieces of softwares available for WordPress users. Windows Live Writer allows users to write and publish blog posts from their desktop, on the other hand All in One SEO pack gives users the ability to optimize the post title for Search engines, and allows users to specify custom keywords and descriptions for the post. However the two of them do not go hand in hand in the sense that when you post from Windows Live Writer you will still have to go to the WordPress admin dashboard and add the parameters for All in One SEO pack, adding a minor inconvenience to users. I wrote a plugin called All in One SEO Pack Windows Live Writer Bridge , which aims to bridge this gap, by allowing users to specify All in One SEO Pack details while publishing posts from Windows Live Writer.
Adds the Google Analytics web statistics tracking system to your website. The module allows you to add the following statistics features to your site: Single/multi/cross domain tracking Selectively track/exclude certain users, roles and pages Monitor what type of links are tracked (downloads, outgoing and mailto) Monitor what files are downloaded from your pages Custom variables support with tokens Custom code snippets Site Search support AdSense support DoubleClick remarketing support Anonymize visitors IP address DoNotTrack support (non-cached content only) Drupal messages tracking Modal dialog tracking ( Colorbox ) Access denied (403) and Page not found (404) tracking Cache the Google Analytics code on your local server for improved page loading times Version specific features GA.js support: 6.x-3.x, 7.x-1.x Analytics.js support: 7.x-2.x, 8.x-2.x
Search engines like Google and Yahoo are based on Unix (Linux or BSD). Unlike on Windows, filenames on Unix servers are case-sensitive. That means a file called INDEX.HTML is a different file than index.html . Drupal has an SEO issue where URLs are not case sensitive. I'll explain why this is a problem. Here's an example of case-sensitive URLs on a Unix server—Google.com: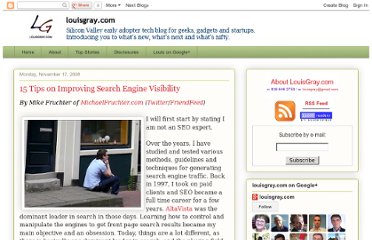 By Mike Fruchter of MichaelFruchter.com ( Twitter / FriendFeed ) I will first start by stating I am not an SEO expert. Over the years, I have studied and tested various methods, guidelines and techniques for generating search engine traffic.