Plugin 2
This plugin is possibly one of most powerful tools available for WordPress Multisite and BuddyPress. It takes all the comments across your network and brings them into one spot. Why is that helpful? Having all comments in one spot allows you to display them in several different ways. Packed full of features such as: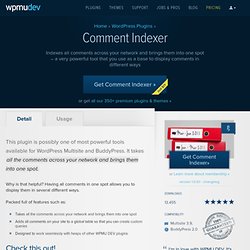 Comment Indexer description WordPress MU plugins, themes and s
Multiple Sites on one WPMu install « WPMU DEV Premium Forums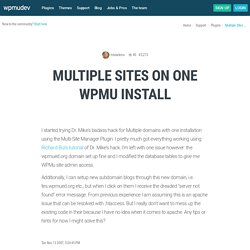 I started trying Dr. Mike's badass hack for Multiple domains with one installation using the Multi-Site Manager Plugin. I pretty much got everything working using Richard Bui's tutorial of Dr. Mike's hack. I'm left with one issue however: the wpmued.org domain set up fine and I modified the database tables to give me WPMu site admin access. Additionally, I can setup new subdomain blogs through this new domain, i.e. tes.wpmued.org etc., but when I click on them I receive the dreaded "server not found" error message.
Starting today, there are some new things for Beta users to play with. Interested in finding out what they are? We're excited to tell you about them! First up is something that's been a popular request from our subscribers: An easier way to upload photos to your sidebar.
AntiSpam - How to get started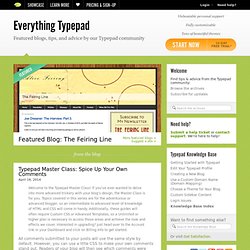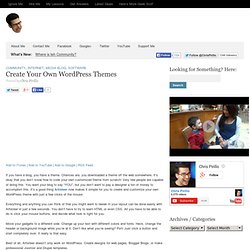 Add to iTunes | Add to YouTube | Add to Google | RSS Feed If you have a blog, you have a theme. Chances are, you downloaded a theme off the web somewhere. It's okay that you don't know how to code your own customized theme from scratch! Very few people are capable of doing this.
Create Your Own WordPress Themes
Presentations, links and notes from WordCamp NYC 2009 | CoPress
WordCamp NYC 2009 — a two-day, community-organized conference held at Baruch College of the City University of New York — offered a lot of inspiring sessions on how people and organizations are using WordPress, WordPressMU, BuddyPress and BBPress to manage content and build communities. For those of you who couldn't make it, here is a sampling of what you missed: Case Study: WNET.org WNET.org worked with Tierra Innovation to build 50 sites in 10 months using WordPress MU. Related: BuddyPress Group API Extension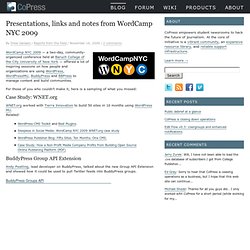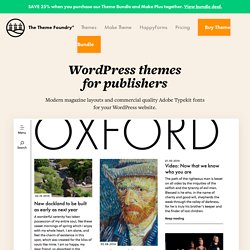 Themes by Jestro
Anketell Forest is a 2000 acres wildlife refuge and tourist accommodation venture on the northern tablelands of NSW, Australia. When we launched our tourist venture in 2009 I wanted a website that matched our accommodation – clean, creative and very well built. Vigilance Pro was perfect and we quickly gained bookings, publicity and compliments about our website. We've since refurbished three times – Linen, React, and now Portfolio – and each time I've really appreciated the "Pro" aspect of the themes.
Your Go-To Guide of Wordpress Plugins
I wrote this plugin for my WordPress MU site and am releasing it as GPL with the hope that some might find it useful. It allows your users to customise any theme on your site, changing images and colours in the CSS. It's still pretty raw but I do have plans to make it much prettier in the future. Downloads: Installation: Download and unzip package, copy Jason_Customciser.php into your plugins directory (/wp-inst/wp-content/plugins).
Jason's Customciser :: Customise your themes! « Jason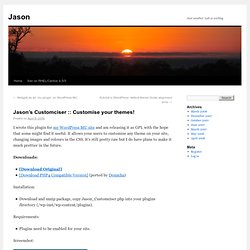 TweetBacks WordPress plugin
WordTwit Wordpress Plugin ↔ BraveNewCode Inc.
WordPress, Meet Twitter Today we're excited to reveal what we've been working on for the past few months: WordTwit Pro, our premium version of WordTwit, the best WordPress to Twitter publishing plugin. In WordTwit Pro you have complete publishing control over the tweets you send out using its sleek new publishing widget. Set schedule, repeat & delay options for a new status update; select and publish to multiple Twitter accounts; Authorize those account for shared use among other WordPress authors on your site; easily add custom hashtags and more— all on-the-fly in a few clicks with the new WordTwit Pro publishing widget.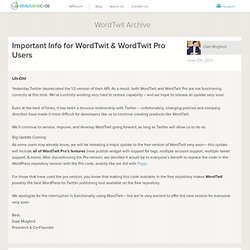 Lucian E. Marin · Themes
After you download the themes, you'll need to extract them to your /wp-content/themes/ directory. Then log into WP and activate the theme from within your presentation panel. The themes are licensed under a GPL license. Basically, this means that you're free to do what you like with them as long as you redistribute them under the same license.
WordPress database backup creates backups of your core WordPress tables as well as other tables of your choice in the same database. What's New Version 2.2.3 fixes some bugs that users with localizations had, and it addresses a few other, minor bugs. Version 2.2.2 adds news features to work nicely with WordPress version 2.7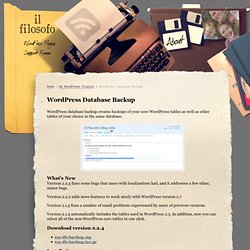 Il Filosofo » WordPress Database Backup
The Beginner's Guide to Tricking Out Your WordPress Blog
SExpand You took the leap and installed WordPress to host your own blog because you want complete control over how it looks and works. Now, it's time to power it up, lock it down, and make your blog completely yours.
Edit Flow empowers you to collaborate with your editorial team inside WordPress. We've made it modular so you can customize it to your needs: Calendar - A convenient month-by-month look at your content.Custom Statuses - Define the key stages to your workflow.Editorial Comments - Threaded commenting in the admin for private discussion between writers and editors.Editorial Metadata - Keep track of the important details.Notifications - Receive timely updates on the content you're following.Story Budget - View your upcoming content budget.User Groups - Keep your users organized by department or function.
Edit Flow Project
WordPress Plugin for gooseGrade | gooseGrade
When we started this business we sold locally and we only sold Leyland Cypress to customers. Since our start we've expanded our offering to even more evergreen trees and bushes. Once we started offering Thuja Green Giant we received orders from all over the country. We were shipping plants to Pennsylvania, Georgia, Tennessee, North Carolina, and so on.
F2 WordPress theme | Srini's WordPress Laboratory
README.md F2 is a clean looking responsive theme for WordPress released for free under the GPL. F2 Version 2.0 is completelely rebuilt based on the _s theme. Please Note: Version 2.0 is a massive update.
Let's say you were going to start a music review site where you review individual songs. Words are great, but in this context they aren't going to mean much unless you have the song right there to go with it that can be listened to. This presents some interesting legal problems. You can't just upload your own copy of the song to your web server and use some kind of MP3 player on your website to present the song. That is illegal distribution of the MP3 that could get you into trouble.
Embed an MP3 Widget of Any Song (Legally) | Digging into WordPre
WPMU for Dummies: Part Deux " description WPMU DEV - WordPr
Sitewide Featured User Widget " description WPMU DEV - Word
YOURLS: Your Own URL Shortener (and a WordPress plugin)
Space between paragraphs « WORDPRESS TIPS
Create your own private Twitter site using WordPress
WordPress for iPhone
21 Great Plugins for Manage Multi-Author Blogs " Weblog Too
WordPress 2.3 / 2.8 compatible WordPress – Del.icio.us Daily Syn
A-Z of Free Photoshop Plugins and Filters | Developer's Too
How To Create WordPress Themes From Scratch Part 1 » Themetation
WPBeginner - Beginner's Guide for Wordpress
How To Create a WordPress Theme
10 Ways to Install Accordion Menus in Your Wordpress Theme | Pro
WordPress Themes | eTrecos
WordPress MU development
WPMU Footer HTML - InstalledDesign.com
Blog Types description WordPress MU plugins, themes and suppor
Communities description WordPress MU plugins, themes and suppo
Site Generator Replacement description WordPress MU plugins, t
Set password on WordPress MU blog creation description WordPre
Support System description WordPress MU plugins, themes and su
Users Widget description WordPress MU plugins, themes and supp