Panopticon
6 Useful Coding Solutions For Designers And Developers - Smashin. Advertisement This post is the the next installment of posts featuring "Useful Coding Solutions for Designers and Developers", a series of posts focusing on unique and creative CSS/JavaScript-techniques being implemented by talented professionals in our industry.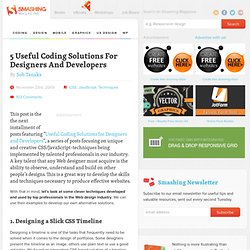 A key talent that any Web designer must acquire is the ability to observe, understand and build on other people's designs. This is a great way to develop the skills and techniques necessary to produce effective websites. Keller's list of 7 priorities should be every newsroom&#039. I often point out that the New York Times is in a very different business than the typical local/regional daily newspaper in the United States.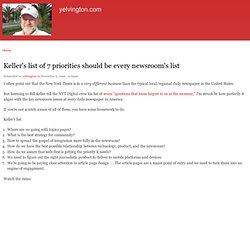 But listening to Bill Keller tell the NYT Digital crew his list of seven "questions that loom largest to us at the moment," I'm struck by how perfectly it aligns with the key newsroom issues at every daily newspaper in America. If you're not acutely aware of all of these, you have some homework to do. The new rules of news. You may have noticed – you could hardly miss it – the blizzard of anniversary stories last month about the fall of Lehman Brothers, an event that helped spark last year's financial meltdown.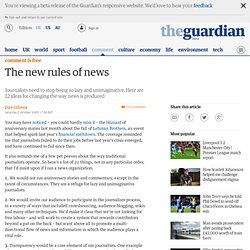 The coverage reminded me that journalists failed to do their jobs before last year's crisis emerged, and have continued to fail since then. It also reminds me of a few pet peeves about the way traditional journalists operate. Participatory Panopticon: The Official Version. The Institute for the Future's 2007 Ten-Year Forecast included, as one of the forecast items, the Participatory Panopticon.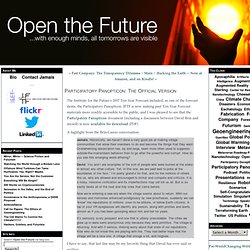 IFTF is now making past Ten-Year Forecast materials more readily accessible to the public, and I was pleased to see that the Participatory Panopticon document (including a discussion between David Brin and myself) is now available for download (PDF). A highlight from the Brin-Cascio conversation: Jamais: Historically, we haven't done a very good job at making village communities that allow their members to do and become the things that they want. Overwhelming observation has, by and large, been more often used to suppress outside-the-mainstream behavior than to go after the powerful and corrupt.
---